Buildings of the Future
We will see continued growth in the importance of sustainability and wellbeing in both new builds and adaptations of existing buildings.
I believe that in the future, there will be innovation around small-space living and the 'tiny house movement' as more people move to cities where space is at a premium and young adults find innovative ways to own their own homes.
I predict that in 100 years' time the most significant change in architecture will be a shift in focus away from skyward gestures of ego, towards a more inclusive practice that finds lasting solutions for the 1 in 200 people who are currently homeless or living in inadequate homes and for the 46% of 25 to 34-year-olds currently unable to get onto the housing ladder. Just like inclusive design, this sort of architecture would start with building solutions that might only be needed by some but create a better world for all of us.
The UK Green Building Council is focused on 'mitigating and adapting to climate change, eliminating waste and maximising resource efficiency, embracing and restoring nature and promoting biodiversity, optimising the health and wellbeing of people, and creating long-term value for society and improving quality of life.' I think and hope we'll see positive shifts in all those areas.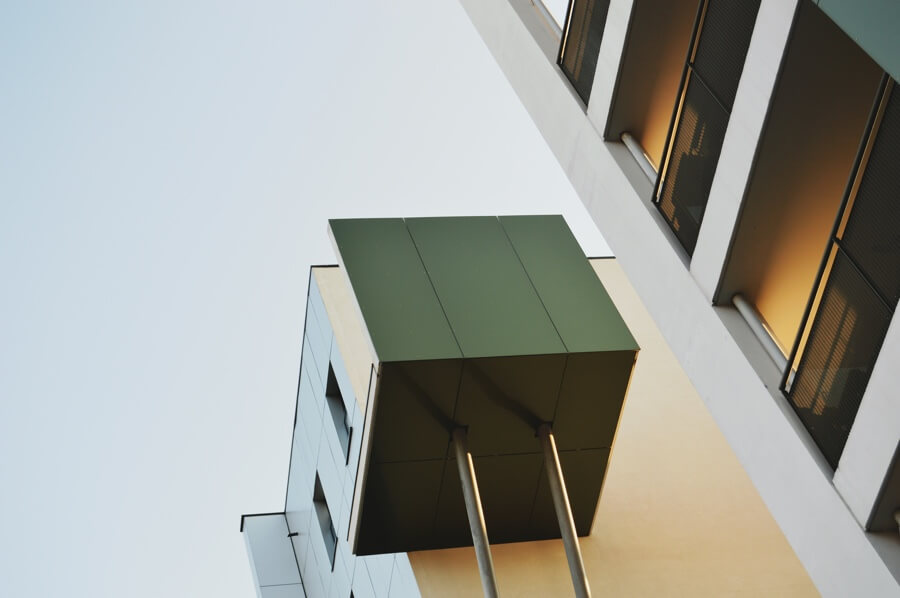 Cities of the Future
I think and hope the UK Green Building Council's mission will become the norm for all new buildings and this will see a lot more eco-initiatives being incorporated into homes and offices.
The United Nations predicts that two thirds of us will be living in cities by 2050, and so-called 'megacities' such as London, New York and Tokyo already house more than 10 million people. By 2069 we can assume the population will have urbanised further, putting extreme pressure on space, and we can anticipate more single-dwelling premises too.
When Louis Sullivan, an American architect born in 1856, coined the term 'form follows function', he was actually referring to forms found in nature. It has become somewhat of a mantra for architects accross the world ever since, but many are now coming back to its original meaning and embracing more organic shapes, especially as we understand more about their role in sparking joy and supporting wellbeing.
I would also like to see the notion of 'universal design' (also known as 'design for all' or 'inclusive design') that is already popular in Norway, America and Japan to gain traction worldwide. Universal design brings the people, usually at the peripheries of design into the process very early on, resulting in solutions that might only be needed by some, but are better for everybody. It avoids the stigma and missteps associated with the 'special solutions for special needs' that typify accessible design, and ensures everyone's needs are considered.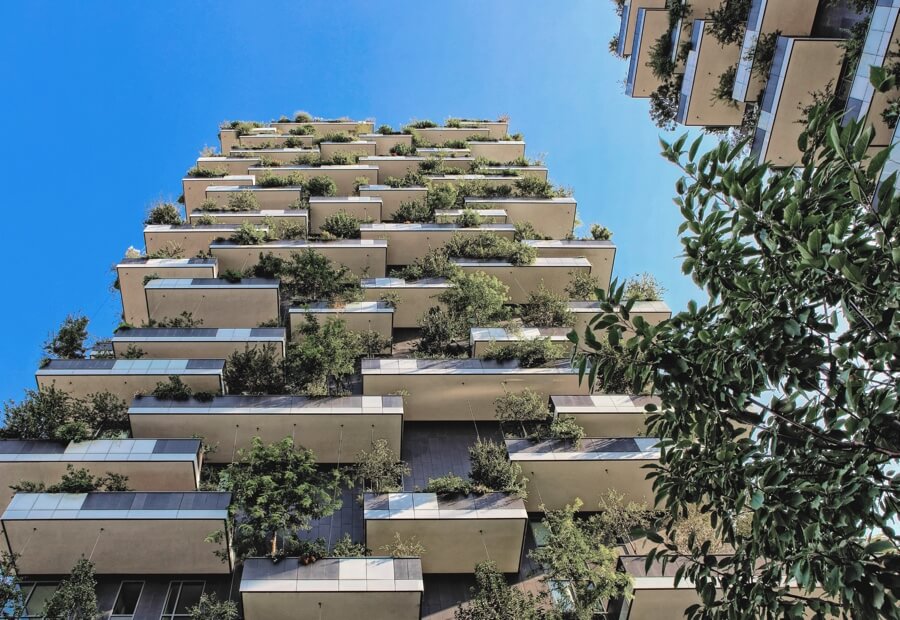 Building materials
of the Future
There is a lot of material innovation at the moment – largely driven by sustainability – and I think that will continue. Fast-growing, mouldable and entirely compostable, fungal mycelium is a really exciting material to watch for its use in cladding, temporary structures, and insulation.
Green & Blue's bee bricks are another interesting innovation – they provide habitats for solitary bees – currently in decline due to loss of habitat and yet responsible for a third of what we eat due to their pollination activities.
I don't think you'll see the changes in skylines – most eco-features are quietly incorporated and not necessarily visible, noticeable or reflected in a building's profile or silhouette. I would like to see more focus on making better architecture for everybody and less on the buildings that shape skylines.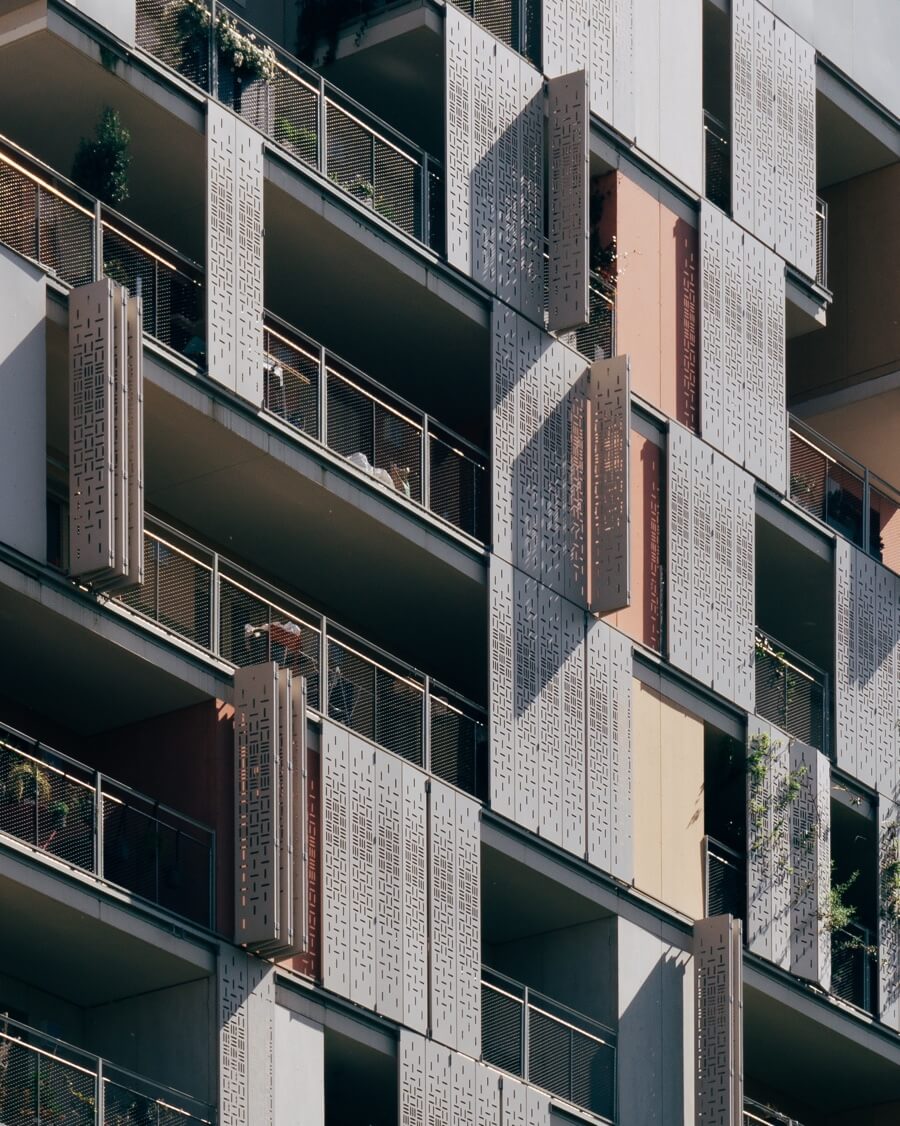 New uses for
familiar materials
I think we'll continue to see material innovation.
We've been experimenting with cardboard as a sustainable building material since Buckminster Fuller, an American architect prototyped a house in 1944 – attracted to cardboard's low cost, flexibility, strength, sustainability, and recyclability. Japanese architect, Shigeru Ban, returned to the material in the 1990s; he built emergency shelters for Rwandan refugees and dwellings in Turkey and India from cardboard tubes and tarpaulin. He built a schoolhouse in China, a concert hall in Italy, and a cathedral in New Zealand, all out of cardboard, promising a life expectancy of 50 years for the latter.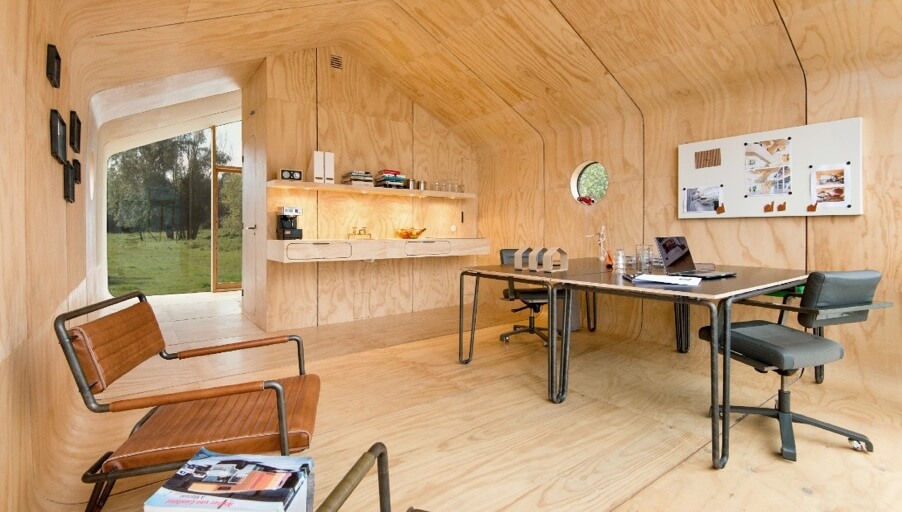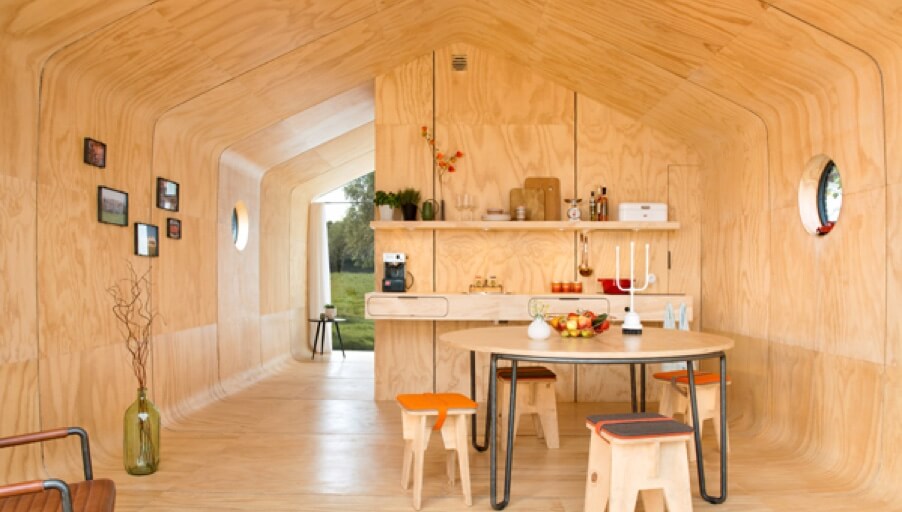 Source https://wikkelhouse.com/
Most recently, a Dutch collective called Fiction Factory, known for creating and building everything from furniture to houses, created cardboard 'Wikkelhouses' made from 24 layers of corrugated cardboard, which is glued together and then wrapped up in foil. Cardboard is clearly a material architects will keep returning to, and with the need for sustainable, flexible and temporary dwellings looking set to increase, it seems cardboard might become an increasingly viable option as a sustainable material.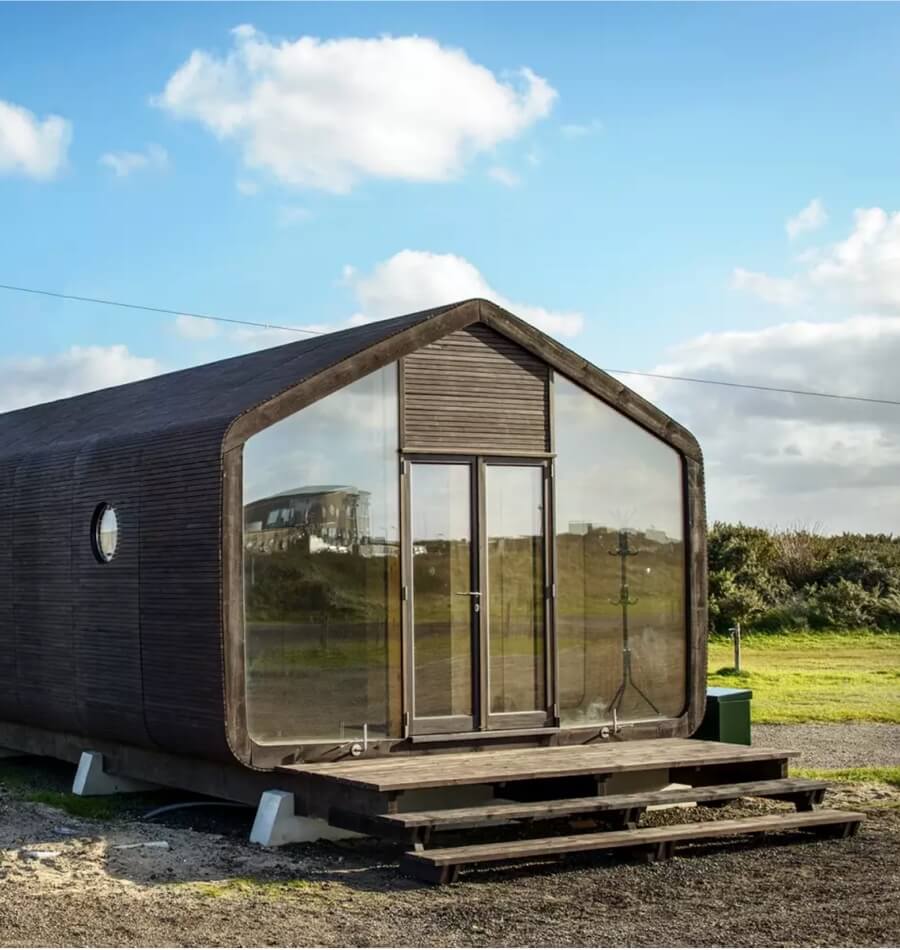 Source https://wikkelhouse.com/