With Amazon's parcel drone demo still fresh in our minds, Rajapack gets some expert views on whether delivery by automatic drone is really as close as we think.
Back in December a small robotic delivery-copter flew out from a product depot with a parcel strapped to it and headed to its destination; it then carefully placed the package down on to the patio of an eager customer who was waiting a few miles away. There was no knock on the door, no slip of paper saying "sorry, we missed you", and no van waiting outside with the engine still running. There was very little human involvement at all.
The automatic parcel drone in question had "Amazon Prime Air" written on the side – it was a recent demonstration by the online giant showcasing their game-changing drones (or "Octocopters") that fly directly to a customer's home to deliver a package in thirty minutes of the order being placed.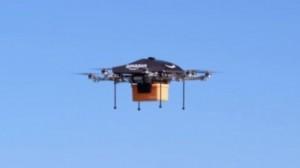 Amazon's Chief Executive Jeff Bezos says that the drones can carry items of around 5lbs (which accounts for most of the products bought on Amazon) and insists that they will be able to deliver those parcels in the promised half hour.
It's bold and it's impressive, but is it the first step towards a world in which endless Octocopters sail overhead while you're doing the shopping? Could the flying robots soon be as commonplace as other technological paradigm shifts, such as the UK's giant web of power lines that dominate the countryside? Well, it might not be that simple – there are a number of challenges to face before this idea really inserts itself in to the normal running of society.