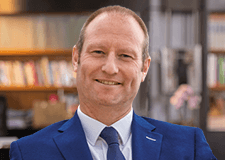 Hello everyone,
I would like to take this opportunity to assure you that my dedicated team and I remain committed to you and yours in all circumstances. You can always count on us to support your business and meet all your company's needs. Throughout the pandemic, the efficiency and diversity of our services, which we have prided ourselves on for 65 years, have enabled us to meet your needs and continue to provide you with uninterrupted support.
During June and July we've also had the challenge of moving to a new state of the art 267,000 sq. ft. warehouse!
This new warehouse gives us around 5x more storage space than our old site, meaning we'll be able to keep more of your favourite products – with lots of exciting new ones to come – available in stock, on site, and ready for speedy delivery. We'll also be able to demonstrate our packaging machines and products in a new on-site showroom. As ever, we remain committed to operating responsibly, so we're proud that our new facility will be carbon offset through the protection of 351 acres of rainforest at the Orangerie Bay project in Southern Papua New Guinea through the charity Cool Earth.
The RAJA Group have continued to support those in need across Europe during the crisis through the RAJA-Danièle Marcovici Foundation. Created in 2006, the Foundation's mission is to support projects in favour of the emancipation of women around the world. Over €10M has been paid by the Foundation to more than 288 associations and helped over 100,000 women worldwide since its creation. Find out how your purchases with RAJA can directly support the "Women & Environment" action programme led by the Foundation here.
Innovation in packaging is continuous and we are constantly offering you new, more eco-responsible, time-saving and practical solutions to protect, ship and display your products. We've introduced new products in envelopes and mailers, protection and void fill, warehouse and handling equipment and presentation and gift packaging.
Not only have we continued to improve on our ranges of packaging, we've improved our ranges to help you keep your staff and premises safe and clean during this time:
- New and improved range of janitorial products with all the equipment you need to maintain everything from your warehouse space to your office kitchen.
- Brand new range of personal protection and safety equipment, including gloves, masks, sneeze guards, barriers, social distancing markers, boots, helmets, ear protection and more.
You can find all these new products in our catalogue and on rajapack.co.uk.
See you soon and stay safe,

Tom Rodda
Managing Director