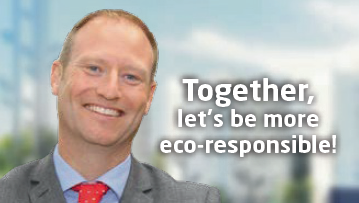 Hello everyone,
RAJAPACK is now RAJA! I am pleased to announce that from September 2019, all the RAJA Group's RAJAPACK subsidiaries including RAJAPACK UK, will be united under the European brand RAJA. We will be continuing to provide quality service and products, please read on to find out more:
The Ecological Transition is underway and the RAJA Group is determined to do their part and stay committed to making a positive impact.
Packaging and its impact on the environment are major strategic goals that the RAJA Group are committed to delivering upon in everything that we do. We value our role as a distributor, as well as the practical benefits our packaging provides, protecting your products from damage during transportation and shipping to your customers; therefore we also take an active and sustainable approach to reducing our environmental impact.
For many years, RAJA has taken action at all levels of the company:
• Identifying the evolving needs of the market and aiding our suppliers during their design process for new packaging solutions.
• Informing and advising you in making more eco-friendly packaging choices.
• Focusing on our digital sales media.
• Limiting our carbon footprint during our deliveries.
Our new campaign marks the launch of an even more ambitious project:
• We are expanding our range to offer you more alternative solutions such as recycled, biobased, and reusable packaging - both cardboard and plastic. Our new unique logo allows you to immediately identify these eco-responsible products.

• We also aim to promote good packaging practices, and we break these down into the '5 R's' – reduce, reuse, replace, renew, and recycle. See here for more information.
The 'Women and the Environment' Action Program started by the RAJA-Danièle Marcovici Foundation, continues for its 4th consecutive year.
You can find the 11 eco-responsible products selected and the 7 new community projects we are supporting here.
Together, let's be more eco-responsible!

Tom Rodda
Managing Director - RAJA UK