Our Customer Services team is here to help
Your satisfaction is our top priority. Our advisers are available at any time to answer your questions about your order and its delivery. We guarantee you a quick and appropriate response.
To reach our customer services department just call:
By phone on 0800 630 03 52 or by email: customerservices@rajapack.co.uk
30 days to change your mind
At RAJA, we're committed to helping you find the right packaging for every product and purpose. So if your order arrives and it isn't right, return it to us within 30 days and we'll give you a refund, credit, or arrange for a new order to be sent.
All we ask is that you call us on 0800 630 03 52 where we'll send you a returns form. Please ensure everything is sent back in the same condition it arrived, along with your despatch note.
Faulty products
Every care is taken to make sure your order arrives in perfect condition. But if something should happen, and your order arrives damaged or defective, please call our Customer Services Team on 0800 630 03 52, within 30 days of delivery. They will arrange a collection and credit, exchange or refund – naturally, at no extra cost to you.
Specially sourced or custom packaging
As you know, we're dedicated to helping you find the right packaging, and sometimes this means that we have to specially source or customise packaging to meet your requirements. When this is the case, products can't be returned unless they're faulty.
If you have a problem with custom made packaging or specially sourced products, including any products with a delivery time longer than next working day please call our Customer Service Team on 0800 630 03 52. They'll do everything they can to help. But remember, these orders cannot be cancelled or returned once they've been confirmed.
With RAJA, you are assured of the reliability and quality of our products and services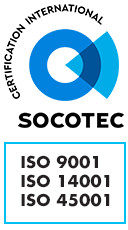 ISO 9001:2015, ISO 14001:2015, ISO 45001:2018
As part of our on-going commitment to our customers, the environment and health & safety we are pleased to announce our ISO 9001:2015, ISO 14001:2015, ISO 45001:2018, awarded by Certification International in accordance with our Quality Policy, Environmental Policy and Occupational Health and Safety Policy .
These certifications are recognition of our commitment to ensure we are focusing all of our business activities towards achieving customer satisfaction, whilst also minimising our impact on the environment and ensuring high standards of health and safety. Every area of our business management processes, that impact our customers, have been assessed and certified to International Standards. This includes the specialist advice we provide to you, ensuring we have enough stock of products in our warehouse and delivering your order to your satisfaction.

RAJA, member of FSC® France (Forest Stewardship Council)
which encourages responsible forest management according to the 3 criteria of sustainable development: social, ecological and economic.

EcoVadis is the first CSR performance rating body in the world with more than 75,000 companies assessed in 160 countries. The EcoVadis rating allows you to assess the quality of the integration of CSR into our management system through our actions implemented and our results.
Corporate, Social and Ethical Responsibility (CSER) Policy
RAJA recognise procurement decisions can have socio-economic and environmental effects locally, nationally and globally, now and in the future.
We are committed to be a socially and environmentally responsible organisation, ensuring that our buildings are constructed and maintained to the highest environmental standards and that our products are environmentally friendly and from sustainable sources.
We are working to reduce our environmental footprint through responsible utilities and waste management, and promoting innovation and ongoing research and development activities in the supply chain to drive value for money and positive, viable, sustainable options for goods, and services.
The purpose of the CSER policy is to support our strategy and ensure that staff involved in the procurement of goods and services consider appropriate environmental, social and economic factors in their purchasing decisions.
Download the Corporate, Social and Ethical Responsibility Policy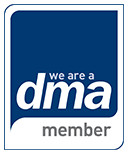 RAJA UK are a member of the Direct Marketing Association (DMA).
The Direct Marketing Association was established in the UK in 1992 and they are the industry leaders for ensuring businesses adopt best practices. Their policies and practices are formed by 12 bodies who specialise in a range of business services. RAJA are committed to follow the policies set out by the DMA in order to maintain a high standard and adopt best practice across our range of marketing activities wherever possible.