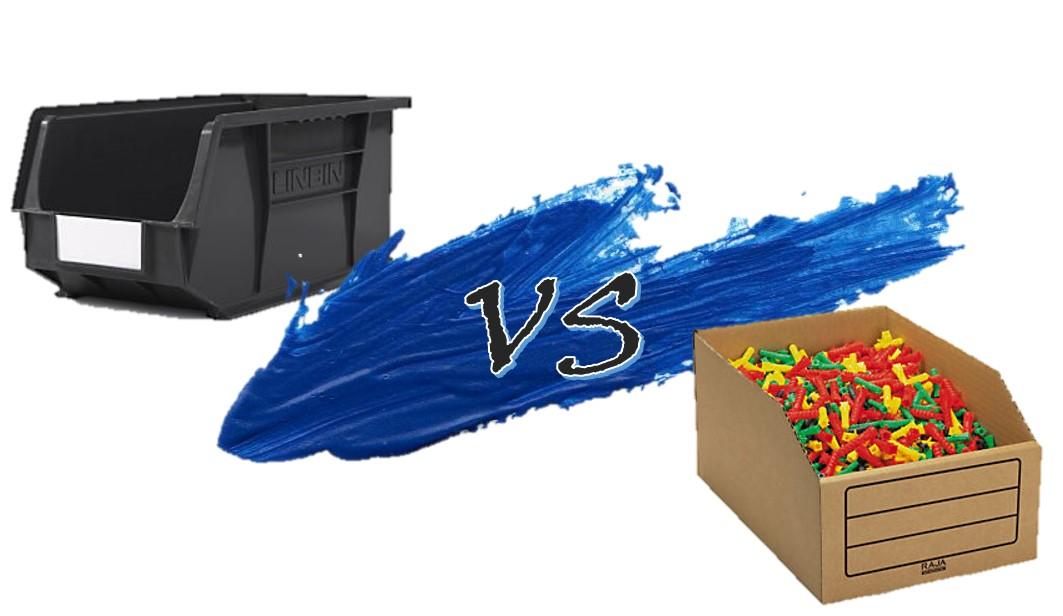 What's best for storage and shipping; plastic or cardboard storage boxes? Well, it all depends on what you want to store or ship and how you want to store and ship it. In this article we take a look at the different kinds of cardboard and plastic storage boxes available and explain why different materials suit different purposes.
The difference between plastic vs cardboard storage boxes
What are the differences between plastic vs cardboard storage boxes? For anyone remotely connected with shipping, packing or storage, the debate is timeless and all depends on what you are wanting to use them for, as well as personal preference.
On the one hand, cardboard storage boxes are tough and strong, easy to label, cost-efficient and can be recycled. On the other, plastic storage boxes offer a durable, water-resistant, strong and reusable alternative. How do you choose?
Cardboard boxes vs plastic boxes
Deciding on which is better, cardboard boxes or plastic boxes, really does come down to what you are looking to do with the box – and perhaps what you might want to do with the box after you have used it.
And you may be surprised by how environmentally-friendly each is when considered across its lifetime.
For starters, let's look at cardboard storage boxes with lids. These offer protection for goods and items and, to a limited extent, can be stacked up securely. They are easy to label and, can be extremely cost efficient.
Cardboard storage boxes can be used for a wide range of uses. They can be used for sending fragile items through the post, be it books, mugs, DVDs and more. They can, with the right inserts, also be used to ship and store wine bottles, leveraging the natural protective qualities of strong cardboard to protect the contents.
In fact, cardboard boxes come in such a large variety of shapes and sizes – and with a cornucopia of opens and flaps – that they can be used for almost any storage or shipping purpose. There are long boxes, flat boxes, pallet boxes for stacking on pallets, as well as boxes for shipping and even specialist uses. You can even tailor your box to your product with our adjustable and telescopic cardboard boxes.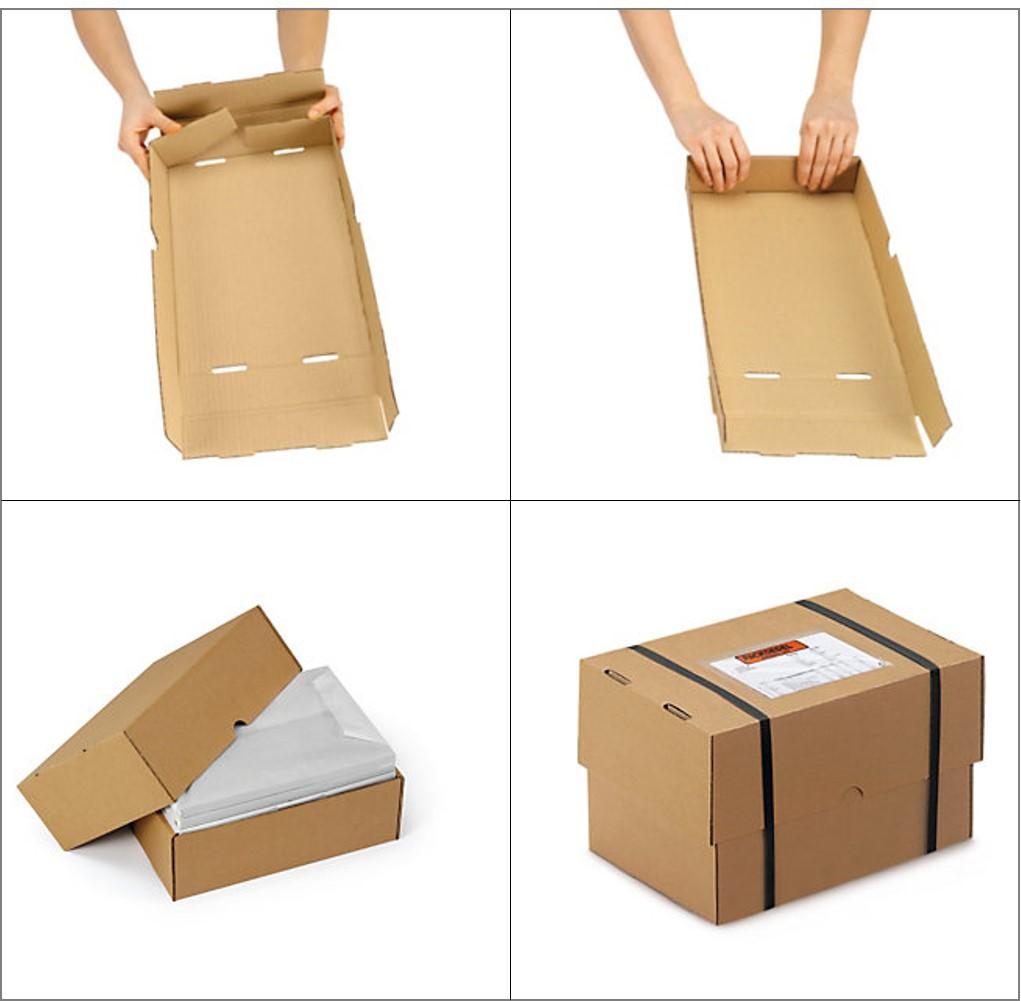 You can also use cardboard boxes to store – or indeed ship – documents, as well as cardboard boxes for archiving and even for easy access to goods through special openings.
There are also a wide variety of very specialist boxes for posters and even for clothes. Either being delivered through ecommerce or for storage or house moves.
And of course, there is also a wide variety of large cardboard boxes all sized 600mm+ to help you find the correct size box for your needs. You can even use RAJA's own sizing tool to work out the best sized box for your goods – but more of that anon.
But cardboard boxes do have their drawbacks. While they are strong and cost effective, they are also limited in their strength and, perhaps more crucially for some storage and shipping options, not waterproof.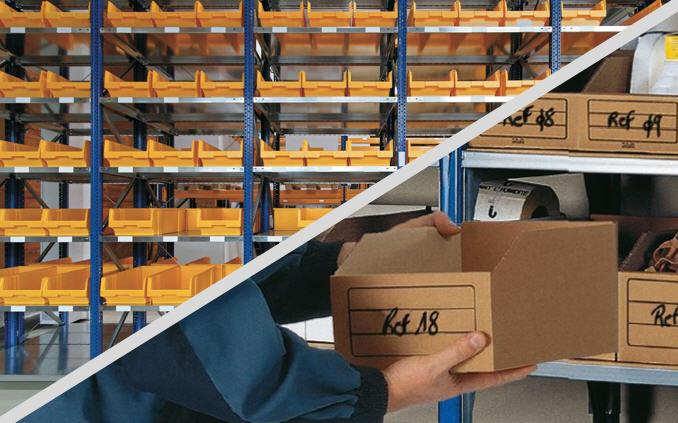 This is where plastic storage boxes with lids come in. Plastic storage containers are more costly per unit – but they offer some advantages over cardboard boxes
For starters, plastic storage bins and boxes are generally stronger than their cardboard counterparts and, as a result, can be stacked higher. They can also hold heavier and more awkward items.
The main advantage, however, of plastic over cardboard is that it is waterproof and so is ideal for the storage of items that need extra protection from moisture or other environmental contaminants.
As a result plastic storage boxes can be used to store and ship all manner of small to medium duty items that need to be kept water tight and protected. The boxes with lids can be stacked and, when not in use and with the lids removed, can be nested.
For heavier duty storage and transportation, extra-tough, heavy-duty storage boxes that protect from impact as well as water and other environmental factors can also be used – offering a highly-reliable form of protection for a wide range of goods.
Plastic containers can also be used to store smaller, more delicate items, such as small components, stationery or other goods. Here plastic offers a resilient option that can be reused over and over again, where perhaps a cardboard alternative would wear out.
However, while plastic storage containers have a wide variety of uses and offer a greater degree of reuse, they are not so suitable for some applications. Plastic bins and containers are good for storage and shipping, but are often too expensive for one-off use in last mile delivery. In other words, you won't find your Amazon book being delivered in a plastic box.
That said, some delivery businesses are toying with plastic – if they can get the boxes back. Plastic boxes, on the face of it, may seem to be less environmentally friendly than cardboard. However, if plastic boxes can be reused numerous times, they start to be less environmentally impactful. Recycling takes a lot of energy – even for paper – so getting more use out of a container can be more efficient, if you can sort out collection.
Types of cardboard storage boxes
While there are advantages to using cardboard or plastic storage boxes, depending on what you want to store where, let us focus for now on cardboard storage boxes, as they come in so many different shapes and sizes.
While for heavy duty and heavy weight storage and shipping needs, plastic is a clear winner, cardboard boxes aren't as wimpish as you'd think, coming as they do in a wide variety of thicknesses.
For starters, there are single wall cardboard boxes, which are made of a single layer of tough corrugated cardboard and offer robust protection for your products with superior resistance to bursting, humidity and temperature change; in addition tapes adhere perfectly to the surface. The corrugated cardboard and puncture resistant Kraft outer works hard to secure your items, while still maintaining a smooth and clean finish for your adhesive address labels to stick to.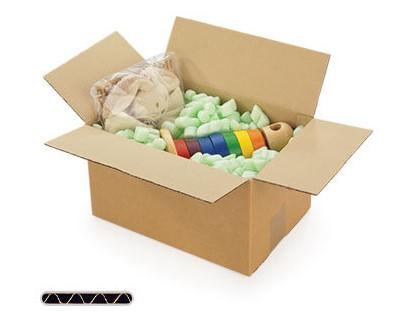 These boxes are ideal for storing, packing and shipping of products and goods and are delivered flat packed for easy storage and transport.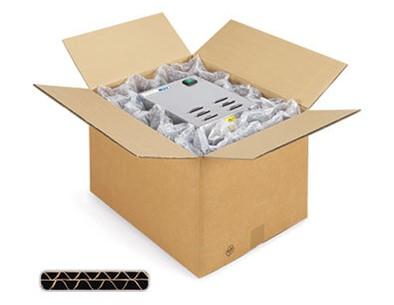 If that isn't enough, there are also a wide range of double wall cardboard boxes, which are designed to be tough still. Double walled cardboard boxes are made from two layers of rigid corrugated fluting with a tough puncture resistant Kraft outer lining. This means that the double wall cardboard box retains its shape during shipping or storage and offers superior strength and durability over single wall cardboard boxes.
These sturdy boxes are suitable for a wide range of products from glassware, household fixtures and fittings to small electrical goods and can be stacked.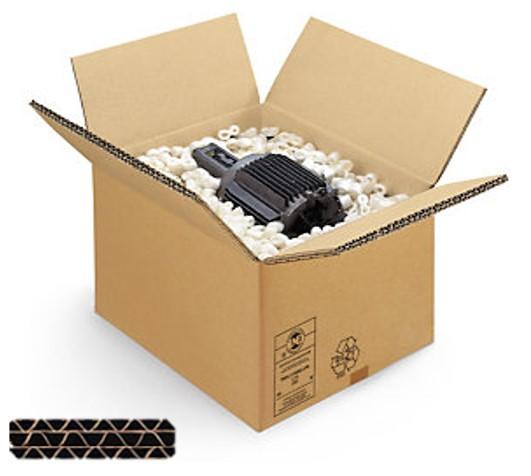 If you need a really strong storage and shipping box, triple wall cardboard boxes have you covered. Manufactured from top quality rigid flute corrugated board with a 200gsm Kraft paper finish, these are ideal for heavy duty items such as metal parts, compressors, boilers, pumps, industrial tools and machinery. Recommended for shipping and exporting.
In fact, these boxes has been especially designed for metal parts, compressors, boilers, pumps, industrial tools and machinery our heavy duty triple wall boxes with a weight capacity of up to 500kg also come flat-packed for easy, space saving storage in your warehouse.
Conclusions
The debate over whether cardboard or plastic makes for a better storage box is not really a debate at all: it all depends on what you want to store, ship or archive. For heavy duty, long term storage, or to store things that are in repeat use, plastic storage boxes have the edge as their higher price delivers more value over time.
However, for one off shipping cardboard has the edge. With cardboard storage boxes coming in a variety of sizes and thicknesses, they offer the ability to ship and protect anything from a book right up to a compressor. The only thing that 'weakens' the case for cardboard is that it isn't waterproof like plastic.
That said, which you want to use comes down to what you are packaging and what you want to do with it. There is a vast array of solutions to choose from – and we can help you choose.
Want to know more about the wide range of cardboard and plastic storage boxes?
For additional advice on storage boxes in all their myriad shapes, sizes and materials to meet all your packaging, storage and shipping needs, our Packaging Experts are here to help you find the right solutions and arrange next day delivery. Simply call us on 0800 542 44 28 or visit www.rajapack.co.uk.