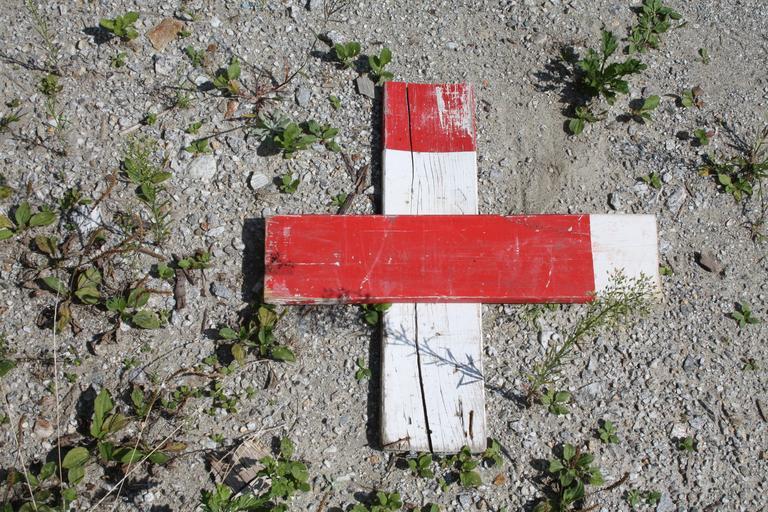 This guide to crowd control barriers outlines the range of barriers available for controlling and directing crowds and pedestrians. Also known as pedestrian barriers, they are designed to help control and channel pedestrians and crowds to keep them safe, or to stop them entering "no-go areas" – usually for their own safety.
If you are looking to help manage the flow of people through a building, a venue or a site – especially during the social distancing currently in operation – choosing the right kind of safety barrier is important.
Here we offer a guide to what is available, the pros and cons of using them and how to make them work for your workplace, venue or demonstration.
A guide to crowd control barriers
Crowd control barriers are there to guide pedestrians and keep them safe. They are as much psychological as physical and there are a range of different kinds of crowd barriers that can be used, depending on what sort of crowd you are dealing with, what challenges or threats pedestrians face and what sorts of barrier you are trying to erect.
Here is a guide to crowd control barriers and their uses.
Heavy duty metal crowd barriers
– what most people associated with barriers in their mind's eye – are sturdy, galvanised metal barriers that have a low profile, being almost flat, but with moveable feet that allow stability when in use or ease stacking when not.
These barriers are ideal for crowd control, demarcation of pedestrians from traffic routes, queue control, events and any public gathering. They are also ideal for closing off areas to which you wish to deny access.
Blow moulded Barriers (HDPE) are a lightweight fencing solution for crowd control, managing queues and marking off roadworks and hazardous areas.
Made from high density polyethylene (HDPE), these barriers are brightly coloured and have reflective strips to make them easy to spot – so they can be used in day and night conditions, as well as indoors and out. Their British Standard red and white warning markings also subliminally say "no entry".
Connected together using 'hook and eye' links, blow moulded barriers are easy and quick to set up and can follow any sort of path, making for an ideal plastic crowd control fence. They are also rust-proof and recyclable.
The 2m long, 1m high barriers have swivel feet for easy stacking when stored.
In a similar vein, plain HDPE crowd barriers offer a lightweight, corrosion resistant alternative that requires no screws or rivets to fix together, making it quick and easy to assemble and put into place, as well as to pack up and put away again when not needed – making it ideal for both temporary crowd and pedestrian control, as well as the semi-permanent crowd control needed around social distancing.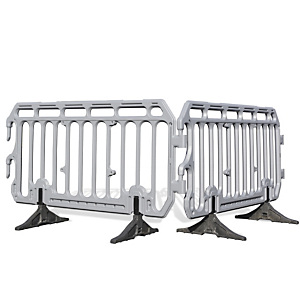 For more flexible crowd and pedestrian control, expanding trellis barriers offer an ideal solution. These all-steel barriers are suprisingly portable and can be readily deployed anywhere that needs to be rapidly closed off, or to allow controlled access.
Perfect for marking out entrances and exits, blocking off hazardous areas to all but those permitted to enter, or for throttling crowd access to, say, a supermarket store, or office, these trellis barriers can extend up to 3.6 or 4m depending on the model. Weighing just 24kg, they can easily be moved into place as needed and slide open and closed as crowd control demands dictate.
Another alternative are three gate safety barriers. Designed to quickly block-off hazards – though they could too be used for crowd control, protecting staff, or keeping people out of a particular area –  these quick to assemble barriers can be carried by hand and rapidly deployed where needed.
They are also highly reflective and so easy to spot, even in the dark or low-light conditions.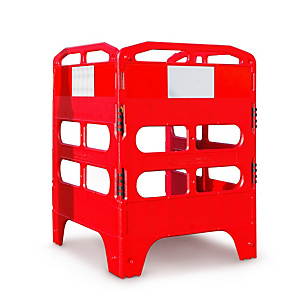 The pros and cons of pedestrian barriers
There are a number pros and cons to using pedestrian barriers. In the socially-distancing world, pedestrian barriers and crowd safety barriers have assumed a new prominence and a new importance.
They are vital to help keep people apart by the government required distance, as well as being essential for helping control the in-flow and out-flow of people from shops, offices, bars, restaurants and any other public spaces.
The pros for using pedestrian barriers and crowd barriers lie in them being a rapidly deployable and flexible – and non-permanent – solution to having to, for now at least, control access to things.
Being able to build a way to channel pedestrians or to keep people apart, as well as – with trellis barriers, for example – the ability to open and close access readily is a distinct advantage.
Another pro is that they are non-permanent, so as needs change, so too can the barrier. For example, as social distancing rules change in the coming months, crowd control barriers can be added or removed as needed.
Barriers are also strong and durable – both plastic and steel versions – although, often their very presence subliminally says a location is closed off, forcing people to follow the path you want.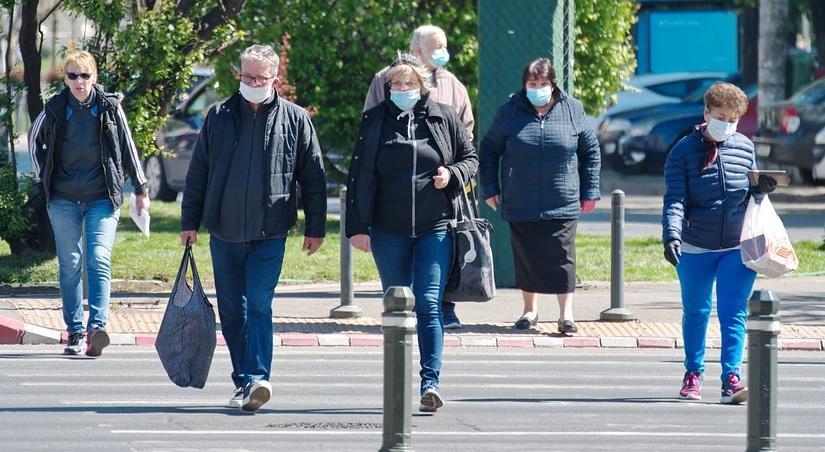 The cons of using pedestrian barriers are that they are non-permanent – which can also be a pro – and that they can need weighting down in windy conditions. They are also great for managing pedestrians and indicating to vehicles where they should and shouldn't go – they are not suitable as a physical barrier to protect people from cars and lorries.
Crowd control barrier dimensions you need to know
Crowd control barrier dimensions vary depending on the type of barrier being used. Standard heavy duty metal crowd barriers measure 2.5m long and 1.10m high – with infill bars spaced at 12.75mm intervals. This is perfect to keep people at bay, but to also allow them to see where they are going and not form an obstruction.
The spacing of the infill bars also should avoid bags, feet, hands – and even heads – from getting stuck.
Plastic crowd control fencing, meanwhile, comes in 2m by 1m frames, while basic grey crowd control safety barriers come in 2.1m by 1m frames. Both types have hook and eye fixings – with no screws, bolts of rivets – to allow them to be joined together in lines, round bends or to form pens, zig-zag guides or angled fences.
The feet on all barriers swivel through 360-degrees, so that they can be angled to fit where the barriers need to go and to provide maximum stability.
Expanding trellis barriers are 1m high and can expand to either 3.6 or 4m wide depending on the model. As they expand they maintain their height.
Metal vs plastic crowd control barriers
 What are the differences between metal vs plastic crowd control barriers? Metal barriers are offer a tough, corrosion free way to control crowds and are also more suited to places such as building sites where they can offer slightly more resistance to machinery than plastic crowd control fences – albeit they are less likely to be damaged.
Plastic barriers, meanwhile, are more adept at being used to visually signal 'no entry' as they can be coloured in distinctive red and white markings as outlined by BS EN 8442.
Plastic barriers are also easier to move around and are better suited to temporary and mobile barriers to entry or crowd control. They are especially good for roadworks and for barring entry on a temporary basis to places such as manholes or liftshafts.
Both galvanised metal and the plastic barriers are suitable for outside use as they all resist corrosion.
How do expanding trellis barriers work?
 Expanding trellis barriers work by using interleaved steel strips – dip painted red and white and reflective – that concertina over one another, allowing the expandable trellis barrier to slide open and shut – up to a length of 3.6 or 4m – without loosing height.
This means that the barrier can effectively be opened and closed as needed to totally block off something to all but those that are allowed to pass. They are ideal for closing off areas such as forecourts, exits and entrances, hazardous areas, forecourts, closing off lifts or stairwells and so on.
They also feature chain hooks to anchor them shut or in place, or to join them to other barriers to make an opening part of a longer barrier.
Want to know more about our wide range of crowd control and pedestrian barriers?
For additional advice on the best crowd control, pedestrian management and expandable trellis barriers, our Experts are here to help you find the right solutions and arrange next day delivery. Simply call us on 0800 542 44 28 or visit www.rajapack.co.uk.