In the warehouse, protecting the hands of operators is incredibly important. Finding the right protective measures to keep your workers hands safe is an obligation for every responsible business. But it can be tricky to know what the different risks are and how to prevent them.
That's why we've put together this helpful guide to help you make the right decision to protect your employees.
What risks are there working in a warehouse?
Warehouse work is, 9 times out of 10, going to be a lot of manual labour. This will mean intense use of their hands and leave them vulnerable to hazards.
Depending on the sector of activity in which you operate, the level of danger (and protection needed) will vary.
Mechanical risks: the most common, but also potentially the most dangerous. We are talking here about the risks of cutting or crushing injuries to which we are exposed when carrying or moving an object, for example.
Thermal hazards: Hands are extremely sensitive to temperature. If you work in particularly hot or cold environments, you will require suitable protective equipment.
Chemical risks: some operators have to handle chemical products that are particularly harmful to the skin.
Electrical risks: warehouses that store electrical and electronic products pose risks of electrocution to their handlers (discharges, conductivity, etc.)
How to fight the cold in the warehouse?
Whether you work in a warehouse that handles fresh produce, or simply that the winter is harsh, it is important to protect your employees against the risks associated with the cold.
Equipping employees with protective clothing and gloves against the cold becomes essential when the thermometer drops below 5°C.
Providing a heated room for breaks is also a good idea, which can be enhanced with the provision of hot drinks.
How to choose protective and work gloves?
If the risks incurred by handlers are diverse, the range of safety gloves needs to be just as diverse. Here at RAJA, we stock a selection of gloves designed for warehouse work
It's always good news to have a choice. However, there are a few things you need to pay attention to make sure you choose the best personal protective equipment.
The size of the gloves: an essential element
While most of us will know what our shoe size is, comparatively few will know what size gloves they wear. If a glove is loose then it becomes significantly less protective and presents a danger with the risk of snagging becoming apparent.
As with new shoes, a work glove is a piece of clothing that stretches over time. It is therefore necessary to take care that you choose a pair which is slightly tight. Over time, they'll stretch to fit neatly while still remaining snug and providing proper protection. If you happen to be between two sizes, opt for the smaller one to ensure they fit your hand tightly

Powdered gloves: good or bad idea?
Whether or not you need to use powdered gloves will depend on your sector of activity. Powdered gloves generally include a type of corn starch that makes them easier to take on or off and improves grip. Vinyl, Nitrile and Latex gloves are generally powder coated, but all designed to meet specific needs. While they don't offer a great deal of protection from mechanically acquired injuries, they offer excellent protection against many conventional chemical hazards (you will often see these being used in hospitals to keep doctors safe.)
We can recommend these in laboratory and hospital environments but also in jobs where even minimal protection can be key. If you're handling delicate materials and workings as a packer, these gloves can be essential. While they are good for working with in a number of sectors, they are not recommended for workers in the food sector. The corn starch used to powder them can have an effect on the food you prepare and could be detrimental to customers.
What are the standards for your protective gloves?
Failure to comply with the standards in force means putting the health of your employees at risk. To protect logistics workers from accidents, protective equipment needs to meet a number of standards that we will detail below.
CE certification
This symbol, which is not found only on personal protective equipment, indicates that the product complies with European regulations.
This is an essential prerequisite for ensuring that a product meets basic safety standards.
European standard for protective gloves: EN 420
This European standard directly concerns protective gloves. To respond to this, safety gloves must comply with a few rules:
Respect for innocuousness: the gloves must not contain allergenic substances and must have a neutral pH
Compliance with the European size chart
Compliance with the dexterity test
Compliance with marking instructions
Mechanical risks: EN 388
Since mechanical risks are the most frequent in handling, we would usually recommend Polyurethane PU Palmed Gloves the added traction on the gloves helps to minimise the risk of injury. In particular, gloves like this ensure that you can retain purchase in damp and wet conditions.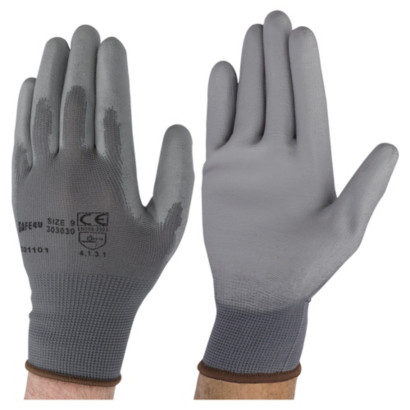 Chemical and microbiological risks: EN 374
Gloves meeting the EN 374 standard provide chemical and abrasive protection.
But a glove certified EN 374 is not necessarily suitable for all types of use.
Here again, a scale has been drawn up to provide information on the type of chemical product against which the glove offers optimal protection.
The scale is shown by a letter grade attached to the words "specific chemical protection" that tells you what it was designed for:
A: certified resistance against methanol
J: certified resistance against n-Heptane
K: certified resistance against caustic soda 40%
L: certified resistance against sulfuric acid
In addition to their resistance, these chemical protection gloves have a long lifespan and are lined with textile to provide more comfort to your employees.
Risks of cold: EN 511
The cold is particularly dangerous in the warehouse.
In addition to making movement harder, it can lead to accidents.
Safety gloves meeting the EN 511 standard protect against the effects of cold down to -50°C.
It is advised that a cold protection glove must meet three requirements:
Waterproof
Contact cold resistance
Resistance to convective cold
As with other types of protective gloves, the performance of each criterion is assessed on a scale of 0 to 4 for resistance to cold, and 0 to 1 for permeability.
Heat risks: EN 407
In addition to cold, skin is extremely sensitive to heat. Hands often act as the first contact with a hot element, the adoption of protective gloves against heat is essential when working with hot products.
To meet the EN 407 standard, a glove must meet the following requirements:
Fire resistance
Resistance to contact heat
Resistance to convective heat
Resistance to radiant heat
Resistance to small splashes of molten metal
Resistance to large splashes of molten metal
The performance index for each of these criteria is evaluated from 0 to 4. While you may not need a glove that can do all of these, it is well worth finding out how much protection from the heat you require before purchasing a glove
Points to remember:
The hands of handlers are particularly exposed to dangers in the warehouse
Handling work gloves must bear the CE symbol, signifying their compliance with European regulations
European standards exist and make it easy to identify what type of protection a safety glove offers