There are many types of foam packaging, this material is ideal for protecting delicate items from vibration, abrasion and when something needs some extra cushioning. Available in blocks, which can hold items in place, foam wrap rolls or sheets, which can interleave and cover. Also, foam profiles for edges and corners – and, it can also line the inside of a mailing bag, for postal protection. This lightweight material is versatile and can help to protect all manner of glass, ceramic, and items with a shiny finish, providing a superior shield for scratches and smears.
For added protection and padding, foam is also available as void fill, moulding directly around what is being packaged.
Foam packaging is often overlooked with other popular packaging supplies, such as bubble wrap and bubble bags. Why don't you take a read of Bubble vs Foam and compare the difference yourself.
So what type of foam protective packaging do you need? Read on…
Why use foam packaging?
There are many reasons to use foam packaging; to protect products from scratches and abrasions when in transit or storage, foam packaging offers an ideal protective packaging solution. Available in rolls, 'packaging peanuts', in blocks, in sheets or even as foam bags. Foam packaging rolls can be easily cut to size, and the sheets wrapped around products, or interleaved between products acting as a layered buffer. This flexible material provides ideal cushioning and protection. It is indeed a very versatile packaging material.
Foam is known for protecting glass, polished wood, ceramics – this list goes on! It doesn't leave any marks, lint or residue. The smooth appearance is clean and professional and can provide a quality presentation to product packaging along with protection.
This spongy foam material is multipurpose and comes in a variety of forms, each suited to a number of jobs. Foam bends and can be shaped – for corners and edges use foam profiles. Also pre-made foam liners are available, with preformed contours ready to insert into the outer packaging, such as a cardboard box, filling the voids. Some blocks and sheets are also available with a self-adhesive backing to stick onto the packaging or goods, making sure to remain where placed. Foam bags on the other hand, once activated, is rigid and instantly moulds, conforming to your product. The Instapak Quick® foam cushion packaging is like a foam bag that encases around your product providing customised foam protection, ideal for packing awkward shaped products.
---
Recommendation: Have you tried foam postal boxes?
---
Foam eco-friendly alternatives
An eco-friendly option of foam packaging is biodegradeable loose fill. Loose fill can also be referred to as "packaging peanuts", resembling little chips. Foam protection doesn't have to just mean sheets or blocks, it also comes as loose fill; and can be used to place around non-uniform objects in boxes and storage containers filling any voids. While many storage options rely on non-biodegradable polystyrene there is today an eco-friendly protective packaging option called Eco Flo.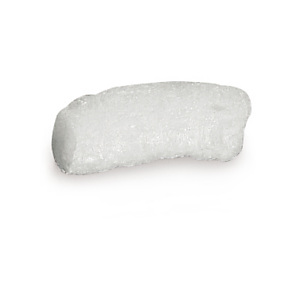 Eco Flo offers all the protection of other packing fillers and is 100% biodegradable. It is also created from totally renewable sources. As a packaging material it is designed to mould around products and settle immediately when placed in the box preventing the goods from dropping to the bottom of the carton.
Eco Flo is light, clean and odour free, and is 5 times more antistatic than polystyrene chips and it can be used for all products, delicate china, electronic equipment and heavy mechanical goods.
Eco Flo is supplied in 15ft³ bags measuring approximately, height 1200mm, width 620mm, depth 620mm.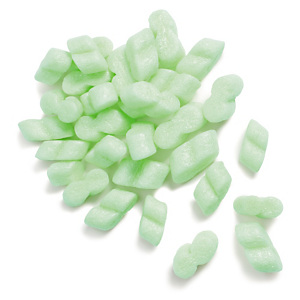 A green – literally and figuratively – alternative to Eco Flo is Pelaspan loose fill. These are made from 100% recycled EPS material and are ideally shaped to fill up all the voids in a box. The interlocking shape provides perfect protection especially for heavy or odd shaped goods.
This loose fill Is coloured green for easy identification. The chips are dust free, easy to dispense and can be reused. Supplied in a 15 ft³ bag, measuring approximately H 1200 x W 700 x D 525mm, weight 1.7 kg.
Foam blocks: what they are and when to use them
To put simply, foam blocks are literally blocks of foam. While foam sheets, rolls and foam profiles are good at padding and cushioning goods; for items such as furniture, electricals and glassware. For products requiring more protection – to secure and brace, this is where foam blocks come in to play.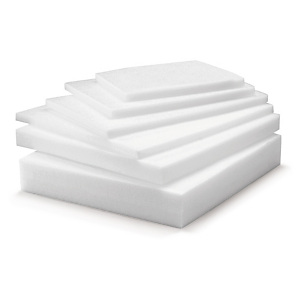 Foam blocks are unbreakable blocks made from closed cell polyethylene foam and are CFC and HFC free. Available in a range of sizes from 300mm by 200m blocks for stabilising smaller objects, or up to 600mm by 600mm for larger goods such as furniture. But can be cut down to the size – and shape – you need for your specific goods.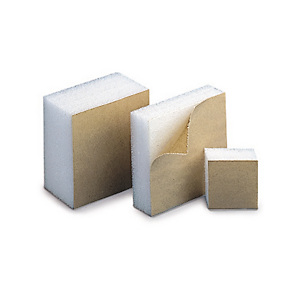 These self-adhesive foam blocks act as blocking pads that stick to the inside of cartons and protect the contents from movement or damage. Supplied in sheets, where one surface has a permanent adhesive protected with a peel off backing. The foam pads are pre-scored; just snap them off the sheet.
The foam pads are manufactured from non-abrasive closed cell foam density of 35 kg/m³ and are available in two different foam block sizes and three thicknesses and come in two sizes, 50x50mm and 100x100mm and 3 thicknesses, 12mm, 25mm and 100mm.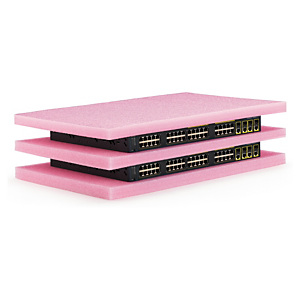 Foam blocks also come with antistatic properties for packaging, identifiable by its pink colour. Antistatic foam blocks are perfect for transporting electro-sensitive items such as electronics, printers, computers and more. They are designed to dissipate electrostatic charge and, even after several uses, remain effective and retain their shape.
Available in a range of sizes, these blocks can also be layered between goods to absorb shocks.
Here is another type of foam block, foam liners…
Designed with preformed contours, protective polyurethane foam wrap liners; this reusable foam padding, also referred to as an "egg box" foam because of its appearance, is ideal for lining cartons and boxes. The foam liners (use one on the bottom of the box and one on the top) surrounding your product and cushioning it from knocks and bumps. The ultra-protective foam liners fit closely together stabilising the contents.
Foam wrap rolls: what they are and when to use them
Foam wrap rolls is foam, on one continuous sheet, that has been simply rolled up. Where blocks are excellent for packaging to prevent movement and to provide cushioning, foam wrap rolls are ideal as a wrapping medium. Also acting as a type of foam padding roll it is designed to wrap around and between products, offering a padded layer to protect from abrasion and provide cushioning.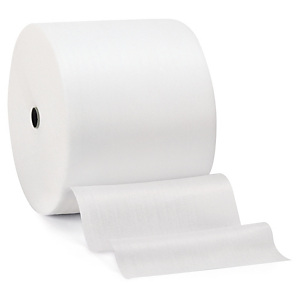 Such foam wrap rolls are ideal for any items needing gentle cushioning against each another, by interleaving. The smooth and soft texture, is also perfect for glass or polished wood as they are lint and dust free. The white finish provides a clean look.
Manufactured by Jiffy from up to 35% recycled pre-consumer resin to produce a closed cell polythene foam with a density of 20 kg/m³, these flexible and lightweight foam padding rolls are available in a variety of thicknesses, and wraps easily to conform to a variety of products.
Foam wrap sheets: what they are and when to use them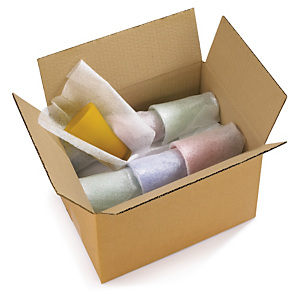 Foam wrap sheets are sheets of foam that is pre-cut to size, ready to use, as sheets. Foam wrap also comes in handy padding foam sheets, which are 1mm thick and pre-cut. This will save time when packaging: just grab a sheet and wrap. Made from up to 35% recycled pre-consumer resin to produce a closed cell polythene foam with a density of 20 kg/m³. This flexible and lightweight foam wraps easily to conform to a variety of products and comes in three sheet sizes: 230x280mm, 300x420mm and 500x500mm.
These sheets of packaging foam wrap are great to wrap around items that need to be protected from smearing and scratching. Foam wrap sheets are also handy for putting around individual items that are going to be packaged into boxes for storage or delivery.
Want to know more about our wide range of packaging foam?
For additional advice on packaging foam, foam wrap, sheets and blocks, our Packaging Experts are here to help you find the right solutions and arrange next day delivery. Simply call us on 0800 542 44 28 or visit www.rajapack.co.uk.