Warehouse safety is a top priority for a business of any size and scale.
At RAJA, we know how important a safe and secure work environment is to the general wellbeing of employees and how to fulfil operations efficiently and to high standards. Working at height is no exception, unsafe elevation poses a great health and safety risk. That's why we've put together a helpful guide to help you understand the best practices and methods to protect staff using ladders.
How to choose the right Ladder for the job?
Working at height is a common feature of any warehouse, and ensuring you have the right equipment suited for the job is key. There are several different things you may want to consider before deciding which ladders to supply to your warehouse operations.
An obvious starting point is height. To prevent workers from overreaching, you should ensure ladders have a high enough tread count to get the job done safely. There are several different ladder types you may want to explore, including telescopic, mobile, and even work platforms with steps. Here is a breakdown of each:
Telescopic ladders

Essentially, telescopic ladders are ladders which are extendible and retract down to a small size. Think about the handle on your favourite luggage trolley and you have the idea. Models like the Telescopic Ladder with Stabiliser Bar feature non-slip feet at the end of a stabiliser base bar for extra safety when working at height. The added grip to your floor, means you can ascend and descend confidently to get the job done.
Additionally, the Telescopic Ladder with Stabiliser Bar features controlled retraction to help prevent trapped fingers, and an easily-identifiable red tread step which signifies that you should climb no higher. Quick safety indicators like this make ladder safety simple, even to new employees, or employees with a language barrier where communication may be a little more difficult. The large platform size also allows for plenty of room to work comfortably without being too confined.
Mobile ladders
Mobile ladders are essentially ladders on wheels. Working the same way as a standard ladder, but with the added benefit of wheels to move the ladder easily around your warehouse, they are a versatile option.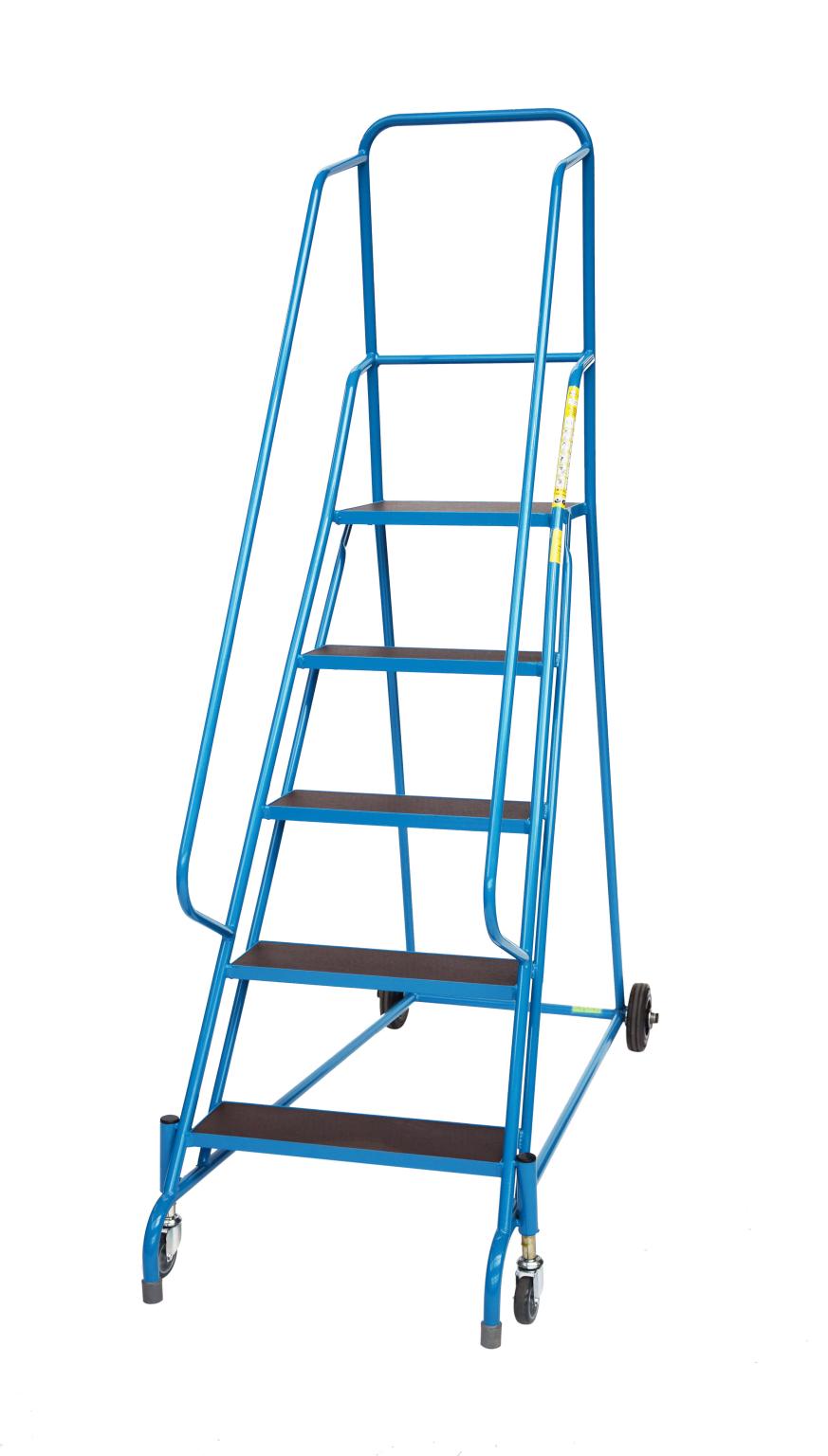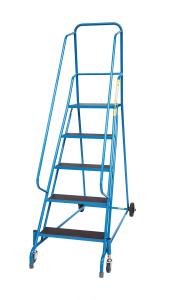 Models like Fort® Spring Mobile Steps – the tallest weight-reactive step available, have a 2m platform height, and are a fantastic option to prevent staff from over-reaching and stretching uncomfortably at height to access their working area. Combining the flexibility and manoeuvrability of weight-reactive sprung castors with the added height of a traditional warehouse step, they are available in a modest 2-tread, all the way up to an 8-tread count for taller spaces.
Work platforms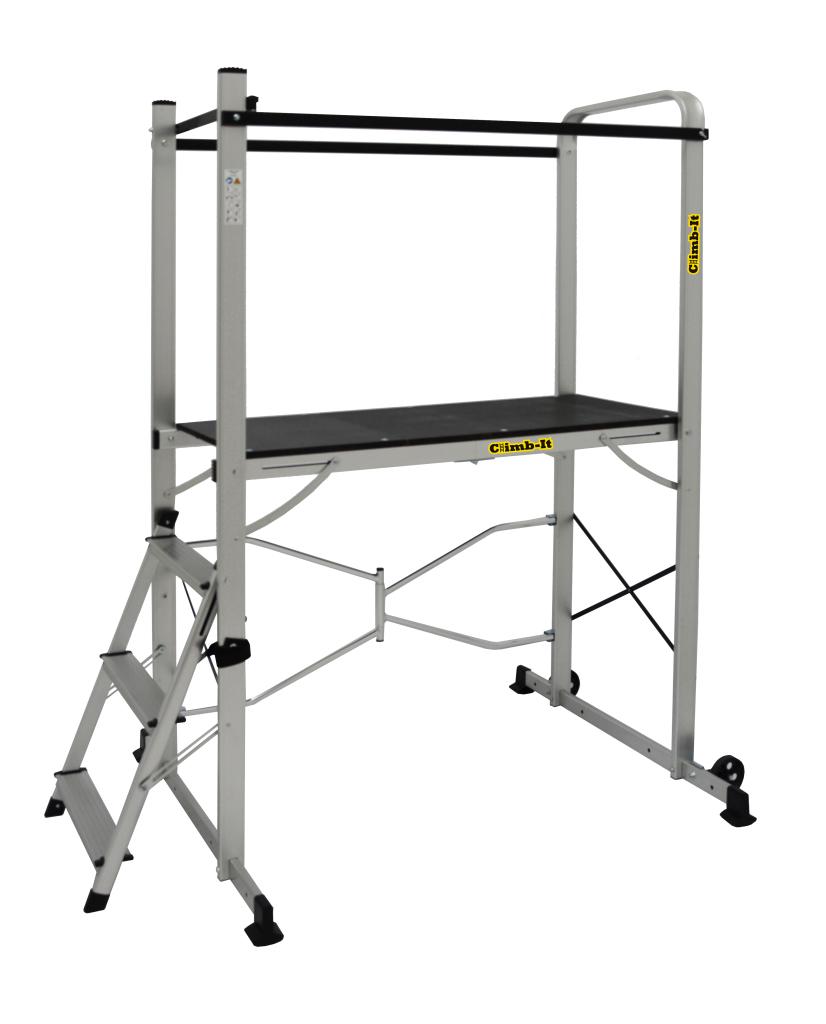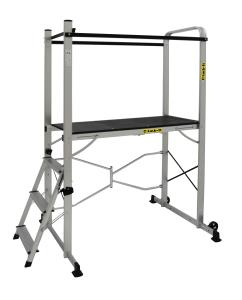 Work platforms may not be the first thing you think of when you think of working at height safely, however they have specific benefits you may want to consider for your business. The biggest difference with a standard ladder, is that they have a much larger platform area, suitable for maintenance and other key applications. Models like the Climb-It® Folding Work Platform come in two sizes, with 2 or 3 tread step ladders on the side for ascending safely.
Able to hold a generous load capacity of up to 150kg (when evenly distributed), they have adjustable stabilisers which allow the unit to be positioned close to a wall or working area, again to avoid over-stretching to get to the job. The folding mechanism means it will fit through narrow doorways and aisles, for easy storage and transportation too – so it ticks a lot of boxes for safe working.
Is there anything else we need?
Of course, it is worth mentioning that no product is safe without following the correct usage guidelines. Full training and guidance on how to use and assemble these products is therefore key to ensuring your warehouse is as safe as can be.
As well as detailed and professional training, protective clothing such as hi-vis, hard hats and steel toe cap boots should be a staple for all warehouse operatives. Visibility across the warehouse, shoes and hats which keep the body protected throughout the day, and an approach which is safety-first, will ensure that you are in the best possible position to provide a safe warehouse environment.
As a general rule of thumb, it is wise to only select ladders, steps and platforms from a trusted retailer or supplier, and products certified with EN 131 regulations as standard.*
*The authority on working at height safety, EN 131 standards and regulations help to ensure your warehouse is as health and safety conscious as ever. With Corporate Social Responsibility more important than ever and keep up to date with the latest news and regulations for steps and ladders.