In 1930 the young engineer Richard Drew invented the first ever Scotch Cellulose Tape which offered an attractive, moisture-proof way for grocers and bakers to securely seal their packages.
Over the next 80 years Scotch became a leading brand for tape and adhesives.  From introducing the first heavy-duty countertop tape dispenser in 1932, to the launch of invisible write-on Magic™ Tape in 1961, through to the release of the hand-held Pop-Up Tape Dispenser in 1997, their focus has always been on resourcefulness and ingenuity.  Today Scotch 3M Tape offer more than 400 different types of adhesive tape for packaging, crafting and sealing.
After selecting the right box for your items, using the correct packaging tape to seal it is paramount to ensure it arrives safely.  At Rajapack we're dedicated to offering our customers the best choice of high quality packaging supplies which is why we've stocked Scotch 3M Tapes for our customers for many years.
In this post we'll be focusing on the full range of Scotch 3M Tapes that we offer, giving you an overview of each tape and what it's best used for so you can ensure you are using the right packaging tape for your parcels.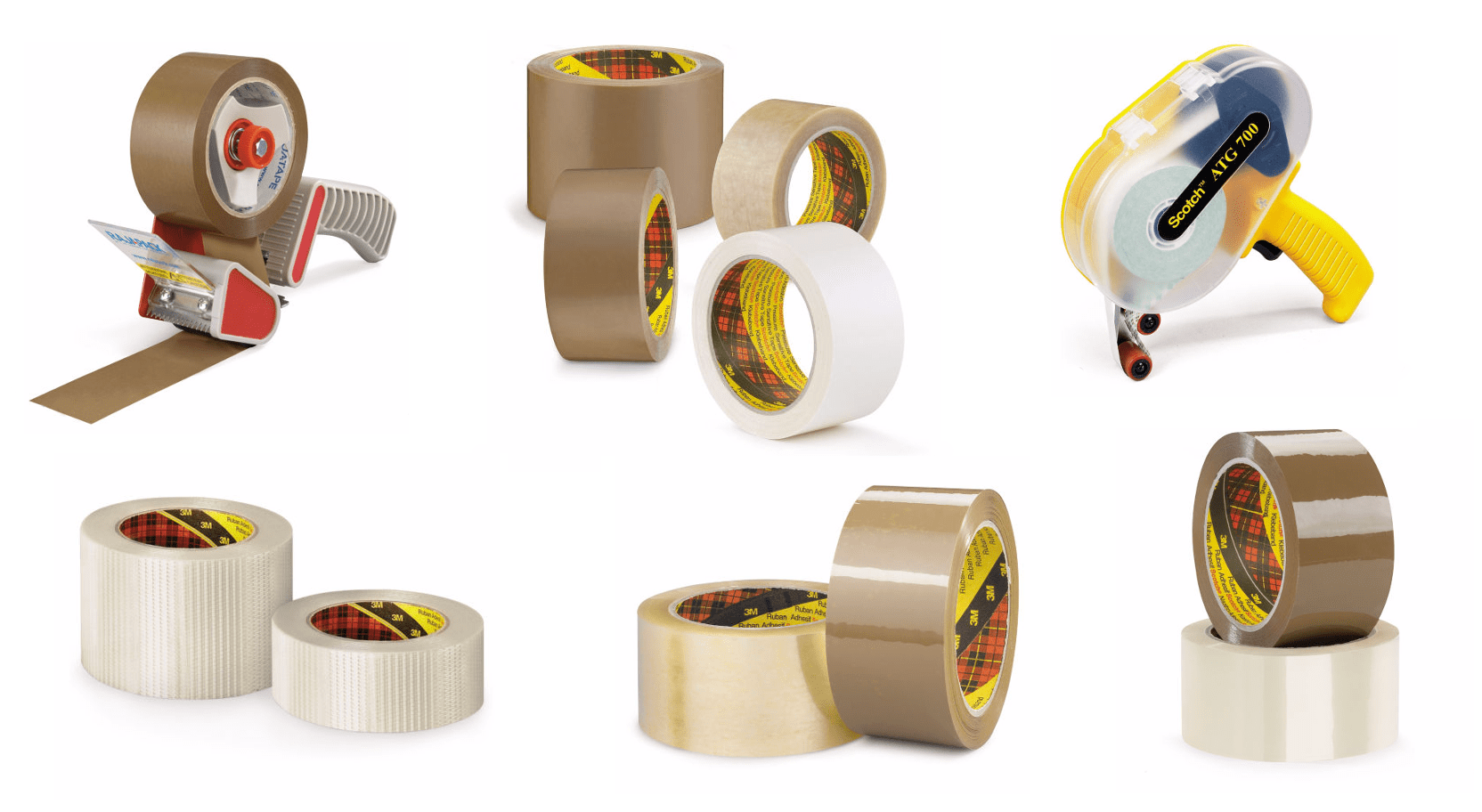 Our range of 3M Scotch Tapes
At Rajapack we stock 11 different types of 3M Scotch tape that are all suited for use in packaging and shipping, each with their own unique properties for a wide range of packaging applications.
All Scotch 3M Tapes feature a number at the end, a simple and easy way to ensure you're getting the exact tape you need. Tape thickness is measured in microns, the higher the number, the thicker the tape.  We stock a range of suitable dispensers for most of the range, making it easier, faster and safer to apply tape to surfaces.
The tapes that we stock are:
Polypropylene Tape 371
Industrial Polypropylene Tape 3759
Vinyl Packaging Tape
Heavy Duty Vinyl Tape
Cross Weave Filament Tape 8959
Low Noise Polypropylene Tape 309
Double Sided Vinyl Tape
Adhesive Transfer Tape
Machine Tape 371
Masking tape 101E and 301E (not advised for packaging parcels)
Polypropylene Tape 371
One of our most popular tape from Scotch 3M is the Polypropylene tape, which offers excellent value for money as a general-purpose packing tape which is ideal for light and medium parcels.
At 28-microns in thickness, it features a good level of tensile and tear strength combined with strong shock resistance.  It's best used for parcels of up to 20Kg in weight and is light and easy to apply, instantly sticking to all paper and board.
It's available in a range of colours to best suit your packages; clear, buff (brown), or white and is eco-friendly – it doesn't use any solvents in its adhesive, unlike many other tapes available.

This tape is perfect as a great all-rounder in the warehouse and as with all packaging tape, is easier, faster and safer to apply from a pistol grip dispenser.
Industrial Polypropylene 3759
If you need a general-purpose packaging tape that's slightly more robust, then Industrial Polypropylene Tape at 35 microns is ideal.   Offering a stronger hold and greater thickness than 371, it's recommended for parcels up to 40Kg in weight and is available in a choice of clear of buff. It will give your parcels a strong long-term hold with resistance to splitting if they are handled roughly or subject to the shock from impact.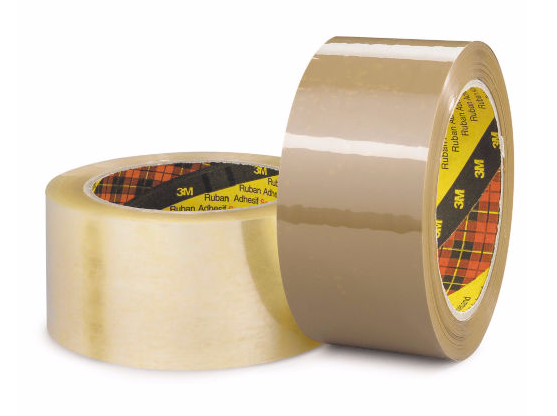 Vinyl Packaging Tape
Vinyl tape is particularly suitable if you need a tape with a long shelf life as it resists turning brittle with age.  It's got great resistance to moisture, chemicals and works well in all temperatures including deep freeze conditions.  It's perfectly suited if your parcels are going to be subject to a varied environment or stored for long periods of time.
At 35 microns it provides a good level of strength for medium box sealing tasks, can be teared by hand, is low noise and made from a PVC backing combined with a solvent-based natural rubber adhesive.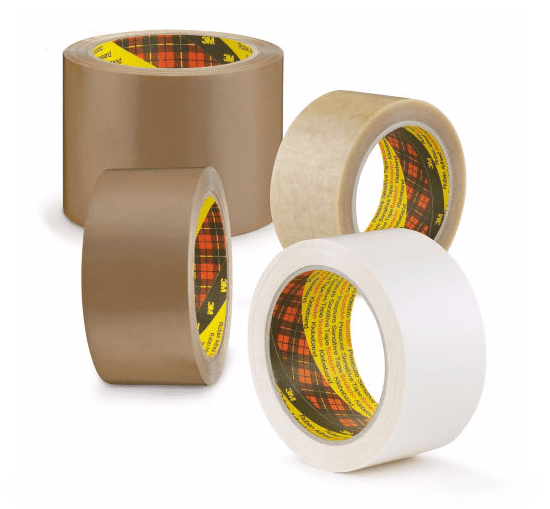 Heavy Duty Vinyl Packaging Tape 60
For heavy duty applications that need an extra strength Scotch 3M Heavy Duty Vinyl Tape will give you a strong, long lasting bond.  Designed for the toughest applications, this 60 micron tape is one of the thickest and strongest that we offer.  It's ideal for at sealing very heavy duty cartons, boxes, pallets and packages, sticking with an ultra-strong solvent-based natural rubber adhesive.
This tape is also ultra-resistant to chemicals, moisture, temperature and humidity changes including deep freeze conditions, making it one of the most resilient and hardworking tapes that you can buy.
Despite its resistance it's easy to work with and even tearable by hand – though as with all packaging tapes we recommend using it with a pistol grip dispenser for a fast, safe and efficient application.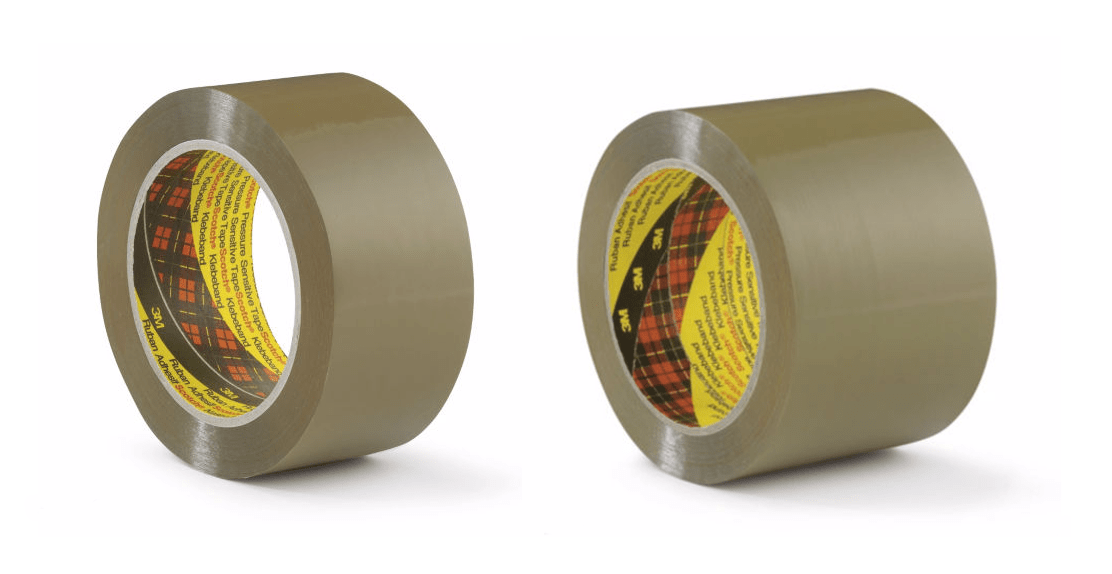 Cross Weave Filament Tape 8959
When you need an extremely tough, industrial quality hold, 3M Scotch Cross Weave Filament Tape is the tape for the task.  At an impressive 145 microns, cross weave possesses an extremely high tensile strength due to its reinforcement with glass fibre filaments in two directions.  It's where it gets its 'cross weave' name.
Featuring a powerful adhesive, it will instantly stick to all paper and board surfaces providing a long lasting, secure hold on your parcels and packages.
It's perfect for reinforcing cartons and containers that need extra support, giving additional tear and burst resistance to packages.  It can also be used for larger shipments, strapping up heavy goods or securing export consignments
As with most tapes a pistol grip tape dispenser makes application easy. It can simply be pulled over the surface to tape up any seal or join easily, quickly cutting with its sharp cutting blade and built in brake for automatic control.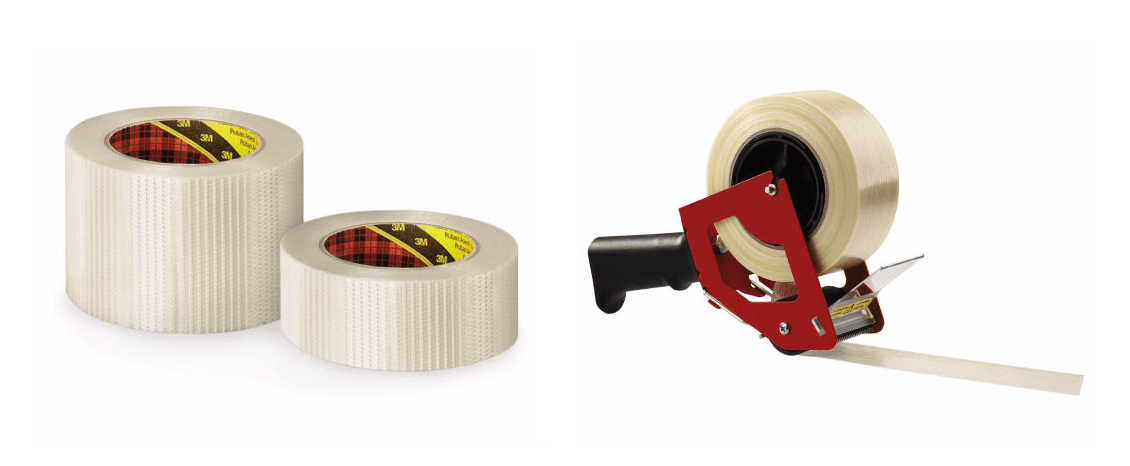 Low Noise Polypropylene Tape 309
Where noise is a problem in your packaging operation or if you're working in a small, confined space Low Noise Tape can be an excellent replacement for general packaging tape to make your working environment more comfortable for staff or customers.
Low noise tape is exactly that – it's been engineered to make much less noise when being pulled from the roll, making it more comfortable to work with in small or busy spaces.
At 28 microns in thickness it's suitable for light and medium applications, with good split and tear resistance and the same high quality sticking application you would expect from Scotch 3M Tapes for paper, board, and fibreboard surfaces.
Finally, this tape is well suited to long-term storage in cold and damp environments, in a temperature range of 4-26 degrees centigrade. It won't spoil or degrade meaning you can always ensure you're well stocked even if your warehouse suffers from high humidity or a large range of temperatures.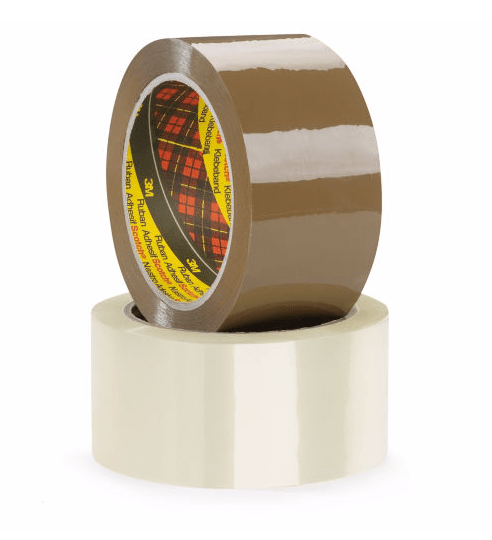 Double Sided Tape
If you need to stick materials other than paper or card, such as glass, metal, wood, fabric or plastic, Double Sided Tape is perfect for the job, giving a clean stick with no mess.
This white PVC double sided tape offers a strong a secure bond on both sides, protected by a glossy paper backing that simply peels off to use.  The adhesive is a high tack acrylic which has strong a resistance to high temperatures and UV light.
Suitable for sticking a wide range of materials it excels for use in retail, for things such as point-of-sale displays, indoor and outdoor signs, fixing plastic extrusions, badges or nameplates.  This versatile tape comes in two widths, a thinner 25mm and a wider 50mm for larger applications.

Transfer Tape
When you need to apply glue and stick directly to surfaces but don't want to use double sided tape then Transfer Tape is what you need.  This is 'glue on a roll' and is perfect for sticking a whole range of materials, from paper to plastics, textiles to leather, even wood or glass.
It's a versatile tape that can be used on everything from framing pictures, boards and posters to small product assembly or graphics and art projects.  It's designed for almost any art application where you need two surfaces to firmly bond but where double sided tape isn't suitable.
Fast to dry, as it's a tape it means you can get your glue perfectly lined up for an accurate stick and is manufactured with a paper backing and a strong and permanent acrylic adhesive.
For simple, quick and clean application Scotch 3M offer a lightweight but strong pistol grip tape dispenser which applies the tape in one simple motion and removes the paper liner at the same time.  It also features a transparent body, so it's easy to see how much tape you've got left.

Machine Tape
If you're using carton sealing machines to close and seal your packages (such as 3M-Matic™ Case Sealers) then you'll need a tape to go with them that's strong and quick to grip. Scotch 3M Machine Tape is designed specifically for these machines to seal packages instantly and effectively.  Flexible and split resistant, it's made from bi-axially orientated polypropylene film that retains its strength even when stretched.
It's suitable for all carton sealing machines and at 28 microns in thickness it can securely seal packages up to 20Kg in weight, with a tensile strength of over 45N (on steel, this is reduced to 40N).  It comes in a clear finish for white cardboard boxes or coloured cartons, and is supplied on large rolls 990mm in size.   For a standard A4 carton, one roll should be enough to seal in excess of 1,500 boxes.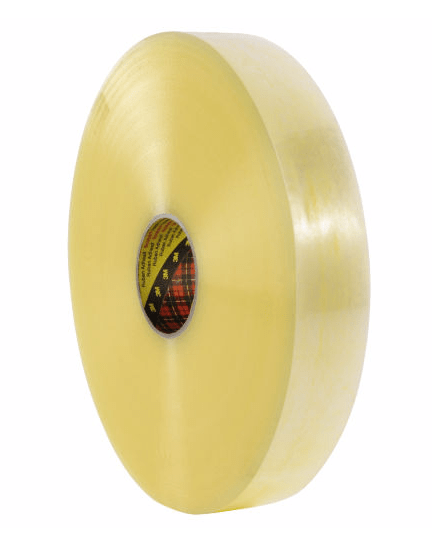 Masking Tape
The final tape that we offer is not a packaging tape but is perfect for creative projects or DIY work.  101E and 301E general masking tape is easily tearable by hand and sticks firmly to most metal and plastic surfaces for masking out areas for spray painting or precision decorating.
It's write on surface also means it's suitable for bundling, sealing or labelling, and it can easily be removed after use without leaving any residue, markings or damaging to surfaces.  Made from a soft crepe paper with a rubber adhesive it's also resistant to water or solvents.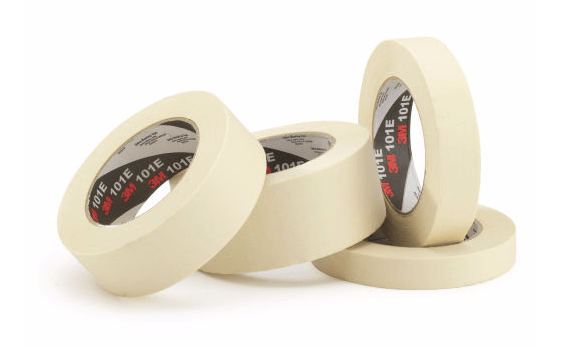 If you're not sure what packaging tape you need, or are looking for advice on selecting and purchasing tape, dispensers or other sealing supplies for your business, then please get in touch with our Packaging Experts.  Call us free on 0800 542 44 28 or email sales@rajapack.co.uk.