When budgeting for your transport and logistics costs, do you calculate your delivery costs using volumetric weight?
Many factors influence transportation costs, such as fluctuating petrol and diesel prices, and the transportation mileage. Budgeting to the volumetric weight of packages can help businesses control logistical costs. But frst, you need understand the fundamentals of this pricing method and apply the optimisation techniques.
Before we move on to the cost saving tips, if you are not familiar with volumetric weight, we recommend that you read: "What is volumetric weight and how does this affect your logistics packaging costs?". So that you can fully understand how to optimise your delivery costs.
---
Find out what volumetric weight is and how this affects your logistics packaging costs. Read more>>
---
Tip 1. Reducing packaging dimensions
Tip 2. Plan for the delivery times you need
Tip 3. Choose the right delivery company
Tip 1. Reducing packaging dimensions
Reducing your packaging dimensions reduces your shipping costs. This all starts with knowing your products, inside and out; review your range by measuring the size and weight. Then, applying the product measurements, carry out an audit of your existing packaging to measure its suitability. To reduce your packaging dimensions, your audit should consider what the protection qualities are, and how they house your products.
The right sized packaging reduces excess space and void fill used. Reducing the volumetric weight also reduces shipping costs, whilst increasing the protection levels with the appropriate packaged being used.
Having effective packaging materials suited to your product range and knowing how to pack your products for shipping are both key. Discuss your process with a Packaging Specialist to find out if you've got the right packaging materials and that they are applied in the most efficient way. You can also further optimise by choosing bespoke packaging, personalised packaging fit for purpose.
Once you have identified the most efficient packaging for your products, you can make further savings by buying in bulk. Wholesale prices will make further cost savings.
---
Contact a Packaging Specialist on 0800 542 44 28 or sales@rajapack.co.uk for free advice
---
Once your packages are ready for shipment, cross-analyse the dispatch frequency with the products sent. This will help to categorise your shipments by weight, and which band tariffs are most invoiced for. Co-ordinate your consignments in a pricing table to identify which products have the higher shipment frequencies. This can provide further cost-savings when scheduling the deliveries. Once you have a complete list, you can then enquire the rates and frequencies with your delivery provider.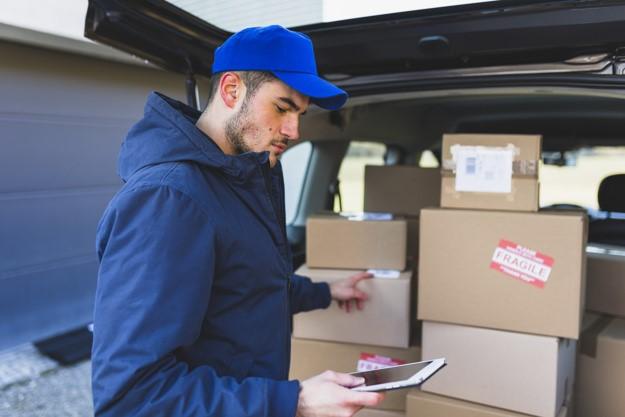 Tip 2. Plan for the delivery times you need
The delivery times can determine the mode of transport; by road, air or sea. For express deliveries needing to get to its destination quicker, these packages are given priority, so the postage costs are generally higher.
If you offer a free delivery service to your customers, have you researched if an express delivery service is needed. Or can your customers wait an extra day or two for delivery?
For next day and quick deliveries, such as a just-in-time approach, it does depend on the industry and market in which your business operates. Although, we as consumers in this technological age, do expect things 'now'. Services such as Deliveroo for the fast food industry, and Same-Day delivery service with Amazon, are perfect for customer that can't wait. However, if given the choice or if your business set-up allows, a non-express delivery service could be better. Your operation would need to adjust for the longer lead times. The cost of delivery is considerably less for the longer delivery dates, and whether your company provides a free delivery service or not. This could not only save your business money when dispatching orders, but as a customer, placing an order too. So, if you provide a free delivery service, make sure to incorporate volumetric weight costs into the total order value.
So, for an optimal shipping method, adapt your business structure if possible to incorporate volumetric weight into your transportation costs; whether you're a supplier or a customer.
Tip 3. Choose the right delivery company
Unfortunately not all carriers apply the same pricing method and there is no standardised regulation for delivery companies to do so. The method to determine its volumetric weight will be dependent on the business strategy of the delivery company, which will be optimised to its business model. (Although, many companies will operate on the DIM factor of 5000).
When enquiring about the delivery rates be sure to ask for the method of calculating the delivery costs. Secondly, ask for a tariff grid so you can see the pricing structures. This will help you easily compare the different services provided.
Compare the volumetric weight costs of UK delivery companies:
For more information on developing your packing and packaging process, speak to our Packaging Specialist 0800 542 44 28 or sales@rajaapck.co.uk for help and advice.