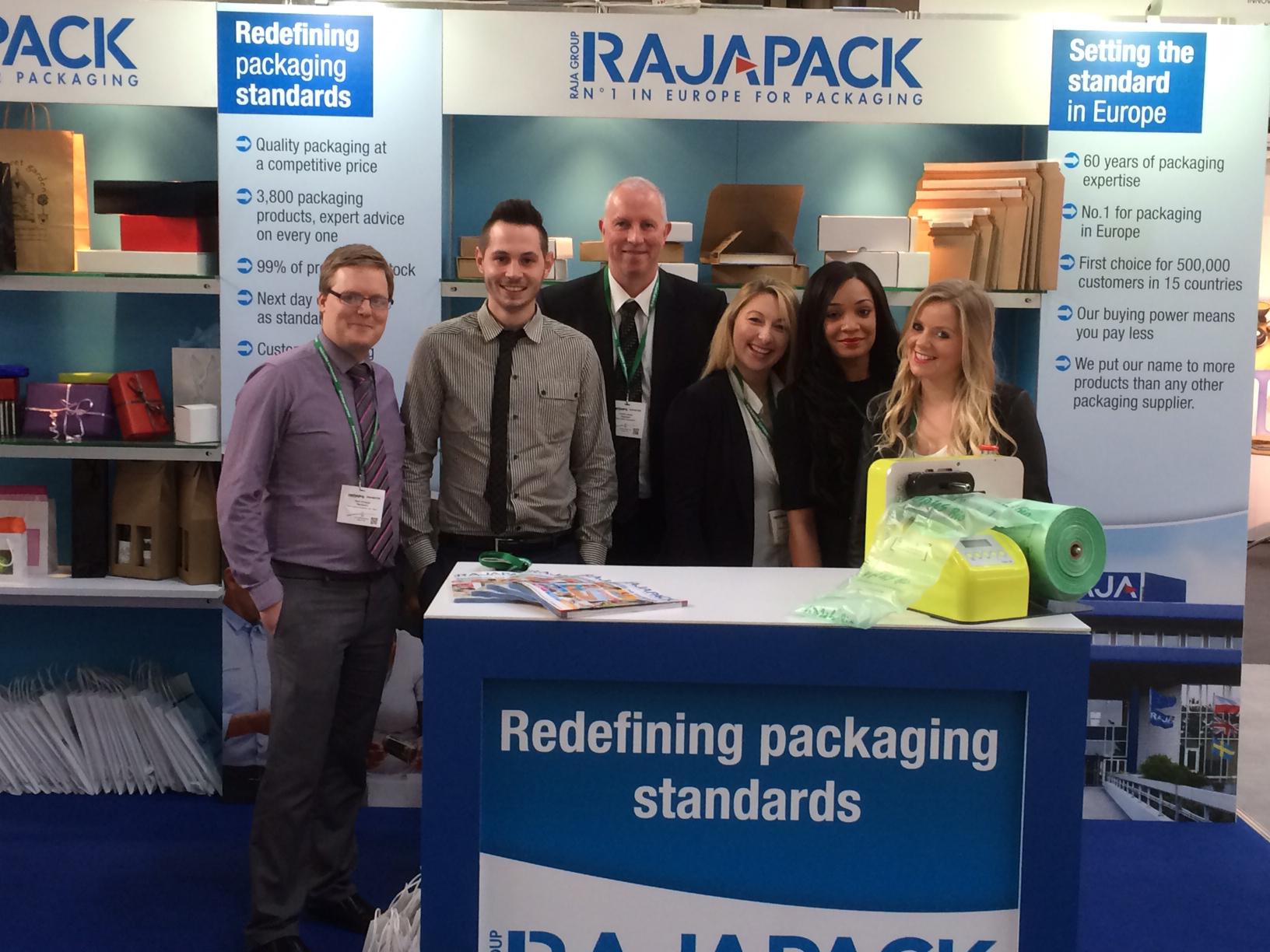 The Packaging Innovations show 2014 was a great success with visitor numbers at a record high. It was great to see so many faces around the NEC Birmingham; highlighting the increased confidence that is coming back into the packaging industry. Thanks to all those who came to say hello at the Rajapack stand. As well as speaking with everyone who came to see us, we managed to squeeze in time to see what innovations the packaging industry has in store.
Major themes and innovations:
From a distribution perspective the show saw a return of the major packaging machinery companies: from shrink film lines, to automated stretch wrapping machines and bagging fulfilment machines.  I-Pack introduced a complete production line system for measuring the size of the products to be packaged, selecting the correct size of box and void fill and then folding the box to the product dimensions to maximise the efficiency of the final package to be sent to a customer.  This machine can even include custom printed company branding for great flexibility.  Obviously a machine for very high volume production runs.
Craemer had storage and materials handling covered with a huge range of plastic pallets including heavy duty anti-slip pallets, hygienic closed deck pallets and recycled plastic pallets.  Covering a range of dynamic loads from 1,000 – 1,500kg and sizes from standard European sizes to half pallets the innovation they demonstrated was astonishing.
The other clear trend for e-commerce and companies with large volumes of product that need packing and shipping, were the array of companies' displaying Air-fill and Paper void fill machinery.  From Easy Pack's paper cushion packaging machines to Rajapack's Opus Mini bio-degradable air-fill and FasFil EZ paper void fill machines, this is clearly an area of packaging that is expanding to meet businesses needs for lightweight, environmentally considered and fast void fill solutions.
The Rajapack sales team met with over 200 customers and potential customers over the two days of the show and the interest in our huge range of 3,800 stocked products was key for many potential buyers who couldn't quite believe such a wide range of products were available to them with next day delivery.
Centre stage on the Rajapack display was the new Opus Mini; an air cushion void fill machine that is lightweight, compact and uses biodegradable rolls. Small enough for use in work stations where space is a limiting factor yet robust enough to meet the most demanding packaging needs.
Rajapack are already booked to attend Packaging Innovations in 2015 and the show is due to expand in size even further with many more packaging companies attending. We look forward to seeing even more people at next year's event.