Retailers and merchants can now happily export goods of any shape, size or weight in secure ways. Here we take a look at the export packaging options available, the merits of each and how you can even build your own.

Types of export packaging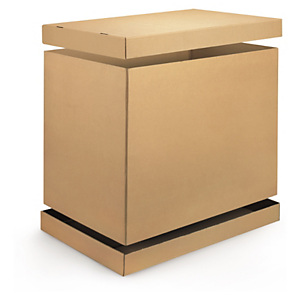 There are many types of export packaging that businesses can choose from and never has that choice been so important. The UK is the third most popular online shopping market in the world – behind only China and the US – and, thanks to the borderless nature of the web, cross border ecommerce has grown dramatically across the lockdown.
This all means that exports have risen across the board and now there is a huge need for export standard packing to make sure that goods shipped – be they ecommerce purchases or exports moving between markets – are given the right level of protection for transit.
Moving goods around the world can be arduous on the items in question and the way that they are packed is essential for making sure that they are protected properly from vibration, impact, water, dust, dirt and damage.
Luckily, there are an array of export boxes available, from export grade cardboard boxes to wooden export boxes – all designed to offer the maximum protection and ease of use. They are also designed to be reused and recycled, making them ideal for any modern, sustainable business.
One last thing to remember before we look at the various options you have when looking at export packaging solutions is that much of global export shipping relies on standardised sizing. The container ship model revolutionised global trade by putting everything in standard sized containers, making loading and unloading very rapid.
The same also applies to the goods put inside containers, as well as on to lorries and more. These are often done on standard size pallets, in standard sized boxes. Choosing the right pallet packing for export is also now a big consideration when exporting.
Export boxes vs export crating
The first choice any exporter faces is whether to use export boxes or export crating when looking to move goods. What's the difference? Well, an export box is a box, with a lid – be it wooden or cardboard – while a crate is largely seen as 'more than a pallet, not quite a box'.
To recap for those not in the know: a pallet is just a base on which crates, boxes or goods are placed; a crate has slated semi-open sides and can be easily taken a part; while a box is a fully enclosed container.
All three can play a role in storage and shipping and when to use each comes down to one thing: protection. Pallets we shall come to anon, but crates are something of an interim step in protecting goods. They enclose the items to some extent, but often are not as protective as you might like. They have gaps and are not as sturdy, so they let in just, moisture and the atmosphere, all of which can damage what lies within.
To offer the kind of protection most shippers want when exporting, export boxes offer best option. Wooden export boxes, as we shall see, offer an easy way to create a solid and sturdy way to ship, which can be easily reused.
Export grade cardboard boxes, meanwhile, can offer the same strength and protection, and can not only be reused, but also easily recycled and repurposed.
Cardboard export boxes differ from your standard cardboard box in a number of ways. For starters they have to be really strong. As a result they are made from double or even triple walled carboard.
These heavy-duty boxes are designed to help export all manner of items from to light weight items right up to metal parts, compressors, boilers, pumps, industrial tools and machinery.
All meet international standards and can be taped shut.
They are also palletizable and can be stacked, although that does depend on how heavy they are with goods inside.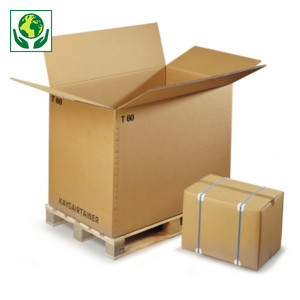 Triple wall cardboard export loading cases offer exceptional protection of goods in transit, with the first 3mm wall acting as a defence against impact and perforation. The second wall provides a 5mm reinforcement against external shocks and the third wall acts as a 7 mm shock-absorber to the contents of the cardboard box.
Wooden export boxes vs wooden export crates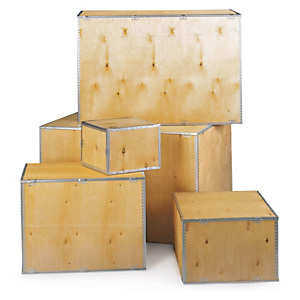 What about wooden export boxes verses wooden export crates? For really long-distance export that is going to involve road, rail, sea and air, or to handle really heavy and/or delicate goods, plywood export boxes offer an excellent and sturdy solution.
As we have seen, wooden export crates have some uses, but they don't offer the same all encompassing protection afforded by a box – and a wooden export box really is the gold-standard in export packing.
Made from strong 6mm plywood and reinforced with riveted steel edging, export boxes offer exceptional protection. Also, plywood being a man-made product of layers of processed wood, isn't considered a plant material – or to use the jargon a phytosanitary problem – so these boxes can be shipped to anywhere in the world.
They protect again impact, heat, moisture, dirt and dust and can be stacked – again depending on how heavy the items are inside.
 Another advantage of plywood export boxes is that, when not in use, they can be easily disassembled and stored flat. This makes them a really green alternative to other export packaging options as they can be reused time and again.
What is pallet packaging for export?
Pallet packaging for export is essential for being able to quickly and efficiently ship goods on standard sized pallets, allowing for merchants to make the most of bulk carriage.
Packaging goods for export relies on being able to stack things in standard dimensions. As we mentioned at the start, it revolves around standardised shipping containers and that modular approach works all the way down the chain to the items themselves.
While you can pack in standard sized boxes, those boxes can be even more efficiently shipped if they are on stackable, standard sized pallets, which in turn go in standard sized shipping containers.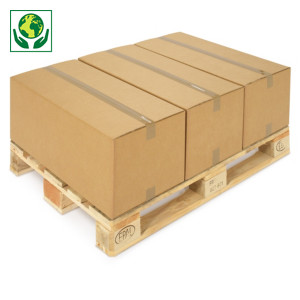 Palletised packaging for export can use either cardboard boxes or plywood cases. Double walled cardboard boxes are strong enough for most palletising export packaging needs and come in standard sizes that fit across standard pallets. They can also be stacked on one another on the pallet to form a good, secure single form to move and ship.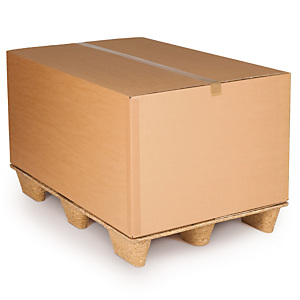 Some also come with their own presswood pallets as a self-assembly kit. These boxes are held to the pallet with plastic bolts and are sturdy enough for long-haul shipping.
They are plant and pest-free, too, so are certified for export to Argentina, Australia, Brazil, Canada, Chile, China, India, Japan, Mexico, New Zealand, South Africa, Taiwan and the USA.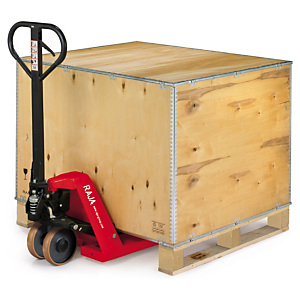 Plywood pallet boxes are also designed to fit securely to standard sized pallets, making for a really strong and export-friendly way to export goods. It also makes them easy to move around warehouses and shipping facilities as the pallet gives extra support when using a variety of forklifts.
It is always recommended that strapping is also used to secure the lid and to further secure the pallet and box to one another.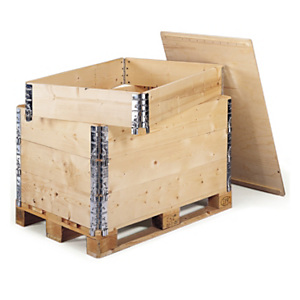 Another way to pack for export is to use wooden pallet box collars to build a box with the pallet as its bottom. If you have goods on a pallet, you can simple build a secure plywood box around them by stacking up the collars.
Stored flat when not in use, these collars have reinforced corners and slot together so that you can create a wooden export box around the goods of any height. Pop a lid on and your goods are good to go.
Want to know more about our wide range of packaging options for export?
For additional advice on the best packaging options for export, our Experts are here to help you find the right solutions and arrange next day delivery. Simply call us on 0800 542 44 28 or visit www.rajapack.co.uk.