Things you need to consider when looking at postal boxes that are best for delivery are not only how tough they are and what sizes they come in, but also what sort of experience they give the customer. The box, after all, is the first thing they see of your products or brand, even before they see the good themselves.
With ecommerce hitting new heights, what are the best postal boxes for shipping small, medium and large items – and how do you use them to make a good impression?
Let's take a look at the best postal boxes for your business.
 The best postal boxes to use for delivery
What are the best postal boxes for delivery? It depends on what you are sending, where you are sending it and, to some extent, what sort of impression you want your packaging to make when it arrives.
Postal boxes come, literally, in all shapes and sizes, but are more than just cardboard boxes; they can have a variety of sizes, cross sections, linings and lids. Boxes for posting, however, do tend to have one thing in common: sealable lids, as we shall see.
Be aware, too, that postal boxes are different from cardboard boxes, the latter having different sorts of lids, as well as coming with a variety inserts to package up specific items from documents to bottles and beyond.
Postal boxes are designed to protect the goods with card, as well as having closeable lids that tend to be integrated into the main box design that not only keep the items in place and protected during transit and postage, but also make for a satisfying 'unboxing' experience for the customer when they receive their items.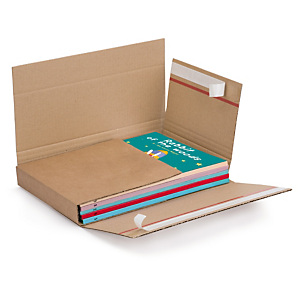 Postal boxes typically have a sealable lid with tabs that can slot Into the main box construction. It not only makes them look and feel all the more professional but this added benefit provides reinforced sides, making them strong. Constructed with single, double or triple sides, some boxes have extra thick, rigid flute cardboard, making them ideal for ecommerce applications.
But there is more to postal boxes than just the basics. Depending on what you want to send, there are a wide variety of speciality boxes, designed to contain other things, such as books, mugs, jewellery and even delicate electronics. Each comes with its own special features, such as book boxes that have specially designed flats to protect the books keeping them snug and secure, but which are also easy to open.
Mug boxes, meanwhile, offer a wrap-around design that wedges the product In, protecting the delicate mug and is easy to access when delivered. Boxes for more delicate and valuable things, such as jewellery, can be sealed in boxes that have a self-adhesive seal on the lid.

Talking of seals, to make life even easier for customers, resealable boxes – postal boxes that feature a second seal that can be used by the customer once they have opened a sealed box –  otherwise known as returnable packaging, are becoming increasingly popular for ecommerce, as they make it easy and safe for goods to be returned.
Cardboard boxes are also becoming increasingly popular in ecommerce, but they also have many other roles to play when it comes to choosing the right postal box solution. Standard boxes can be used for shipping or storage, protecting goods and documents from dirty, dust, some moisture, as well as shocks and impacts.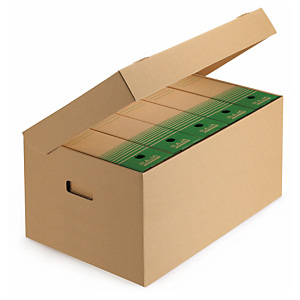 Cardboard boxes that come in A4 and A5 size are ideal for storing and protecting brochures, magazine, documents and more, either for storage or for posting and transportation. Specially designed document boxes are also available for storing and posting standard sized document boxes.
Where cardboard boxes get interesting for postage is where they can have inserts in for special uses. There is a growing business in wine and other goods in bottle – not least driven by the growth in direct-to-consumer (D2C) ecommerce brought about by the lockdown. These boxes are ideal for transportation and postage of fragile goods, with the card insert not only neatly separating the bottles, but also giving them a layer of added protection inside the box. This opens up the options for delivery of such goods, no longer needing specialist couriers.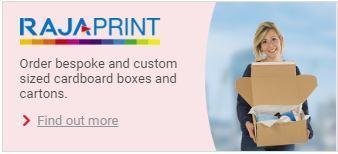 For an added 'wow' factor for customers receiving bottled goods through the post, bottle presentation boxes design to hold gift amounts of wine, beer and other glassed consumables also now come with handles and a sleek design that adds to the customer experience. They also come with integral bubble-wrap linings to make things even more secure.
What to use long cardboard boxes for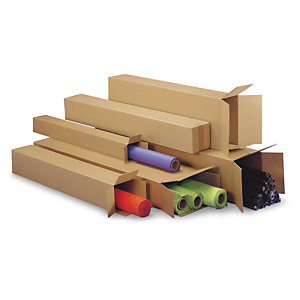 Long cardboard boxes can be used for a variety of other specialist postal applications and open up a range of postal possibilities for non-standard items such as posters and more. Long postal boxes are ideal for rolled documents and come in a range of lengths and cross-sections to accommodate a rich variety of items.
Wide-opening, they allow for easy insertion of items, without buffing up the ends of the goods and damaging them. Like all postal boxes, long cardboard boxes also offer a good deal of protection from dirty, dust and even some moisture, thanks to their corrugated structure and Kraft finish. They also can be sealed up with a self-adhesives strip, again making them ideal for ecommerce.
Long cardboard boxes can also be tubular. These are ideal for posters and large documents – such as maps or plans or posters – and feature flush fitting end caps. Being circular in cross section – and made from premium grade fibre board – these tubes are very strong and are ideal for use as postal tubes.
Benefits of flat boxes for postage
Flat cardboard boxes offer a range of benefits. They are ideal for the postage of books, magazine and electronics such as tablets and even computers – and are even designed in some instances to fit standard sized Royal Mail post boxes and home letter box slots.
This design makes them ideal for sending all sorts of items through the standard post, opening up ecommerce delivery options.
Available with either up and over lids or with a single opening side, flat postal boxes offer the benefit of carefully cradling and protecting flat items for postage.
Flat boxes also have self-adhesive lids, making them not only quick to assemble, but also allow them to be secured for postage.
With all flat cardboard boxes, integral lids and double reinforced sides protect all flat items and have revolutionised how good can be packed for ecommerce – doing away with having to finds a box big enough for the goods in one dimension that is too large in all others and so needing a lot of secondary packing material.
Reasons to use foam lined postal boxes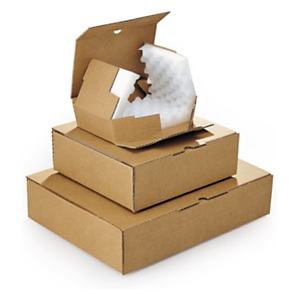 Foam lined postal boxes can be used for a number of reasons. Firstly, they are ideal for sending delicate items through the post or by courier. Secondly, they are ideal for added protection to high-value and small items.
Made in a simple and strong one-piece design from triple layer card and lined with shaped non-abrasive polyurethane foam, these boxes can be used to give items a double layer of protection.
Firstly, there is the outer card, which protects from dust and dirt. Inside, when closed, the items therein are swaddled in two layers of foam, preventing shocks and knocks damaging what's inside.
This makes them useful for sending electronic devices, such as cameras and phones, as well as jewellery and other fragile, delicate and high-value goods.
Foam slider postal boxes completely wrap items in non-abrasive foam in a slider 'box within a box' which not only adds double layers of protection to the items, but also makes for a solid and luxurious opening experience for the customer.
Want to know more about our wide range of postal boxes?
For additional advice on the best postal boxes, our Experts are here to help you find the right solutions and arrange next day delivery. Simply call us on 0800 542 44 28 or visit www.rajapack.co.uk.