Using a heat gun to wrap and package goods is quite straightforward. Shrink wrapping offers a sturdy, protective and professional way to pack goods for storage, transport and even for sale. But to get the best from the material, the wrap needs to be heated so that it can shrink – and that means using a heat gun. Here we take a look at how to choose the right wrap for your needs and then how to use a heat gun to make it work.
Can I use a heat gun for shrink wrapping?
Yes you can use a heat gun for shrink wrapping, it is ideal for professional and effective packing. Shrink wrap is a highly efficient way to protect goods for transit and storage. But for it to work effectively the goods in question have to be wrapped – in the wrap, and then heated so that the film shrinks into place – holding its contents tightly and securely.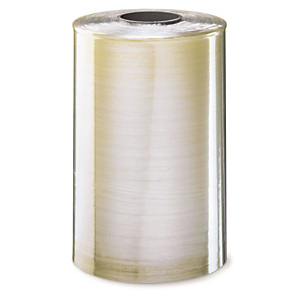 To do this you need a shrink wrap heat gun. The film is made from polyolefin plastic, most commonly polythene and PVC. It is a strong, often transparent and offers protection to heat, cold, moisture, dust and other contaminants. It is also puncture proof and offers a secure way to hold items together for storage and transport and is an ideal way to package various items.
But to get the best out of it the polyolefin plastic needs to be heated so that, as it cools, it shrinks to tightly wrap the goods. But be careful when you heat shrink wrap, as it requires care – so as not to damage the plastic and the goods beneath.
PVC heat shrink rolls shrink at 80 degrees Celsius and have a retraction rate of 40%. It isn't recommended for food packaging.
How to use a heat gun for shrink wrap
So how do you shrink wrap goods and pallets of goods for transport or storage? For goods on a pallet, or mixed goods that are of non-uniform size and shape, a good starting point would be to use a shrink wrap roll.
Using shrink wrap on an easy to use roll, is a simple method to help palletising or collating. The shrink wrap roll can then be simply un-rolled, and the polythene wrapped around the goods as needed. Allowing for the change of contours and shapes, this helps hold together the goods ready to be heated and shrunk into place to create that all-important tight support and protection.
Shrink wrap on a roll comes in a range of sizes to allow for a variety of sized pallets, goods and needs. Including extra wide for those particularly big or awkwardly shaped products.
It can be found as both a continuous roll of film, this helps to accommodate non-uniform and varied sized and shaped loads. The film can also be manually cut to size, or it is available as a perforated roll, which can be torn off easily for use in sections to cover the load.
To work out the cover height that you need: Load height + 1/2 width + 140 mm. For example, if your load is 1160 mm high (including the pallet) on a standard 800 x 1200 mm pallet, you need a cover with a minimum height of 1160 + 400 +140 = 1700 mm.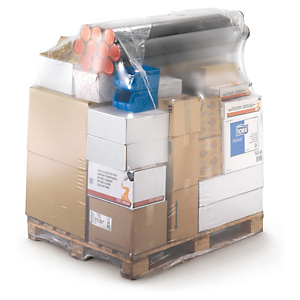 Alternatively, it comes as  shrink wrap bags, available in a roll, or shrink wrap pallet covers that can be slipped over the items or pallet ready to be shrunk into place.
Individual shrink pallet covers are available in two sizes – the smallest pallet covers are suitable for pallets with a maximum height of 1160mm and the large pallet covers are suitable for pallets with a maximum height of 1760mm. Manufactured from 120 micron low density polythene, the film is also available as shrink pallet covers perforated on a roll and on a continuous roll.
Prepare your loads by ensuring it is tidy as possible, then secure the load on your pallet, pull the shrink film cover over the whole load. For best results raise the pallet to a position where you have easy access to the underside – then pull the cover down underneath the corners of the pallet.
With shrink wrap pallet covers or bags, pull the bags down over the goods into place.
Then the heating begins. To get the best out of the shrink wrap it needs to then be shrunk into place by using a heat gun. This is done using a shrink wrap gun.
A shrink wrap gun is a heated gun that uses butane or propane gas to create a flame, which is contained in a safety housing which gets hot and radiates heat onto plastic wrap. It is crucial that no contact occurs between the flame and the film – or the film will ignite and burn.
These tools are safe and light enough to use all day long. It is available as part of a complete kit, complete with gas canister, lengthy hose and gun. Some systems are also mobile – featuring a film gun and trolley kit, complete with a portable propane bottle – so that the wrapping can happen on the move within the warehouse or packaging area.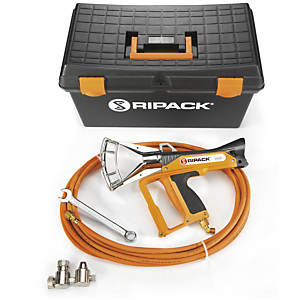 A great example is the RIPACK 3000 Shrink film gun, which is safe and easy to use. The flame is never in contact with the nozzle, which stays cool avoiding any risk of burning. The flame fans out to cover a large area making the shrink process quick and easy.
This heat shrink gun is ergonomic, lightweight (1.22kg) and designed to keep operator fatigue to a minimum with its soft grip handle. The RIPACK 3000 is supplied in its own case and includes a regulator, 8 metres of hose, adjustment spanner and instruction manual. There is a spare igniter store in the handle. The case is sturdy enough to be used as an operator platform. Powered by propane gas (not included).
Want to know more about heat guns?
For additional advice on different packaging films, wrapping machines and heat guns, our Packaging Experts are here to help you find the right solutions and arrange next day delivery. Simply call us on 0800 542 44 28 or visit www.rajapack.co.uk.