When should you use polythene mailing bags verses flat postal boxes? It all comes down to what you are sending and how much protection you want. Here we take a look at the advantages of each – and find that they can also work really well together.

When to use what: Polythene mailing bags vs flat postal boxes
When is it best to use polythene mailing bags verses flat postal boxes? As more people are looking to send more goods through the post and via courier – all over the world – what to pack things in is becoming ever more important.
The first question you need to ask is what is being sent and where is it being sent. Items that are relatively flat and likely to go through a letter box are perfectly suited to flat postal boxes. Things such as computer keyboards, or framed pictures or even things such as homewares and arts and crafts.
For these things cardboard postal boxes offer excellent protection from impact, dust, dirt and some moisture. They can also be padded out inside with other packaging materials such as bubble wrap.
Polythene mailing bags, on the other hand, are very good for soft, lightweight, non-fragile items, particularly clothing and apparel. They are also waterproof.
While postal boxes, then, are ideal for more delicate items that need impact protection, waterproof bags are ideal for moisture protection. Perhaps this isn't and either/or decision: perhaps the ideal mailing solution for your more fragile items is to use both?
Say you are sending a computer keyboard, or a clock to a customer in France. You want to be able to pack that in a box with bubble wrap so that it is protected from vibration, impacts and isn't free to move about. But you also want it to be protected from moisture.
Putting it in the postal box and then putting that in to a polythene mailing bag can make for the ideal packaging solution: impact protection and waterproof. The poly bag may even give it a handy handle to help the deliverer carry in more safely.
The benefits of polythene bags
Polythene mailing bags offer a number of benefits. Standard polythene mailing bags, as we have seen, are waterproof, so they can protect against moisture. They are also made from tough polythene and have tamper-proof peel and seal openings, so that they also offer a good degree of security – something enhanced by those bags that are grey or black opaque polythene which precludes anyone seeing what is inside the package.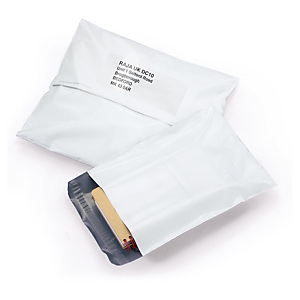 Being flexible, they are also ideal for soft items such as homewares and apparel and are increasingly becoming a staple of the online fashion business as their toughness also makes them suitable for being re-used for returns.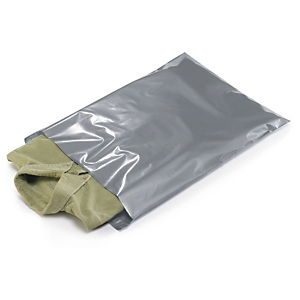 Their toughness also makes them ideal for other uses. Clear polythene bags and clear bags with write on labels are often used for sending out brochures and catalogues, displaying the goods inside and allowing for the label to be clearly visible to the courier.
Mail bag polythene envelopes with handles are also quite useful for delivery of clothing and other soft items, protecting what's inside and making them easy to carry.
For protecting more fragile items, such as jewellery and some homeware items, polythene bubble mail bags can be used. These offer the same advantages as other mailing bags, but are lined with bubble wrap which adds a whole extra layer of impact protection and makes them a viable alternative in this regard to flat pack postal boxes for some items.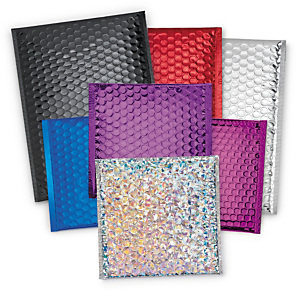 The benefits of flat boxes
Flat boxes offer a range of benefits too. Flat mailing boxes are ideal for protecting fragile objects, since the think card from which they are constructed offers excellent impact protection.
Flat pack postal boxes also come in a wide variety of sizes and shapes – and some feature some novel ways to offer flexibility around what you want to send as well as enhanced protection.
For example, double wall, flat telescopic boxes come in a wide range of sizes and form factors and are ideal for sending pictures, mirrors and other flat glassware that needs total protection and flexibility around size.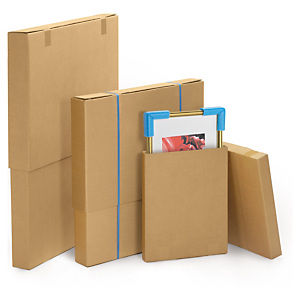 These telescopic boxes can accommodate a variety of sizes, since the lid of the box can slide up and down the main part of the box. Large foldable flaps, meanwhile can create a box that offers an extra layer of protection to delicate items, with the flaps folding over to create an extra barrier.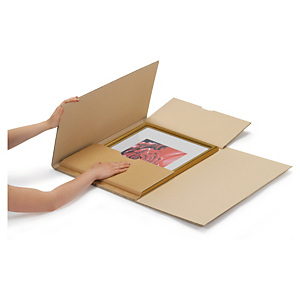 Both these and telescopic boxes also have the advantage of offering a pleasant 'unboxing' experience for the recipient – something that is increasingly important in the competitive ecommerce field.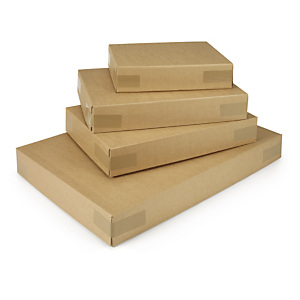 One piece, five panel wrap boxes not only come in a range of sizes, but also offer a one piece wrap-around experience. They also have reinforced corners, making them even tougher and impact resistant.
Flat cardboard boxes also come in a range of sizes and shapes to suit almost all types of goods and to allow some leeway for adding extra packaging materials around the goods and within the box to give what's inside even more protection.
What polythene mail bags and flat postal boxes have in common
Polythene mailing bags and flat postal boxes have some common traits too. We have already seen that the choice between flat cardboard postal boxes and polythene mailing bags is not necessarily an either/or choice: working together, they can provide total protection for goods in transit, tapping into the benefits of both.
They also have a lot in common. They are both lightweight and can be used for many of the same things: some apparel, for example, can be just as easily sent in a box as a bag, and it can lend an air of luxury to the product.
Likewise, using bubble wrap or bubble-lined bags, some delicate items such as watches and other electronics can be sent in plastic.
Both are also recyclable, with both the cardboard and the polythene being recyclable once used at any recycling point.
In addition, both are also available made from recycled cardboard and polyethene – a win-win.
Want to know more about our wide range of polythene mailing bags and flat cardboard postal boxes?
For additional advice on the best polythene mailing bags and flat cardboard postal boxes, our Experts are here to help you find the right solutions and arrange next day delivery. Simply call us on 0800 542 44 28 or visit www.rajapack.co.uk.