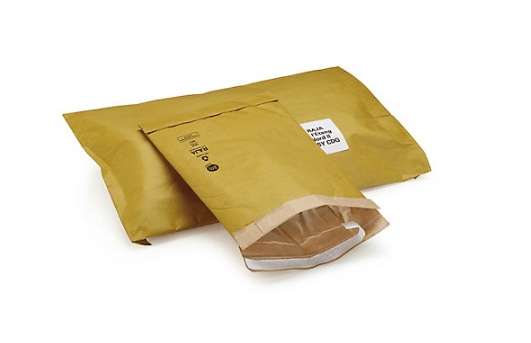 Jiffy® bags are as much of a household name as Sellotape and Hoover and have become an essential for e-commerce businesses and retailers around the world. But how does something as ubiquitous as an envelope become as unique as a Jiffy bag?
The early days of padded packaging
The Baldwin family, Jiffy's founders, started out as wood wool manufacturers in 1896 in Birmingham. These very thin strands of wood were used as an early form of packaging because they were very springy. Even after being compressed, they bounced back to their original volume, so they could be used again and again. Wood wool was big business both in the UK and the USA in the late 1880s and was used in many products. When sulphuric acid was added, it became very absorbent, so much so wood wool was used in early surgical dressings and sanitary towels!
Thanks to the innovative nature of the Baldwin family, in 1964 The Jiffy Packaging Company Ltd was established to manufacture Jiffy Padded Bags, which were now lined with shredded newspaper print* rather than wood wool.
Even today the original Jiffy Padded Bag® is still significantly more durable and has more cushioning than lighter weight mailers. Over the years, the padded bag design has seen some huge advances. It is now folded and seamless on the sides, with a double-glued bottom flap to make each envelope virtually impossible to burst in the post. The outer is made from tough paper and the modern padding is formed from 100% recycled paper fibres which expand with use. To maximise protection it's a great idea to ruffle the bag before filling. These elements all work together to create a cushioned, puncture-proof protective casing for heavy parts, engineered components and valuable export items.
What's the Jiffy secret?
In 2014, Jiffy celebrated 50 years as one of the UK's leading packaging materials producers. Starting with padded bags, they have now developed ten product ranges from protective foam profiles for cushioning box edges to furniture wraps and digitally printed mail bags. And it's their dedication and investment in continuous innovation that has kept Jiffy at the forefront of packaging.

Jiffy were the first business in the UK to extrude PE (polyethylene) packaging foam in 1979, and by investing in state-of-the-art PE foam extrusion technology, they now lead the way in this market. After the Jiffy Padded Bag came the Mailmiser® and Airkraft® envelopes that use bubble wrap rather than padded fibres to ensure the envelopes are lightweight and more bouncy. This helped reduce postage costs for e-commerce businesses, retailers and individuals, and ensured items such as CDs, pharmaceuticals and promotional items arrive undamaged. Airkraft outers are laminated for even tougher protection from rips, punctures or the elements.
Meeting the demand for sustainability
Whilst their Padded Bags are fully recyclable, the company have now created Jiffy Green bubble film which is made with a minimum of 75% recycled materials, and is fully recyclable.

With sustainability a huge priority in packaging, Jiffy and have recently launched Earth Aware® which is a new way of packaging Jiffy mailers. By creating banded and flow wrapped bundles of bubble-lined mailers, Earth Aware removes the need for a corrugated packaging outer.
This simple saving means there's no corrugated cardboard to dispose of, the amount of mailers that can be delivered on each pallet increases and the handling costs are reduced. This very forward-thinking product saw Jiffy named runner up in Packaging Europe magazine's 'Sustainability Awards 2015'.
The future for Jiffy
Jiffy manufacture all their bubble wrap inners with a layer of barrier film to seal each air pocket and minimise air escape during shipping. Bubble bags offer long-lasting protection and virtually puncture resistant outers. So it raises the question – if a Jiffy bag can be endlessly reused where will all the addresses go? Perhaps wipe clean outers will be Jiffy's next innovation for an infinitely reusable mailer!
Discussing innovation with the National Account Manager, Colin Parker said, "Whether you choose the Jiffy® Green Padded Bag, Mailmiser® or Airkraft® bubble lined mailers, or the new and innovative foam lined mailer, Jiffy® Superlite®, there's a huge variety of mailers for individuals, e-retailers and mail order companies to choose from, for a wide spectrum of applications."
"Once you've found your perfect mailer, now you can customise it by adding your own logo, promotional message, or postage paid mark! They're digitally printed, with a very low minimum order and fast turnaround which means you can really add a personal touch to mailings and still achieve sophisticated print quality without artwork or plate charges."
* http://searchwarp.com/swa549745-The-History-Of-Padded-Envelopes.htm