Christmas is coming and it's a busy time for everyone making sure we're organised for the big day. One thing that can be overlooked is what to do with all the used gift wrapping and boxes once those presents have been opened. As a nation we're very aware of the importance of recycling, however at Christmas with so much packaging and wrapping around it's not always clear what we can recycle.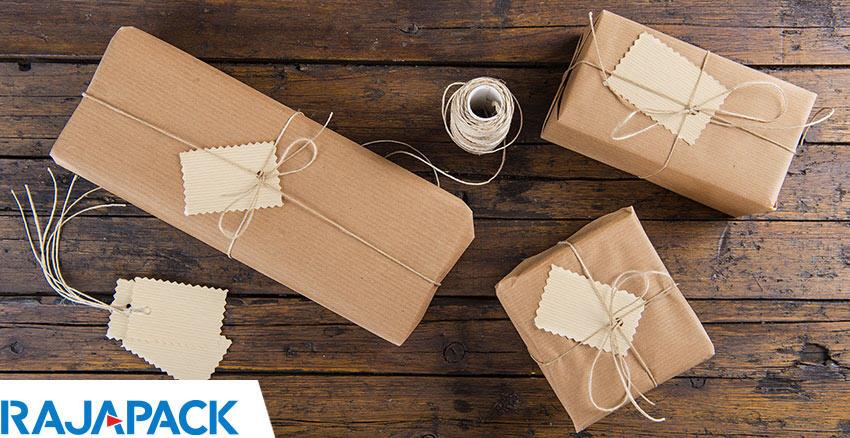 In this post we will be looking at how to recycle gift bags, gift boxes, tissue paper and gift wrap so you can ensure that you're recycling the right items this Christmas.
We've got your gift wrap recycling questions all wrapped up
One of the most common leftovers we all have after Christmas is a mountain of gift wrap, so it's no surprise that we're often asked "is gift wrap recyclable?" This isn't a straightforward question to answer as there are a few factors to consider, but in short – if you can scrunch the paper into a ball and it stays scrunched, then it should be ok to recycle it (remember to remove any plastic tape first!).
Not all gift wrap is recyclable though as it can often contain materials other than paper, such as plastic or glitter. We've covered this in more detail below, so read on for more information on what can and can't be recycled.
Gift bags are a great way to give a present without having to wrap them first, and they also come in a huge range of colours, designs and finishes. A common way to recycle gift bags is to reuse them when giving a gift to a friend or relative, but once they wear out can you recycle gift bags in your normal paper recycling collection? If the bag is made from paper or thin cardboard then you should be able to remove any non-recyclable extras such as ribbon handles, plastic tags or decorations before you recycle. Remember though, this does depend on your local council recycling restrictions, as they vary across the UK. To make things easier, we have included useful links below on where to find this information online.
Over 12.5 million tonnes of paper and cardboard are used in the UK per year* and they're widely recycled, but can gift boxes be recycled as easily? Luckily, recycling gift boxes is straightforward. Simply remove any non-recyclable items such as plastic packaging from inside the box, metal embellishments and glittered areas. Then flatten the box before disposing of it, to save on space in your recycling bin.
Are gift bags recyclable?
Even though gift bags can be recycled it is not a straight forward answer. Gift bags have excellent durability meaning that they can be used many times before they start to look worn and become unusable. Eventually they will start to wear out, look tired and will need to be disposed of. But it depends on what the bag is made from as gift bags can be made from paper or lightweight cardboard, sometimes with a plastic coating. There are also countless decorations from ribbons to plastic jewels, metal, feathers… the list is endless! Though if the bag is made from paper or thin cardboard then once you have removed the decorations, gift tags and handles it should be safe to recycle.
Because there are so many different materials a gift bag can be made from, it's best to check with your local authority as some will accept gift bags and some may not. To find out what's recyclable in your area click these links for England & Northern Ireland, Scotland and Wales. Select one of the three options to find out what can be recycled in your local area then type in your post code for the results.
Are gift boxes recyclable?
Like gift bags, gift boxes are recyclable as they can be reused. Gift boxes are very handy when giving multiple gifts or those of an unusual shape that are difficult to wrap, it can be simpler to use a gift box. Decorated gift boxes can have different textures, coatings and finishes on the cardboard box material which can make it tricky to know if they can be recycled. With so much potential confusion it's no surprise that we are often asked by our customers "can you recycle gift boxes?"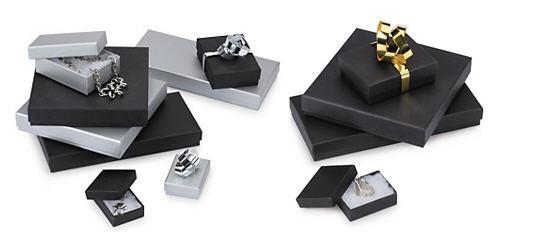 Most of the time you can, just check what material the box is made from, if it's cardboard then you can recycle! It's important to remove any plastic coated gift tags, bows, ribbons or glitter covered areas as these can't be recycled. Remove any items from inside the box, this could be plastic packaging or even a forgotten gift! You'll also want to flatten the box to save on space in your recycling.
Alternatively, instead of throwing gift boxes away, don't forget you can reuse them for gifting! Also they can make a great stylish storage solution around your home or office for paperwork, shoes, toys… anything that will fit inside!
Can gift wrap be recycled?
Most of us are used to seeing the mountains of used gift wrap on Christmas Day morning once those presents have been opened, and you may ask yourself can gift wrapping paper be recycled? It's not a simple answer, even though we know it as 'wrapping paper' it often contains more materials than just paper. Gift wrap that contains foil or glitter is not recyclable, nor is plastic sticky tape or decorations such as bows and ribbons. If you bought recycled wrapping paper though, it should be safe to recycle again.
If you're still asking can you recycle gift wrapping paper, there is an easy way to find out with the scrunch test. Squash the paper into a ball and if it stays in a ball shape then you can probably recycle it.
Is gift wrapping paper recyclable by your local authority? Some councils will take away your wrapping paper with your roadside collection, while others may want you to take it to a recycling centre. To find out about your area click for England & Northern Ireland, Scotland and Wales. Select one of the three options to find out what can be recycled in your local area.
Can you recycle tissue paper?
A brilliant addition to any gift is tissue paper to add elegance and style to a present, but is tissue paper recyclable? As with most recycling, it depends on the type of tissue paper so it's best to check with the retailer first. Our range of tissue paper are recyclable, these include coloured tissue paper, white tissue paper and metallic tissue paper – this is because we use soluble ink to achieve the metallic effect rather than using synthetic coatings. If in doubt, check with the retailer or your local council before you recycle.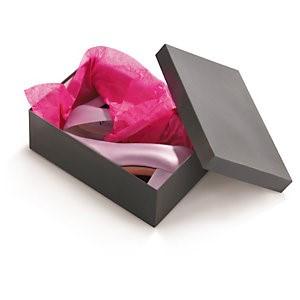 There are other ways to recycle used tissue paper as it can easily be crafted for a variety of uses. You can create countless decorations or even shred ripped tissue paper to use again in future.
So, is tissue paper compostable? Mostly, yes – tissue is made from recycled materials and is constructed of short fibres so it does break down in a composter, you can wet it first to start the process. So then ? As with most recycling there are some exceptions to the rule, if the tissue paper has a coated metallic finish then it's probably not going to breakdown easily so you may want to try some of our ideas for reusing it above.
Before attempting to recycle any gift packaging, check first with your local authority if they will take it away or if you need to take it to the recycling centre. Remember to remove any glitter, decorations and plastic coated areas. Don't forget that you can upcycle your old gift packaging into something new or reuse it for another gift.
For more information read our environmental FAQs and you can find our full range of gift packaging on our website but if you need help and advice simply contact our team on 0800 542 44 28, or sales@rajapack.co.uk.
* https://www.recyclingbins.co.uk/recycling-facts/