Our Animal Protector Awards may be all wrapped up for this year, but our passion for protection is always there.
For over 60 years, our teams at the RAJA Group have been developing and sourcing new ways to keep valuable products safe during transit. For the last two years we've used our winter campaign to pass this protection on to animals rather than products. In 2014, we helped Tiggywinkles Wildlife Hospital protect hedgehogs in our Home Safe Home campaign, raising over £350 and donating £200 worth of stationery to their offices.
With spring officially here (meteorologically speaking), we can all start doing our bit to protect wildlife in our gardens and enrich the lives of our pets, simply by re-purposing Rajapack products at home.
Hedgehog house from a cardboard box
All year round, these little creatures need a safe place to feed and get out of the rain and cold. The Co-op suggest getting a thick cardboard box about 30cm wide, 45cm deep and 30cm tall and cutting a 12cm wide hole in the box. You can attach a 30cm long entrance tunnel made from 10-13cm diameter drain pipe and put some air vent holes in the top of the box.
Then put dry leaves, straw or shredded newspaper inside and cover the top of the box with a bin bag that you've cut down each side or roof felting. Then tuck the box near a hedge or wall and cover the whole thing with leaves and soil. If possible, put the entrance facing south to keep cold northerly winds out.
In spring the hedgehogs will come out of hibernation hungry, so you can see if there are sources of slugs, grubs and worms near to your hedgehog house. You can also leave them water, dry cat biscuits, tinned cat or dog food, or dried mealworms. Do not leave milk and bread for them as this can make them very ill.
Bird nest box from a broken pallet
If you have a broken wooden pallet or off-cuts from another project, the deck boards across the top of a pallet are ideal for making a nest box. By following the design below you will make a safe nest for a declining species called house sparrows and you can help the British Trust for Ornithology track these birds by registering your nest box.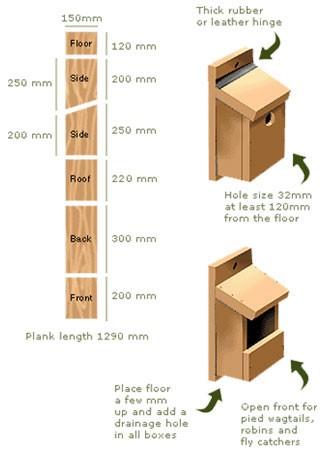 Design and tips courtesy of http://www.bbc.co.uk/breathingplaces/nest_box/
Remember:
Drainage holes are important for draining away liquid waste and rainwater
Don't be tempted to add a perch. Predators may intimidate the birds and force the adult birds to leave
A coat of linseed oil will stop the wood drying out but is not essential. Wood preservatives are best avoided as some are poisonous. Don't paint the box
A hinged lid allows you to clean the box easily but make sure it is fastened securely to stop magpies and squirrels raiding the nest.
Cardboard boxes for rabbits
Any spare cardboard boxes are ideal for your rabbit's hutch. They love being protected so creating a small house (with a window and door for them to see out at all times) from a cardboard box and putting it inside your hutch gives them a good place to hide. Please remember that the '3 hop rule' still applies and you shouldn't put a cardboard box in the hutch that is too big. If they have a larger space to run around in the garden, leave some made-up cardboard boxes in different places; your rabbits love finding new places to feel safe in!
Shredded paper for gerbils, guinea pigs and hamsters
If you run out of straw or hay for your pet's bedding, you can reuse shredded paper that's left over from packaging or food hampers. It's absorbent, warm and free! You can also tear up waste paper like used envelopes and newspaper, but make sure to use rough paper. Paper with a smooth coating may not offer enough insulation.
Postal tubes
Postal tubes from posters and certificates make great toys for cats, small dogs, hamsters, gerbils, rabbits and many more small animals. Simply cut them up with scissors or a small hacksaw and your pets will love running through them or chewing on them.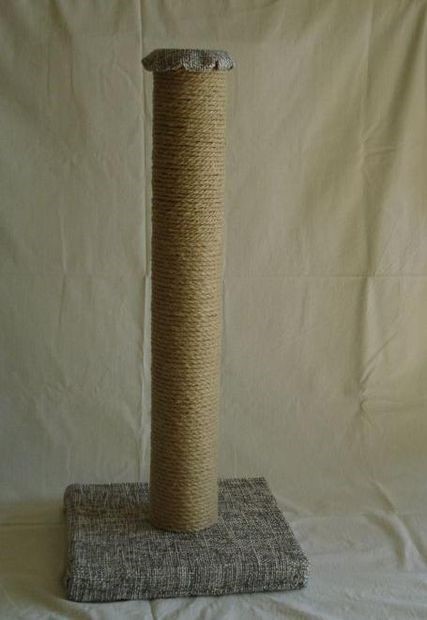 You could also get crafty and create a scratching post for your cat. You'll need a small piece of wood for the base, rope or thick string to wrap around the outside of the postal tube and a few tools.