The unsung hero of international trade – there are more pallets in use across Europe than there are people – a lot more. In fact, at the last count (in 2015, it takes time) there were 3 billion pallets being used across the EU, four for each person living in the region.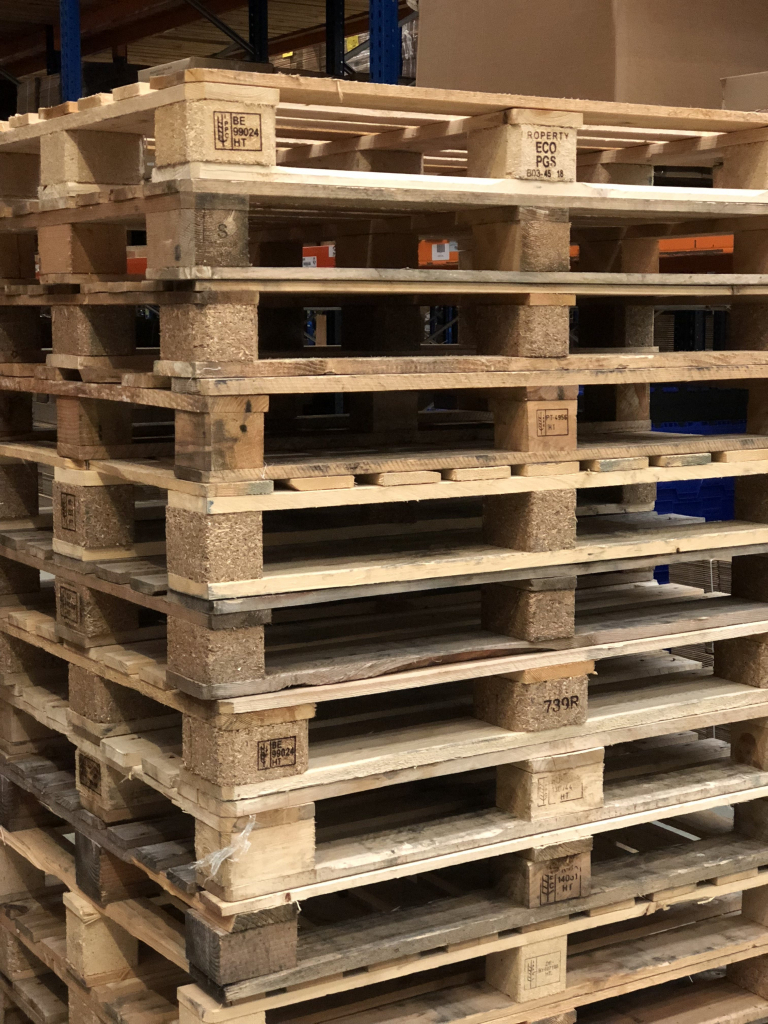 With such ubiquity, this essential warehouse equipment forms the backbone of bulk transportation and storage pretty much everywhere, but there is way more to them than meets the eye.
Mostly they are wooden, though some are plastic and they come in a range of sizes and styles: picking the right one for your needs is something that needs a bit of thought.
What is a pallet?
So, first and foremost, what is a pallet, in technical terms, a "flat transport structure, which supports goods in a stable fashion while being lifted by a forklift, a pallet jack, a front loader, a jacking device or an erect crane".[i]
Sometimes, pallets are mistaken for skids – wooden runners put under bulky items to help move them, invented by the ancient Egyptians to build the pyramids – but they are very different as we shall see.
Who invented the pallet?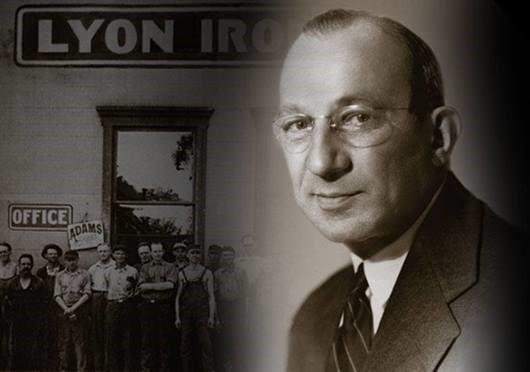 While pallets may seem to be one of nature's immutable certainties, probably dating back to the dawn of creation, the invention of the pallet is widely credited to one George Raymond – and his chum Bill House. Well, they filed a patent in the 1930s for a sort of sled-cum-pallet – more akin to wooden 'skis' that Raymond added cross slats to and made stackable.
Raymond's patented pallet also featured a lower 'deck' that makes it resemble what we refer to today as pallets. This made them stackable and sturdier for transport on forklift trucks, themselves introduced in 1925 in the US.
What was notable about the Raymond-House 'proto-pallet' was that it was designed to be made out of cheap timber – with the view to cost-effectively replace the cornucopia of packaging solutions then in use: wooden crates, barrels, kegs and cardboard boxes.
This has made the pallet cheap enough to be so widespread. It has also meant that they can be reused repeatedly and eventually recycled – often ending up as fuel, paper pulp, or animal bedding.
How are pallets made?
Pallets are made, typically, of wood, however there are plastic ones as well, which we'll come onto later. Of the wooden ones, many are made from actual timber, cut to size and often glued together with strong polyurethane adhesive or nails or staples.
However, some wooden pallets are moulded in high pressure presses from wood powder. These have the advantage that they are a single piece with no additional materials added for fixings. This makes them much easier to recycle at the end of their life, but they tend not to be as strong and are for smaller loads.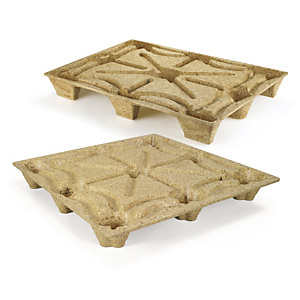 What are plastic pallets made from?
Plastic pallets are also moulded, and usually made from copolymer polypropylene, or high-density polyethylene (HDPE) resin and injection moulded; though more costly, but can be advantageous if you need to store things in a dry and bacteria-free environment. They are also great for chemical resistance, and suitable for use with most acids, chemicals and solvents.

How big is a pallet?
Pallets come in all shapes and sizes – and made of different materials, depending on where they are being used and what they are being used for. But there are a set of standard sizes, designed to help uniformity of use in storage, shipping and of course lifting on standard sized forklifts.
So, what is the size of a standard pallet? Typically, in old money, 48×40, 42×42 and 48×48 inches. Square pallets are more stable when being lifted, but sometimes, depending on what is being stored or moved, they aren't as suitable, so rectangular 48×40 pallets are used.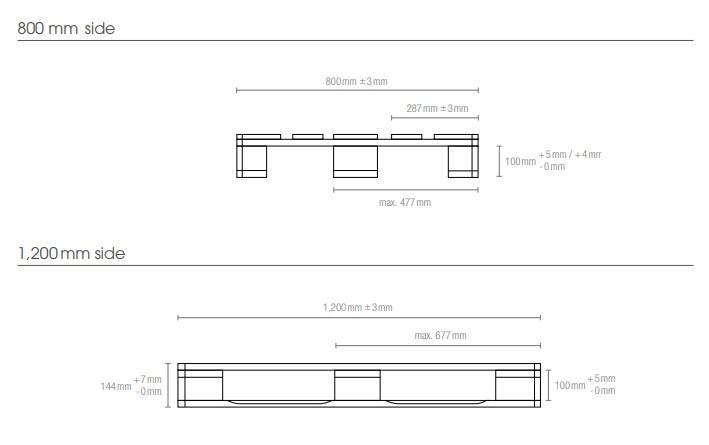 Here in the UK – and EU – of course pallets are metrically dimensioned, and come in standard sizes, measured in millimetres. Typically, these are 1200×800, 1200×1000 and for moulded wooden pallets can take between 350kg and 1250kg depending on their spec.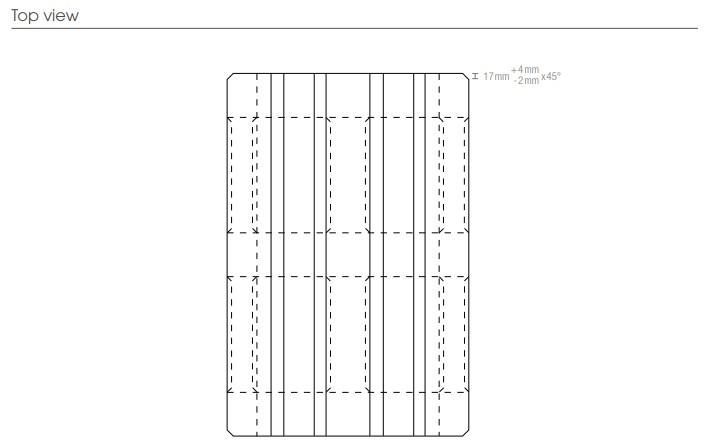 Plastic pallets come in 600×800, 1200×800 and 1200×1000 and can take between 400 and 800kg dynamic load. Heavy duty plastic pallets are also available in 1200×800 and can take loads of over 800kg.
How heavy is a wooden pallet?
The weight of the pallet itself is also important to know – not least as it will have to be included in the export manifest details of the weight of what is being shipped. So how heavy is a wooden pallet?
A typical wooden stringer pallet sized 1200×1000 weighs around 15 to 22kgs. A pressed wooden pallet sized 1200×800 rated for 350kg load weighs in at 8.5kg; a 1200×1000 rated to 1250kg dynamic load comes in at 19kg. A heavy-duty plastic pallet that is 1200×800 will weigh about 8.6kg. [ii]
What type of wood are pallets made from?
So, let's take a more detailed look at the type of wood are pallets made from, how the different kinds are made and how, if you'll pardon the pun, they stack up.
What wood is used for pallets?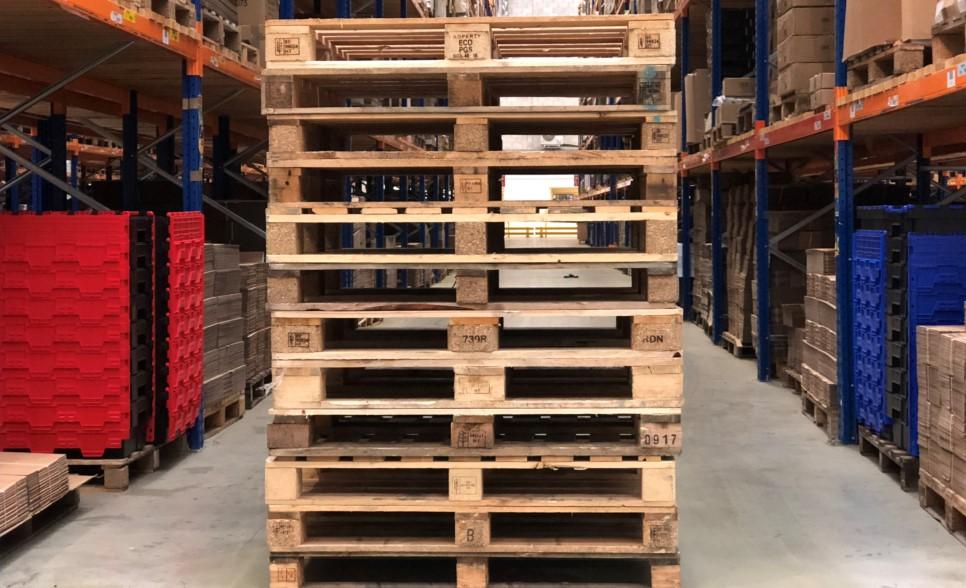 The type of wood used for pallets vary, stringer pallets – those made from 'strings' of wood, as opposed to moulded wooden pallets – are typically made from a range of woods, depending on costs. Typically, they are a mixture of hard and soft woods, often oak for the load bearing parts as it is strong and southern yellow pine for the non-load bearing parts.
Often pallets are also made from plywood constructed of alternate layers of hard and soft woods. Both kinds of pallets also then need heat treating.
What is a heat-treated pallet?
A heat-treated pallet is one where the wood has been kiln dried and this is necessary to strengthen the wood by removing excess moisture, as well as to essentially sterilise it, killing off spores and bacteria that may live in the wood. This is vital for pallets being used for any form of export.
In fact, the heat-treatment of pallets is essential and is regulated under the International Phytosanitary Standard for Wood Packaging – ISPM15, currently adopted by 14 countries and the entire European Union.
Interestingly, pressed wooden and plastic pallets – both of which are heated during their pressing – are exempt. As is sawdust and barrels.
To meet the standard of ISPM15, pallets and pallet wood needs to be heated to a minimum temperature of 56 °C for a minimum duration of 30 continuous minutes throughout the entire profile of the wood (including at its core).
Various energy sources or processes may be suitable to achieve these parameters. For example, kiln-drying, heat-enabled chemical pressure impregnation, microwave or other treatments may all be considered heat treatments provided that they meet the heat treatment parameters specified in this standard.
How long do heat treated pallets last?
A heat-treated pallet is designed to have a long life, not just free from pests and decay, but also hardened by the heat treating process. As to how long a pallet lasts all depends on how you use it. Treated kindly they can last for up to 10 years in their primary function. Recycled into furniture and other domestic products can see this doubled or even tripled.
Are pallets also chemically treated?
As well as being heat treated, pallets are often also chemically treated to protect them from insects, mould and decay. Typically, wooden pallets are treated with methyl bromide, a toxic pesticide to protect them still further.
What accessories do you need with pallets?
Pallets on their own aren't enough to cover all your shipping needs. You will also need all manner of pallet accessories to make the pallet system work. Cardboard pallet caps and trays are essential for protecting your products when on the pallet, as are cardboard divider sheets, and general purpose edge protectors.
It also a good idea to 'top' your pallet stack with waterproof sheeting in case it is outside at any point in its transport, as are tear-off pallet covers on a roll, for that extra protection.
To move stacks of pallets around you will also need dollies that essentially puts the pallet on wheels or even a self-propelled stacker. Either way, there is plenty of equipment available to make palletising the go to option for storage and shipping.
Conclusion
There are many pallets and accessories available, be they wooden stringer pallets as invented back in the 1930s by George Raymond, who built on the ancient Egyptian idea of the skid, or pressed wooden pallets or even plastic pallets that can handle tough environments, chemicals and more.
With literally billions of pallets in circulation around the world, it is easy to take them for granted and never truly see how useful they are, but hopefully we've given you some insight into how there is much more to the humble pallet than you thought – and that there are myriad ways they can be used.
[i] https://en.wikipedia.org/wiki/Pallet[ii] https://associated-pallets.co.uk/product-category/used-wooden-pallets/uk-standard-pallets-1200x1000mm/