Receiving an unexpected parcel or your online shopping has allowed us to have some access to the outside world, as we stay safe at home during the COVID-19 pandemic. Making sure that not only what we use to send in the post to our friends and family, or what is shipped to customers – is fit for purpose – but the item remains intact.
Here we find out just what postal tubes are and what to use them for.
Postal tubes are great for packing, storing and shipping everything from posters to oversized documents to even engineering parts and anything that is long and thin. They come in a vast variety of shapes and sizes, including triangular ones that can stack.
They offer a safe and secure way to contain things, keeping dust, dirt and moisture out. They even come in clear plastic to show off your items.
What postal tubes are best for mailing?
Not everything fits in nice oblong postal boxes. Documents, maps, posters and even some more three dimensional objects – long thin ones – all need their own neat way of being stored, transported or shipped: and for these items there are postal tubes.
As anyone who has tried to bend the tube inside a roll of tinfoil will know, anything with a circular cross section offers a really strong structure, both laterally and length ways. No wonder that everyone from the Ancient Egyptians on wards used columns and tubular structures for their building supports.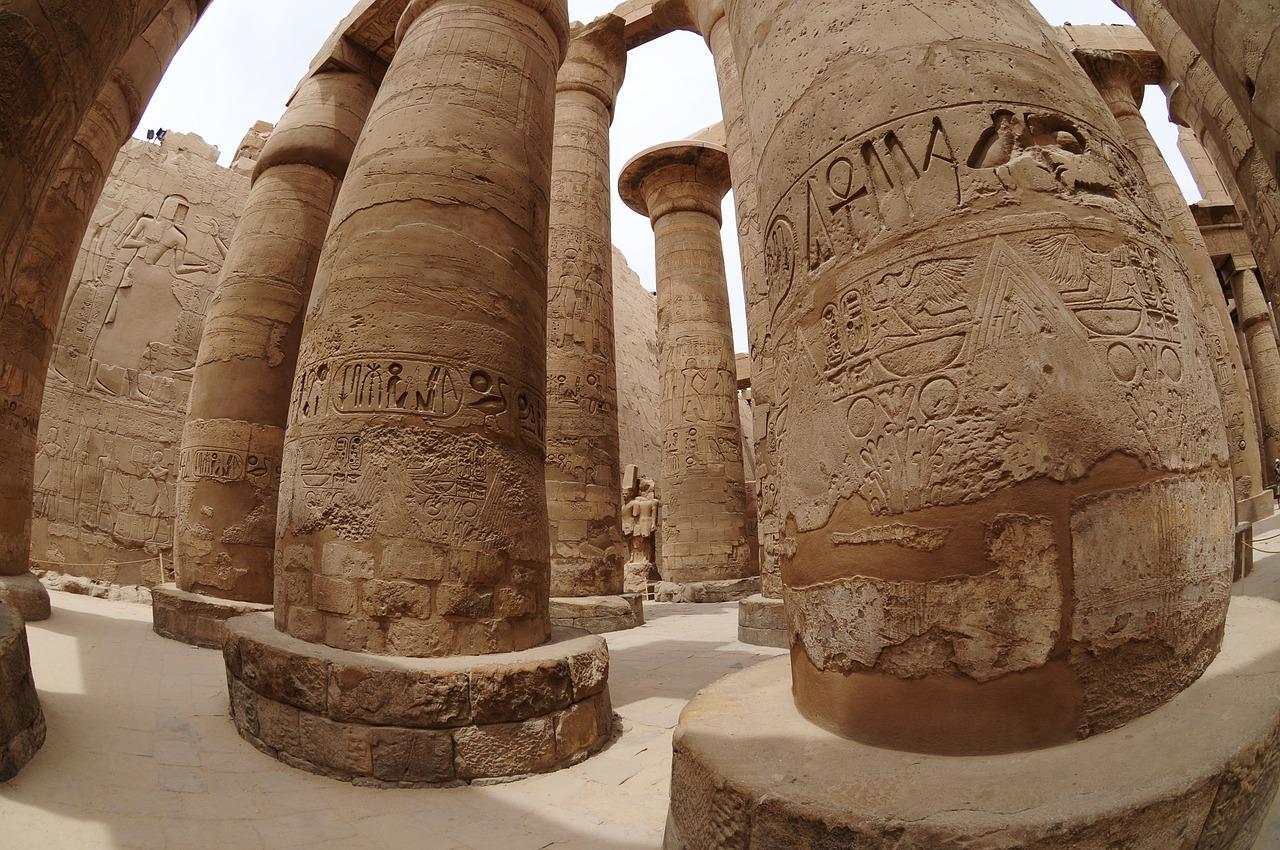 For this reason, postage tubes offer a nice, simple and above all strong way to store and mail a range of delicate items, being made from thick card and with robust and moisture resistant plastic end-caps that not only keep dirty and other things out, but also aid structural integrity.
What can I ship in poster tubes?
The strength and protection that these tubes offer makes them ideal for the storage and shipping of all sorts of things. Their primary use, however, is as poster tubes, which see posters, large format documents or maps tightly wrapped and slotted inside. With the end caps fitted the items are protected from dirt, dust and moisture, as well as from getting torn, bent, folded and all the other things that can happen to posters and other flat paper items.
However, posting tubes aren't limited to just handling posters. Anything that is also long and narrow, that can withstand being rolled and that fits into the wide range of sizes of tubes available can be posted, shipped or stored in a tube.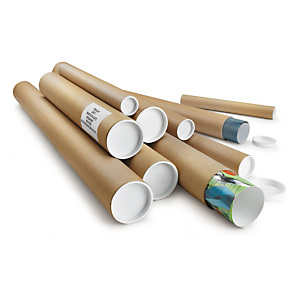 Poster tubes come in a range of size, accounting for both length and different diameters to accommodate a wide variety of posters, documents and more. They also come in a range of thicknesses, from lightweight ones through to tubes made from 3.5mm thick heavy-duty card, which are super sturdy and tough.
It is important to remember when choosing the right tube length that you also allow space for the end-cap, which can take up several centimetres of the tubes length.
Are cardboard tubes safe?
Cardboard tubes are ideal for storage and transport of delicate items such as oversized documents, posters, maps and more. They are also very safe.
With plastic ends affixed, these tubes are pretty tough when it comes to stacking and shelving, as well as when sent through the post of courier networks – even overseas.
Unlike most plastic end caps, tamper-evident ones are designed to fit flush to the end of the tube and can only be removed by breaking the perforated area around the top of the tube. Once broken, the cap is still intact enough to prevent damage to the contents and to keep them secure, but if someone has tried to open it in transit, it is clear from the damage at the top of the tube.
And to keep all everything super safe, you can even get spare end caps, so that you can keep reusing the tubes even if the ends caps get damaged or lost.
What are the best tubes for posters?
Of course, the main use of packaging tubes is as tubes for posters. Any ecommerce business that sells things like posters or maps or even rare or valuable documents needs to use a postal tube – not just for the post, but also to take things home in from a store.
The best tubes for posters are those that are long enough to accommodate the posters longest length (plus a bit to allow for the end caps) and of a suitable diameter so that means the poster or document being put in isn't would too tightly, as this can lead to the kind of creasing you are seeking to avoid by using the tube in the process.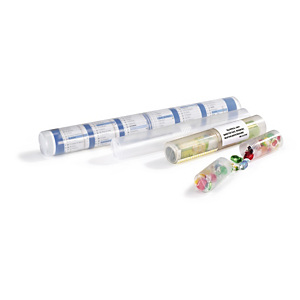 To make a real impact with your posters, there are also clear plastic tubes that show off what is inside. Made from lightweight polypropylene, these tubes screw together and are much more water-resistant. They are also great for being reused, so are ideal for storage – especially of special items such as maps.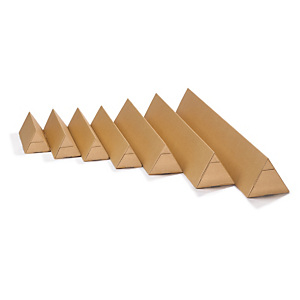 Packaging tubes don't have to be round. Triangular section postal tubes are made of thick card and offer an extra level of protection to things like posters and parts. They also have the added advantage that they can be stacked more easily and won't roll all over the place.
Extra-large sizes of triangular tubes up to 1100mm in length make these long postal boxes ideal for industrial plans or blueprints, or for long or cylindrical parts. Quick to assemble, such postal boxes are constructed by folding along the pre-creased grooves and sealed with a tough self-adhesive strip, with no need for glue or tape.
What can you reuse postal tubes for?
Aside from being really perfect for the shipping and storage of blueprints, posters, documents and even engineering parts, postal tubes also have an excellent 'second life'. Why not Get crafty and creative with postal tubes!
Want to know more about our wide range of postal and poster tubes?
For additional advice on the best poster and postage tubes, our Packaging Experts are here to help you find the right solutions and arrange next day delivery. Simply call us on 0800 542 44 28 or visit www.rajapack.co.uk.