At Rajapack, we understand how important packaging is to our customers. Whether it's the image it portrays or the quality and ease of use. Our teams recognise that working closely with our supplier partners can only help to provide the right solutions. That's why we brought the suppliers together for our first-ever 'Supplier day'.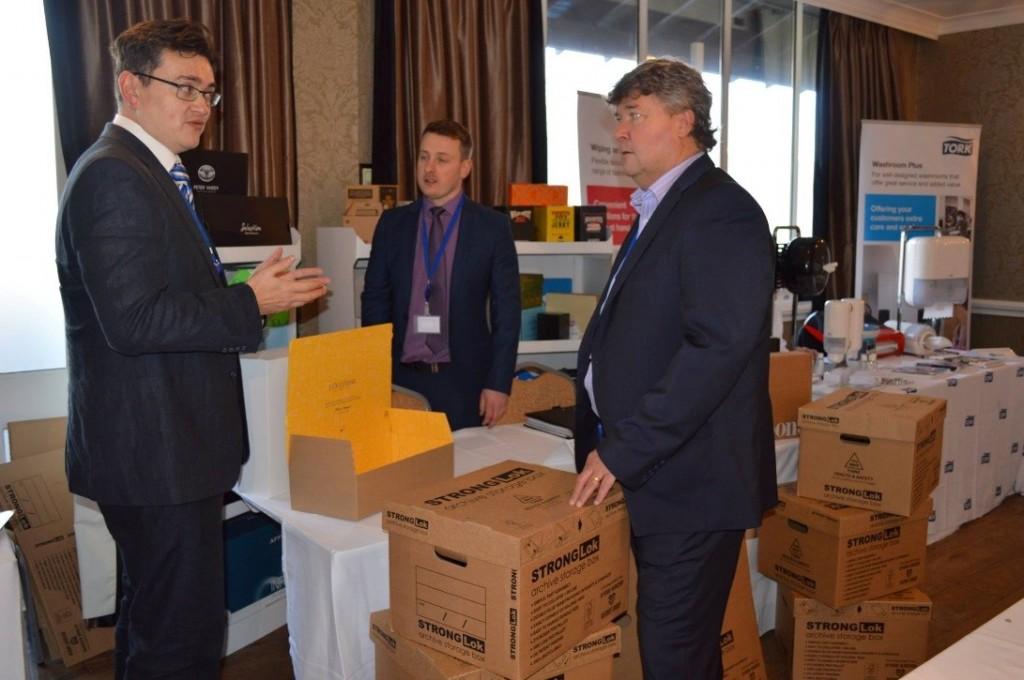 We invited a number of the UK's top packaging manufacturers to our Supplier Day to exhibit and train our teams on their latest products. Not only could our sales, marketing and purchasing teams see the products in action; they got first-hand advice on their applications and sneak previews of innovations that haven't even hit the market yet.
What can you expect from Rajapack's suppliers in 2016?
Rajapack have been selected as one of the few distributors of Ranpak products in the UK. Living up to their strapline, 'The Paper Packaging Experts', Ranpak showcased their new Geami WrapPak HV packaging system at our Supplier Day. Having won two prestigious awards in Europe, this cutting-edge system is a combination of a patented die cut Kraft paper with a tissue interleaf paper, to provide protection for the product with attractive finish.
The Geami WrapPak converter expands the die cut paper to a 3D honeycomb structure providing a unique packaging product whilst also reducing material handling and taking up less storage space. Once it launches on rajapack.co.uk in February 2016, this incredible machine will not only speed up the production of a professional-looking packaging material, but also provide you with cost savings.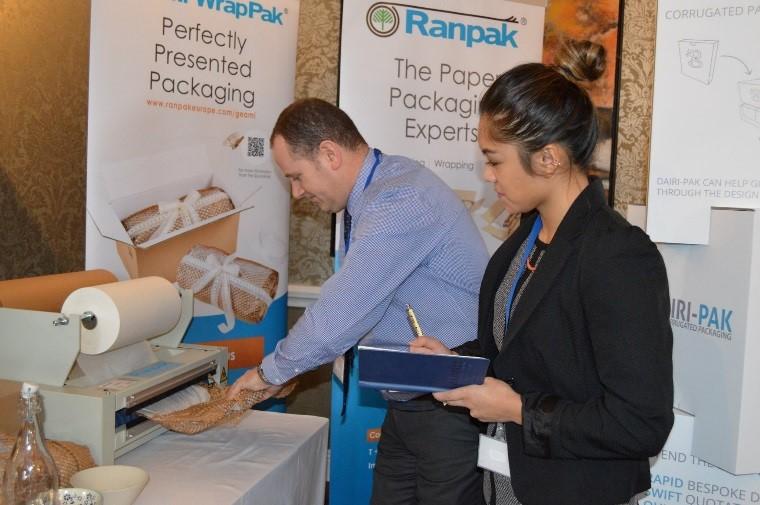 Through continuous innovation, Reedbut have become a leading supplier of corrugated packaging in the UK. At Supplier Day they discussed their innovative machine that uses 'zero crush technology' to prevent cardboard weakening when it goes through a second process such as printing. This machine allows them to make thinner, cheaper cardboard boxes and still achieve an excellent finish whilst passing the cost saving on to customers.
Reedbut also provided our team members with a deep understanding of various cardboard materials, fluting and board weight. The team learned how, by leveraging these details, we can make a huge difference to the cost and quality of the cardboard box you select for your packaging requirements.
Another major innovator in the packaging world, Jiffy has expanded their product range massively from their original padded bag. You can now get Jiffy-quality protection in edge profiles, foam wrapping and even FURNI furniture wrap.
The Supplier Day gave Jiffy an opportunity to introduce the Rajapack team to more new developments within their business. Whilst continuing to innovate within their product offering with the Jiffy Superlite and Colompac ranges, they have also introduced new products, which will have a positive impact on their supply chain.
With their "Earth Aware" campaign, they have rationalised their supply chain, removing layers of outer packaging which has reduced packaging waste and increased the pallet fill by 44%. This has since been recognised by their Packaging Industry peers as they have picked up the inaugural Sustainability Award run by trade magazine, Packaging Europe.
As a supplier of a wide variety of the Rajapack's product range, Adpac gave our team in-depth training on a number of their core products. This included their Optimax range of packaging machinery that focuses on providing customers with efficient and highly productive products. With their Integra range, they talked about their automatic water-activated tape sealing machine, which offers customers the extra protection properties of paper tape whilst providing an ecological solution to box sealing. Through the demonstration of heat sealers and hand strapping tools, Adpac underpinned the variety of expertise they provide customers in conjunction with Rajapack. Each of the ranges has been developed to answer the needs of its customers including excellent quality at real value for money.
Rajapack are proud to source many of our packaging tapes from the UK's biggest producer, Premier Limpet. When we developed the technology that allows customer to easily create bespoke designs through online Rajaprint tapes portal in February 2015, naturally we teamed up with Limpet. The success of this bore fantastic results in 2015, nearly doubling printed tape customers and cementing strong ongoing relationships in the process.
Through their training session, Limpet were able to demonstrate the process undertaken to implement a new printed design, taking it from the customer's initial design through to an outstanding final end product.
In the near future we will be proud suppliers of their very latest product, photographic tape. Using digital print, we will soon be able to offer customers four-colour photos seamlessly printed onto high quality tape.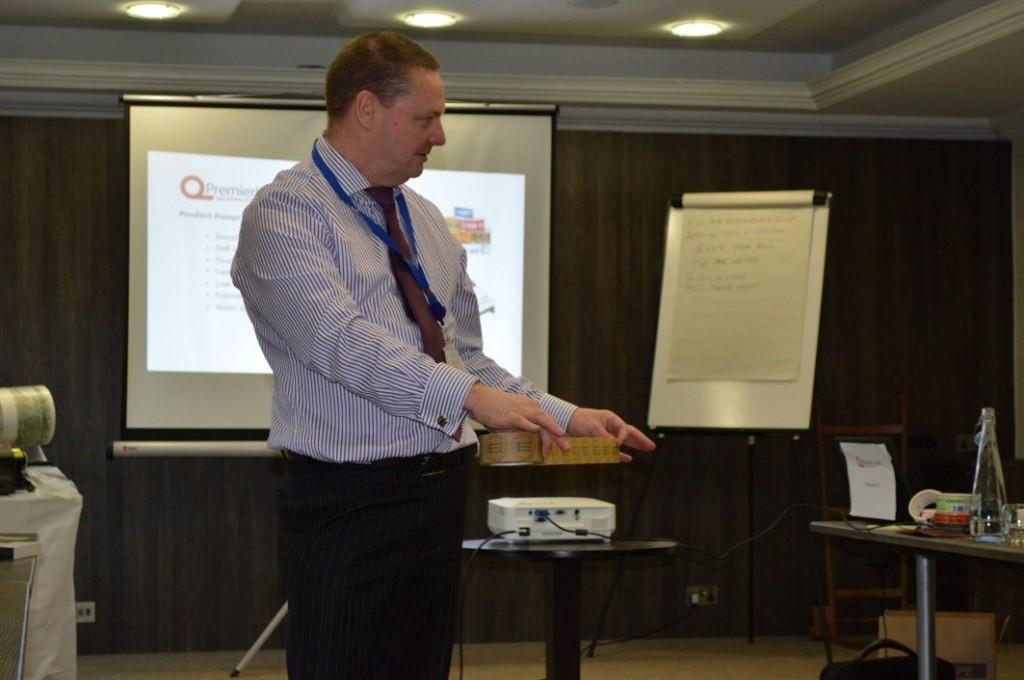 As innovators of bubble wrap, Sealed Air were keen to impart their four principles of protection on the Rajapack team. Sealed Air ensure every one of their products achieve: damage reduction, cube optimisation, fulfilment velocity and a great customer experience. They've certainly achieved this with their new Korrvu® packaging which holds your fragile item in place in the centre of the cardboard wrapping with a strong film membrane to protect it from shocks and vibration during transit. Another highlight was their NewAir I.B. ® Express machine that ticks their 'fulfilment velocity' principle. By offering a variety of batching, delivery and converting options, the sheer range of applications really impressed our experts. We'll be making these products available at Rajapack from March 2016.
Market-leading innovation from suppliers
In addition to the above we also invited another six suppliers to a special exhibition area to demonstrate and display their products throughout the day to our team members in between the training sessions. This enabled one-to one discussions on specific products queries to take place and it was also an opportunity to learn more about the ranges on offer.
Leading global hygiene and forests supplier SCA showcased their Tork range of products for facilities and workplace applications. International packaging manufacturer Greenlight displayed the popular Opus Mini air cushion machine as well as EcoFlo. Local company Sansetsu showed their range of bubble wrap materials and products that offer secure, cost effective protection and are manufactured in the UK. Leading UK based manufacturer The Kendon Packaging Group showed their range of consumable packaging products including their Ultimate Performance hand pallet stretch wrap.
We asked our Head of Product Marketing, Brian Davis for his comments on Supplier Day:
"The corrugated industry was well represented on the day, as along with Reedbut, we were joined by Smurfit Kappa and Dairi-Pak. Smurfit, one of Europe's leading paper packaging organisations and Rajapack's biggest suppliers of corrugated board, showed how they are leading the way in their approach to sustainability. On the Dairi-Pak stand, Rajapack team members learned all about their bespoke in-house design services; including how quickly they could produce quotes, mock-ups and samples. With such a varied supply base, Rajapack offer market leading levels of service in cartons and boxes."
"The desire now is that the success of the first Supplier Day will bear fruit on what is set to be an exciting year for Rajapack and its suppliers. With in-depth product knowledge and insider information on supplier innovation, Rajapack have a lot to offer customers. Providing expertise for anyone looking to develop their packing systems, amend the design of their packaging or simply consolidate supply. Working in partnership with UK manufacturers, Rajapack offer true expertise in packaging."