More parcels are being shipped than ever before and many retailers, brands and individuals are finding that they have to send all manner of things – including some very large and very heavy items. They are also having to send them a long way, with many having to export all over the world.
And sending large and particularly heavy items – domestically or overseas – comes with a range of challenges. In this blog we shall take a look at all you need to know about packaging, padding and more to safely and securely send large and heavy items.
All you need to know about shipping large items
What you need to know about shipping large items comes down, in essence, to how to package the items correctly. So that the packaging or box is strong enough to support its weight, but also involves looking at the right packaging materials to cushion the items, as well as strong tape to keep the box shut.
Shipping large packages requires many of the same techniques as packaging anything else for shipping or transport, only you have to allow for the extra weight of the goods, which has an impact on the type of packaging used, the means of keeping the package closed and how to brace goods within the box to avoid movement. Any slippage within the box could have catastrophic results with heavy items.
Protective packaging within boxes and crates also becomes vital when looking to transport and ship multiple items in one box. Keeping the items separated from each other is crucial to ensuring that all goods arrive in good order and undamaged. Multiple item shipping can also create a heavy and large package: you may start with a range of small, light items, but together they then form one large, very heavy package.
It is also worth noting that when shipping heavy and large items, you must allow for how those packages may be lifted or moved. You may find a box that can contain the goods, but you have to make sure that it can also hold the weight of heavy items when the box is lifted. This can also translate into making sure that boxes, and cartons are not only strong enough to hold the items, but also that any tape or fixings used to seal it shut can also hold its weight.
So, let's take a look at how to package heavy items for shipping and how to posts heavy items by choosing the right boxes and cartons, packaging materials, tapes and fixings and all the other facets of shipping large items, heavy items and multiple items.
Choosing the right box for shipping large packages
The first port of call when looking to ship large items, as well as for heavy items and multiple goods, is to choose the right box for shipping large packages.
Heavy duty boxes are a good choice for shipping large packages, with triple walled boxes offering a ability to hold surprisingly heavy loads for a cardboard box, up to 500kg, the equivalent weight of an adult dromedary camel or a grand piano.
Made from three layers of high-quality card, with a 3mm defence these boxes not only handle heavy loads – of sizes between 400x340mm up to 1040x570mm – but also offer unrivalled protection against bumps and scrapes while in transit. They are also made from a minimum of 75% recycled materials and can be recycled after use.
The best shipping boxes for long distance and even international shipping of heavy items and goods that need to be palletised are triple walled cardboard loading cases. These boxes are ideal for shipping by rail, air or sea and come in Euro and Chep/UK pallet sizes – and are the expert's choice in shipping boxes for anything heavy, including machine parts and more, because they offer exceptional protection as well as being sturdy enough to support heavy-duty strapping to keep them boxes sealed.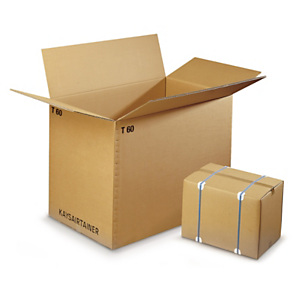 When it comes to exporting, there is a wide range of export boxes that are designed to handle large and bulky items and which can be palletised and stacked. The wide variety of options here reflects how there is a growing need to be versatile in shipping items overseas, dictated by the goods themselves as well as where they have to go and by what mode of transport.
The toughest and strongest option when it comes to export boxes are foldable plywood boxes that are standard pallet sizes and can handle up to 1000kg, the equivalent of a 1970s Chevrolet Corvette. These boxes are ideal for export shipping as they are also not considered a phytosanitary problem, therefore can be shipped to any destination. The heat-treated plywood is also moisture resistant and is held together with tough riveted steel hinges and even comes with a rubber mallet to aid assembly.
Cardboard cap and sleeve loading cases with pallets offer another resilient way to handle exports, featuring strong cardboard construction and coming with tough end-caps, strapping and a pallet, these offer an all-in-one solution to exporting heavy and bulky items.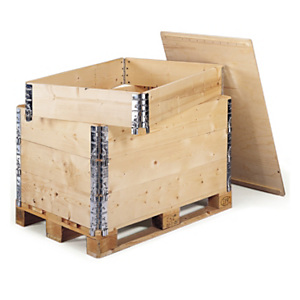 If you have your own pallets and are looking to create sturdy pallet crates for exporting large and bulky items, wooden pallet box collars with lids offer a versatile way to turn a pallet into a box to put items in for export shipping. Made from Scandinavian white wood and held together with galvanized steel hinges, these collars stack one on top of the other to create a box around the products of your choice to a height you need.
With collars able to take loads per collar of up to 9kg, you can build a secure, strong bespoke container for you export transportation that leaves you safe in the knowledge that your goods will arrive in one piece.
How to package your heavy items for shipping
How to package heavy items for shipping is a key consideration when looking at transport and export of items. While having the right container to protect and handle the load of heavy items is crucial, how you pack your heavy items for shipping is key to keeping them protected while in transit.
Shipping large amounts of stuff – often in the same box – can lead to heavy loads and all the issues that brings as well as the problem of keeping the items safely spaced out so they don't crash into each other and damage one another while on the move.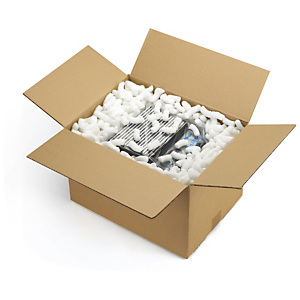 There is a wide variety of packaging materials available to make this happen, including bubble wrap, packaging fill and divider sheets to name but three.
Sending heavy items can be made all the easier and safer with the use of simple environmentally-friendly Eco Flo – 100% biodegradable and compostable protective chips that are ideal for filling in around an item or items so that when in transit they don't move about. The chips also add an extra layer of shock adsorption to the packaging, making goods transported within a three-wall box or a plywood crate even more resilient.
When looking to package multiple items in a box for shipping or for export, bubble wrap can also help protect and divide the contents. As you can see, sheets or rolled up sheets of bubble wrap can be placed in the spaces between items and, being flexible, can be cut to fit and will occupy all the space you need it to.
Available in a variety of different widths, rolls of bubble wrap are an ideal material for packaging for transport and work really well with large items, oddly shaped items and a variety of goods all shipped in one box. Just cut off what you need to fill the space.
To help protect items from shocks and vibrations and to keep multiple items in position, cardboard dividers offer an extra layer of protection when packing for shipping. Used in conjunction with the right box, pallet and even other packaging materials such as bubble wrap and Eco Flo, dividers add an extra layer of protection and help stop things moving around.
Final considerations for sending large items 
There are some final considerations for sending large items, aside from the box and the packing materials, to make sure that your heavy and bulky items arrive in tip-top condition.
How to post large items and how to send heavy items comes down to having the right box and the right fastenings. Thick, multi-layered cardboard is best for the box, while Eco Flo and bubble wrap are ideal packaging materials. The other thing to consider is the tape and fastenings used to keep the box shut.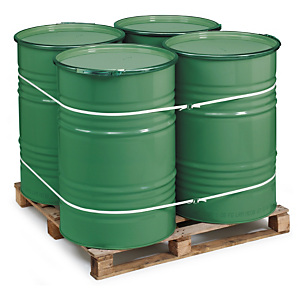 Masking tape just won't hack it: it won't stand the weight when the box is lifted, so instead look to use corded polyester strapping or polyester hand strapping to seal boxes shut. These can be pull around the box and heat sealed or clipped together and form a tough, weight bearing fastening for most loads.
Polypropylene tape is another way to seal boxes shut that also gives a degree of load bearing capability and is a vital part in how to post heavy boxes as it helps seal the box shut and, so long as the box is handled appropriately, should keep it shut tight. It is also water, moisture and dust resistant.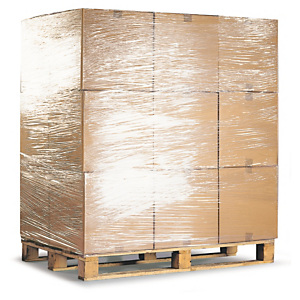 Alternatively, to ship heavy boxes, shrink wrapping them or using stretch film can also help hold the box – or multiple boxes on a pallet – together as well as holding them shut and sealed.
Want to know more about our wide range of packaging solutions for shipping heavy and large items?
For additional advice on the best ways of shipping heavy and large items, our Experts are here to help you find the right solutions and arrange next day delivery. Simply call us on 0800 542 44 28 or visit www.rajapack.co.uk.