Bubble wrap: fun to pop, but essential for the packaging and shipping of items from tiny pieces of jewellery in bubble bags right up to wrapping up furniture, pictures and even industrial parts.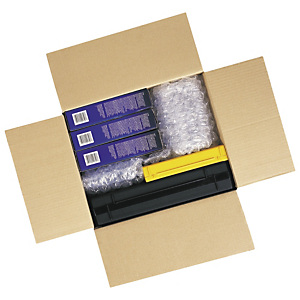 Bubble wrap is an ideal lightweight way to protect goods in transit, shipping and storage. Being on a roll, can be cut to size and used in any dimensions to wrap pretty much any shape or sized item. It can also be used to fill in the voids in boxes, to protect electronics from static and moisture and can be used to line envelopes.
In short there is pretty much no packaging operation that bubble wrap can't be used in. Here we find out why bubble wrap is so vital and how to choose the best bubble wrap solution for your business.
Why use bubble wrap rolls when shipping items?
Bubble wrap is one of the easiest ways to protect delicate items when storing or shipping them – sticking it on a roll makes it simple. You can just pull and tear off the exact amount you need.
Bubble wrap is one of the most effective forms of protective packaging – not just because it is fun to pop, but because it offers an unprecedented degree of protection, being both shock absorbing and abrasion resistant. It is also lightweight and extremely flexible.
It not only offers great protection, but also flexibility – both physically and in how adaptable it is. It can be wrapped around items, regardless of their size and to some extent their shape. If you get it on rolls then you can cut and tear it to size to fit around all manner of items as you need it.
It is also lightweight and so can be used to give maximum protection, without adding unduly to shipping costs.
That's why a Bubble wrap roll is a very popular highly-effective kind of packaging for ecommerce. By simply tearing off the amount you need means that you can use just the right amount, making it economical as well as protective.
Bubble wrap rolls offer bubble wrap in a range of sizes, both in terms of how big the roll is and how big the bubbles on that roll are. This can help make sure that you offer the most effective level of protection for the goods you are packing.
What size rolls of bubble wrap should I use?
When it comes to bubble wrap, size is important – both the size of the bubbles and the size of the rolls. Smaller bubbles are ideal for protecting smaller, more delicate items, while larger bubbles are there for scaling up to protecting larger goods, even industrial parts.
Choose the right bubble type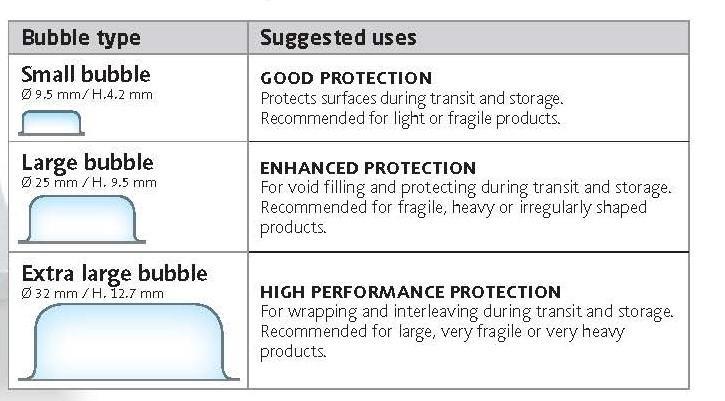 Choosing the right sized rolls of bubble wrap is important as it has to match the dimensions of the things you are packing. Large, flat picture frames, for example, will need rolls that are wider than the picture frame to give maximum protection for the minimum amount of wrap.
Large bubble wrap and even bubble wrap blankets, featuring much larger bubbles, are ideal for protecting large items such as furniture or for interleaving between items to offer impact protection.
Large bubble wrap rolls come in widths of up to 1500 mm, allowing for the wrapping and protection of large objects.
Smaller bubble wrap can be used to mould around every contour of the items being shipped and, for sensitive electronics, comes with antistatic properties to protect not only from bumps and bangs, but also from damage caused by static.
Small bubble wrap comes on rolls that range from 500mm wide through 750mm and up to 1000mm, allowing for excellent protection and tight packaging of items from the very small right up to things that are quite sizeable, like pictures, computers and more.
Additionally, for the eco-conscious age, small bubble wrap made from at least 15% recycled material is also available, offering the usual degree of protection, as well as helping meet environmental impact demands.
Soft bubble wrap blankets offer an alternative way to wrap. These Jiffy FURNI-soft® bubble wrap blanket that combines bubble wrap with a soft non-abrasive woven polypropylene layer that protects furniture and delicate surfaces from scratches and marks.
This furniture wrap bubble blanket is a modern alternative to woollen blankets for antique dealers or furniture retailers looking for durable protection whilst shipping or storing. The bubble blanket has also been designed to absorb excess moisture to protect delicate or high value articles and can be reused.
If you are looking to save space in the warehouse – and need to store a large quantity of bubble wrap – then space saving wrap rolls are also available. These 200m long rolls have interlocking bubbles so that, when rolled up, the bubble warp roll takes up much less space, as shown above.
These offer all the usual benefits of bubble wrap, but also can be stored more easily.
 Other types of protective packaging
Bubble wrap rolls and sheets is just one of the many kinds of protective packaging available for shipping, storage and transport.
Bubble wrap has also found its way into lining bubble envelopes that offer an ideal solution for packaging and posting items, and are ideal for CDs, DVDs, brochures, clothing, jewellery or books and are available in a range of sizes. Easy closure with a self-adhesive peel and seal strip.
Bubble envelopes and bubble bags – even antistatic ones – meanwhile are ideal for the packaging of small goods. These come with self-adhesive strips and are ideal for protecting small electrical items and other fragile items that need to be posted – a boon in the ecommerce era.
Bubble bags are lightweight flap closed pouches made of bubble wrap that offer supreme protection, their small air-filled bubbles provide excellent protection against knocks and bumps to your products while in storage or transit.
Bubble wrap bags have a smooth inside finish which ensures products can slide in and out easily without scratching.
---
Bubble wrap vs foam packaging
---
Foam wrap, made from up to 35% recycled pre-consumer resin, is a light, soft way to package and store goods, especially those that run the risk of being scratched.
The wrap, which comes in rolls to be cut to length or sheets to save time, offers a great way to protect goods that are to be then put into other packaging solutions, such as boxes, preventing bumps and scrapes and protecting from surface damage.
Want to know more about our wide range of bubble wrap rolls?
For additional advice on the best bubble wrap rolls and packaging solutions, our Packaging Experts are here to help you find the right solutions and arrange next day delivery. Simply call us on 0800 542 44 28 or visit www.rajapack.co.uk