Eco-mailing bags are the green way to store, post and ship items from documents to jewellery to electricals to books and more. Available in a range of dimensions and materials, whatever your mailing needs, there is an eco-friendly way to do it.
Here we take a look at what eco-mailing bags are, which ones are best for which applications and how to use them.
Everything you need to know about eco-mailing bags
Eco-mailing bags – mailings bags that are at the forefront of the consumer shift to ecommerce – we'll run through what you need to know, as a business, about eco-mailing bags to meet this demand.
With sustainability increasingly topping the list of consumer priorities when choosing brands to shop with, and with more people having what they bought delivered to them, choosing to send goods in recycled or recyclable packaging should be every retailer's responsibility and aim.
Alongside eco-mailing bags you might want to also consider other postal products that may have similar uses but are different in format and benefits. A Kraft postal box, postal tube, an eco-mailing box, but also recycled plastic mailings bags, as well as padded envelopes and paper mailing bags.
As ever, choosing the right eco-mailing bag depends on what you are sending: electrical items, gadgets and jewellery for example need to be protected, so recycled and recyclable bubble wrap and bubble wrap lined mailing bags and packages are ideal.
While the choice is wide-ranging, there are different solutions for different packaging and delivery needs, each with their own merits. Let's take a look at what the best options available.
Are paper mailing bags as reliable as plastic ones?
The big question is are paper mailing bags as reliable as plastic ones – both in terms of their green credentials and their efficacy as a packaging solutions. Eco-friendly mailing bags can be either plastic or paper, with each offering different benefits for the job in hand.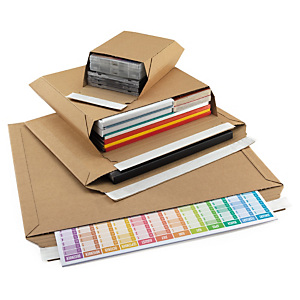 Non-plastic mailing bags are typically made of card and paper and are ideal for storing and mailing documents. Made from a combination of stiff cardboard and thick kraft paper, these envelopes and small packages are widely used for all manner of smaller, flatter items that need some protection from dust and dirt and which also have to remain stiff and unbending.
These non-plastic mailers come in a range of sizes and can handle differing thicknesses up to about 80mm, where they teeter between being an envelope and a fully-fledged cardboard mini-box.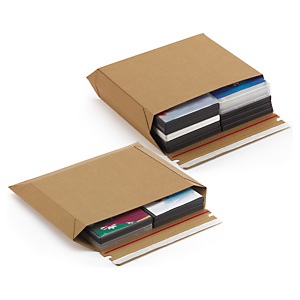 The move to ecommerce has also seen the development of Ecommerce Kraft paper mailing bags, which offer much of the benefits of plastic mailing bags, but in sturdy kraft paper, making them more eco-friendly and filling a gap in the market for a envelope-cum-card packaging solution for smaller items.
As to which is best? Well, it does all depend on what you want to ship or store. Cardboard is simple and easily composted and recycled if it is pure of plastic linings and labels, but isn't so good for protecting from moisture.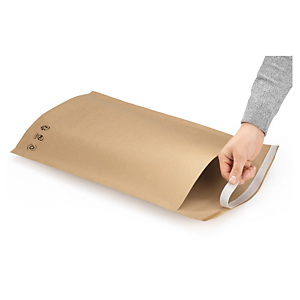 Plastic mailing bags are sturdy and waterproof, but can lack the rigidity of some of the thicker cardboard mailing bags.
A combination of the two – mailing bags lined with either shredded paper or recycled polyethylene bubble wrap – can offer a way to achieve both aims, but are harder to recycle as the two sets of material have to be separated.
All in all, the choice depends on what is being mailed, but all types offer a great degree of eco-friendliness.
What are biodegradable mailing bags and how do they work?
Biodegradable mailing bags are mailing bags that will, when composted or landfilled, simple rot down and feed the worms.
Biodegradable postage bags are typically made from materials that will degrade when put in the ground. They are made from paper fibre-based products such as cardboard and kraft paper and are strong and sturdy, yet can be easily composted.
The card and kraft paper also offers great protection from dust and dirt, as well as being strong enough to handle impacts and being dropped and are also often sturdy enough to be reused prior to being discarded, adding to their environmental credentials.
Such compostable mailing bags also come in a range of exciting colours, shapes and sizes. While durable kraft lined padded envelopes lead the way in biodegradable packaging – filled with paper fibre in a kraft lining, all of which can be composted – there are also many other packaging solutions that are cool to look at and biodegradable.
Cardboard postal tubes – in brown, white or black – are ideal for items that need extra protection, but are also highly reusable, compostable and biodegradable, while triangular tubes suited to giving extra protection to a range of delicate items are also made from biodegradable card.
For more standard sized shipments, letters, books, documents and more, self-adhesive envelopes and mailing bags are available that can be sealed shut. These self-adhesive strips are also biodegradable, so even these types of packaging can also be composed with after initial usage.
To address these packages – and to tag anything else for that matter – why not use eco-friendly labels that are biodegradable? Available in a range of sizes and shapes, these have eco-friendly adhesive and are marked up with the green recycling symbol.
Polyethylene mailing bags, while recyclable, are not biodegradable and are best used where they are more likely to be added to the recycling pile rather than anywhere where they may be landfilled or composted.
What are the best recyclable mailing bags?
The best recyclable mailing bags are those that are made from paper and card, but those that are made from polyethylene can also be recycled.
Eco-postage bags that are made of card and lined with pure polyethylene bubble wrap can be recycled, so long as the bubble wrap and the card outer can be separated and put in their respective recycling bins.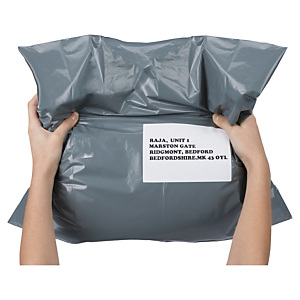 These can be used for a wide variety of items and offer a great degree of protection from dust and dirt as well as the rough and tumble of being posted and/or couriered.
Pure polyethylene mailers make for ideal recyclable postage bags too as they can simple be recycled in the single use plastic channels, where they are taken away, shredded, melted down and turned into new bags.
These bags can't easily be composted, but so long as they are put into the correct recycling channel, they can be readily recycled for reuse, making them ideal mailing bag options.
Available in a range of sizes, these bags are ideal for a range of goods including clothing, some non-fragile electricals such as charging cables and much more.
The best mailing bags that have been recycled
The best mailing bags that have been recycled are those that are made from recycled polyethylene and polyethylene bubble wrap.
These bags have been created from pre-used material – often bags that have been used already that have then been shredded, melted down and reformed – and mean that if you need to use a plastic mailing bag, you can make sure that it is one that is eco-friendly.
There are other eco-responsible packaging solutions made from recycled materials that include lay-flat tubing to wrap items. Together with recycled shrink wrap and eco-friendly tape, the options for keeping your packaging eco-responsible are wide.
Want to know more about our wide range of eco-mailing bags?
For additional advice on the best eco mailing bags, our Packaging Specialists are here to help you find the right solutions and arrange next day delivery. Simply call us on 0800 542 44 28 or visit www.rajapack.co.uk.