Time is money! This is certainly true in the world of logistics. It's vital that you optimise the number of orders prepared per hour and shift. At each step of the order preparation process, our experts will provide you with advice to save those precious seconds and conserve the energy of your warehouse operations, so you can pack, protect and seal your parcels more efficiently.
This guide will cover the packing topics:
1. Choose the appropriate packaging materials
2. Protect effectively, where less is more
3. Seal your parcels quickly and correctly
4. The centralised packing platform, the packing bench
Before we get started, think of your own packing operations, read our 2 discussion topics: "The delivery promise, the important issue" and "Does seasonality affect your business?"
Thought topic: The delivery promise, the important issue
A disappointed customer is a customer, who potentially does not return and buys from you again. All your sales and marketing efforts go to waste if your customer expectations are not met at this crucial step; so you need to deliver quickly and do it well. This guide will offer you advice at each stage of the packing process, providing you with a number of solutions depending on your business and cost.
The customer has taken that step and come in contact with your brand, their journey has begun, they experience your company at the various touch points, gone through the buying decision process to finally (and hopefully!) make that purchase. And then you will fall at the last hurdle if delivery expectations are not met.
A disappointed customer means that for whatever reason, they had a poor experience with you, and because of this will unlikely to return and buy again. Their journey up till the point of purchase, despite how smooth and seamless it was, has now unfortunately been forgotten, because the promised delivery expectation has not been met.
Delivery is as important as the purchase.
Thought topic: Does seasonality affect your business?
In the B2B as well as B2C sectors, the Christmas season means that our customers have to prepare differently than at other times of the year. For example, rapidly expanding board game manufacturer, IELLO, has two key periods which have to be precisely planned by its logistics team.
From May to June they distribute their bestselling products in anticipation of the Christmas peak in sales. They send pallets and large boxes in big quantities over a short period to retailers in preparation for this busy period.
The other substantial amount of stock is for direct selling on their ecommerce website at the end of the year. This is pure B2C logistics with an emphasis on fast delivery to the consumer. They must deliver quickly and ensure the parcel gets to its destination, and in good condition, otherwise the customer could be lost to another board game manufacturer.
Depending on the seasonality of your business, you'll need to gear up your workforce and do your profitability calculations during and outside your peak sales periods.
Packing speed affects delivery times
Pack, protect and seal your parcels. If you improve efficiencies in your packing team, multiply those efficiencies by the number of orders, the savings and overall gains for your team and business  become fairly significant.

The choice of packaging impacts the speed of your order preparation. Certain choices might seem trivial but for the packing team, it can save seconds meaning more orders packed per hour whilst requiring less effort. With the energy saved, more time can be channelled into other areas of the packing process for each delivery, such as the quality of each parcel and reducing any packing errors.
Swap your boxes for envelopes and mailing bags
Where possible, think of how you can optimise your packing materials, if changing your boxes to envelopes or mailing bags is an option, here are 2 advantages why you'll be on to a winner:
Speed of execution –time is saved, the bags are ready to use, compared with manually assembling a box
Cost of transport – bags are lighter, the weight and volume of your shipments will reduce, meaning overall transport costs are reduced
Some might think envelopes and mailing bags are limited to low value goods, but in fact, its only limitations could be size or type of product. The mailing bag is a good core product, whilst cartons and boxes are also a reliable option, for example for international shipments. Most ecommerce retailers favour cardboard packaging, particularly the popular double wall box as their packaging of choice.
Try Kraft paper mailing bags, a change from the popular plastic mailing bags!
This ecological paper alternative will certainly surprise you, not only does it have an adhesive strip to save you applying tape, as we know time-saving is important, but it is made from heavy duty FSC 10gsm Kraft paper with a tensile strength of 9.5kN/m!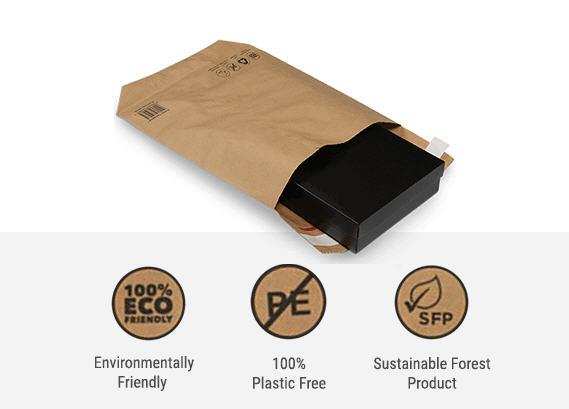 Choose environmentally packaging alternatives or call our Packaging Specialists to find out how you can go green!
The crash-lock box will revolutionise the work of your packing team
We see 3 key benefits switching from standard cardboard boxes to crash-lock boxes:
Time saving: the box is assembled 2.5 times quicker on average than a standard box
Energy saving: it may be 2.5 times quicker to assemble but at the same time it's 2.5 times easier to assemble. Your packing team will thank you for switching to crash-lock boxes! Just take a look at our crash-lock box video to see it in action if you haven't done so yet
Space saving: our customers have commented that previously they had to assemble standard boxes in batches, but now packers can easily construct boxes with the crash-lock bases on demand, saving warehouse space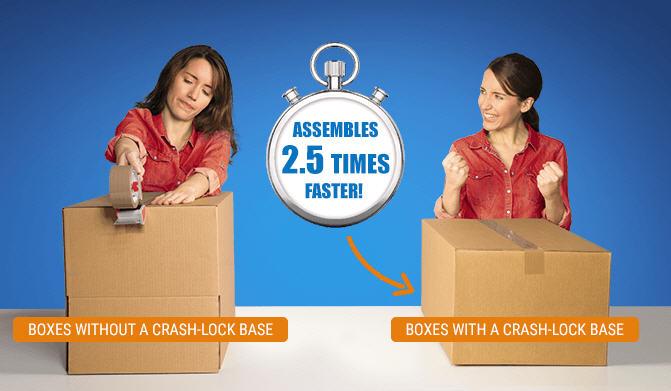 Protective packaging is something that you'll need to think about to protect your products during transit. Here are some solutions that work to reduce the time and resource required for this part of the packing process.
Perforated protective packaging
One way to save time during the protective packaging process is to reduce the reliance on tools. Perforated protective packaging eliminates the need for a cutter. Watch our perforated bubble wrap vs standard bubble wrap video!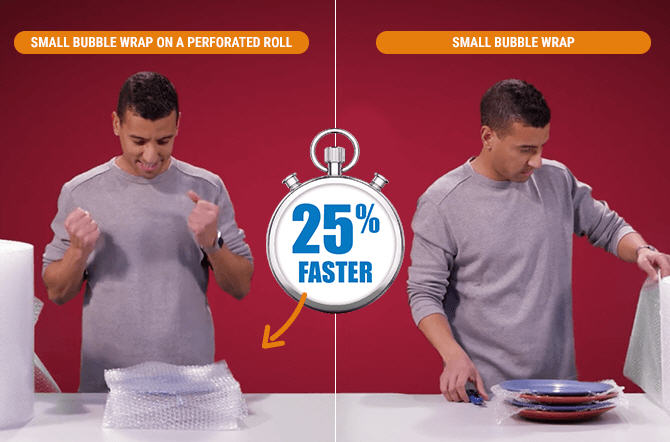 The bubble bag with adhesive strip
Not only does a bubble bag completely wrap around products, the readily available adhesive strip secures the product within the bag. No additional tape is required, and importantly no excessive bubble wrap is needed, see the packing speed for yourself by clicking on the video below!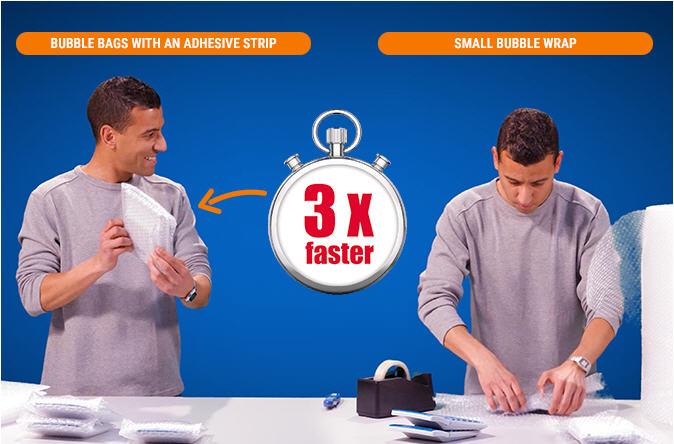 Top tip: Bubble bags with an adhesive strip are perfect for awkward shaped items, products can effortlessly slot inside the bag and the adhesive is a simple peel and seal.
If you have awkward shaped items, is bespoke packaging an option?
If you have high volumes of similar orders and your product isn't a standard box shape, it is ideal to use packaging that fits your products well, like a glove. Custom and bespoke packaging not only saves on the amount of protective packaging used, but also in packing time.
Best practices of bespoke packaging
Having packaging that fits closer to the product is best, as it avoids movement and reduces damages. Bespoke packaging will fit like a glove, it reduces the amount or need for protective packaging. Here are 3 key best practices we should remember:
Be eco-responsible: think about ways to go green, bespoke packaging avoids the use of unnecessary protective materials
Be logistic-smart: efficient packaging materials means lighter loads and optimised packed pallets for reduced overall transportation costs
Be ready: for a quick turnaround, no time is wasted packing your order with ready to use custom made packaging fit for purpose
Discuss your needs with our Specials Executives on 0800 630 06 21 for a free no obligation quotation!
Protective packaging systems
Protective packaging machines are ideal for ecommerce companies processing multi and/or similar orders, in large volumes. Once installed the need for a packing system is apparent and will quickly pay for itself in terms of the speed of orders processed by the packer. Most importantly, it will allow you to exceed a threshold of orders picked and packed per hour without the need to bring in temporary staff.
We understand that it can be a daunting prospect if you're not sure on what you're looking for,  contact our Machine Specialist for machine rental options, or why not try the free Rajasystem interactive machines guide – no registration required!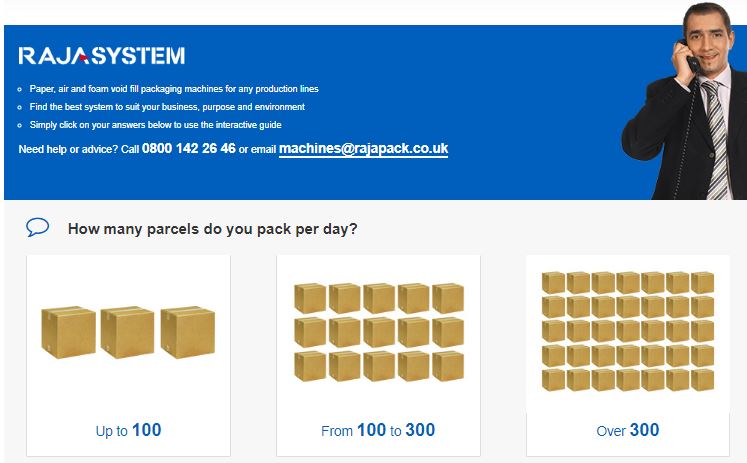 For advice and information on whether a packaging system is right for your business, or to improve efficiencies of your warehouse operation call a Machine Specialist on 0800 142 26 46
The closure stage is crucial to ensure your parcels are safe and secure in transit. We've put together a few suggestions to ensure the security of your deliveries, whilst making time savings!
Can you seal a parcel without using any packaging tape?
Yes, it is possible to not use packaging tape, it will certainly save time and money. Tape requires space needed to store stock, and you'll have to monitor your supply. However, it does depend on what you are packing and therefore what packaging you will need. Mailing bags and postal boxes are available with an integrated adhesive strip. You'll increase your packing speed with the ready to use strip, save space by not having to store stock, as well as reducing the amount of tape used within the business. So, look out for packaging with the peel and seal adhesive strips!
How to benefit from gummed paper tape
You might not be aware about this packaging product, but gummed paper tape is one of the most effective and eco-friendly ways to secure your parcels. Amazon, one of the largest ecommerce retailers use paper tape on all shipments, and it is also custom printed with their branding, two brilliant benefits!
Top tip: We recommend that you apply any tape using a tape dispenser – for gummed paper tape use a paper tape dispenser, and to speed up operations even more use an electronic water activated tape dispenser.
Gummed paper tape has a natural adhesive, it is tamper evident so you can see if the tape has been removed from the carton and most importantly, eco-friendly and can be recycled with the box.
The closure of the box
This is a great time saving piece of equipment for large production lines, a box closing machine is often one of the first machine investments a high volume warehouse will make.
Top tip: make sure you use machine tape instead of standard tape, it has a longer tape length so require less changes.
Some might call it a workstation, a packing bench or a packing station. Whatever the term, it is the central location and area for you to pack and prepare parcels to then be shipped and sent.   This platform allows you to be organised, efficient and prepared, and is more than a standard workbench or table. It provides a clear working space with dedicated areas to access your components and equipment, whether you're wrapping, blocking, bracing or sealing – the structured frame will help equip you with tools for a seamless operation.
For information on workstations and finding a solution that suits you, discuss your needs with a Packaging Specialist on 0800 542 44 28.