Late last month we held our fourth Annual Supplier Day which featured new products, discussions about the latest trends and innovations, and problem solving with leading industry experts.
As usual this was a busy, lively day full of interactive workshops and seminars, giving everyone the opportunity to learn from our specialist suppliers. This year was also the first to showcase the Welco team with an area dedicated to warehouse equipment, products and suppliers.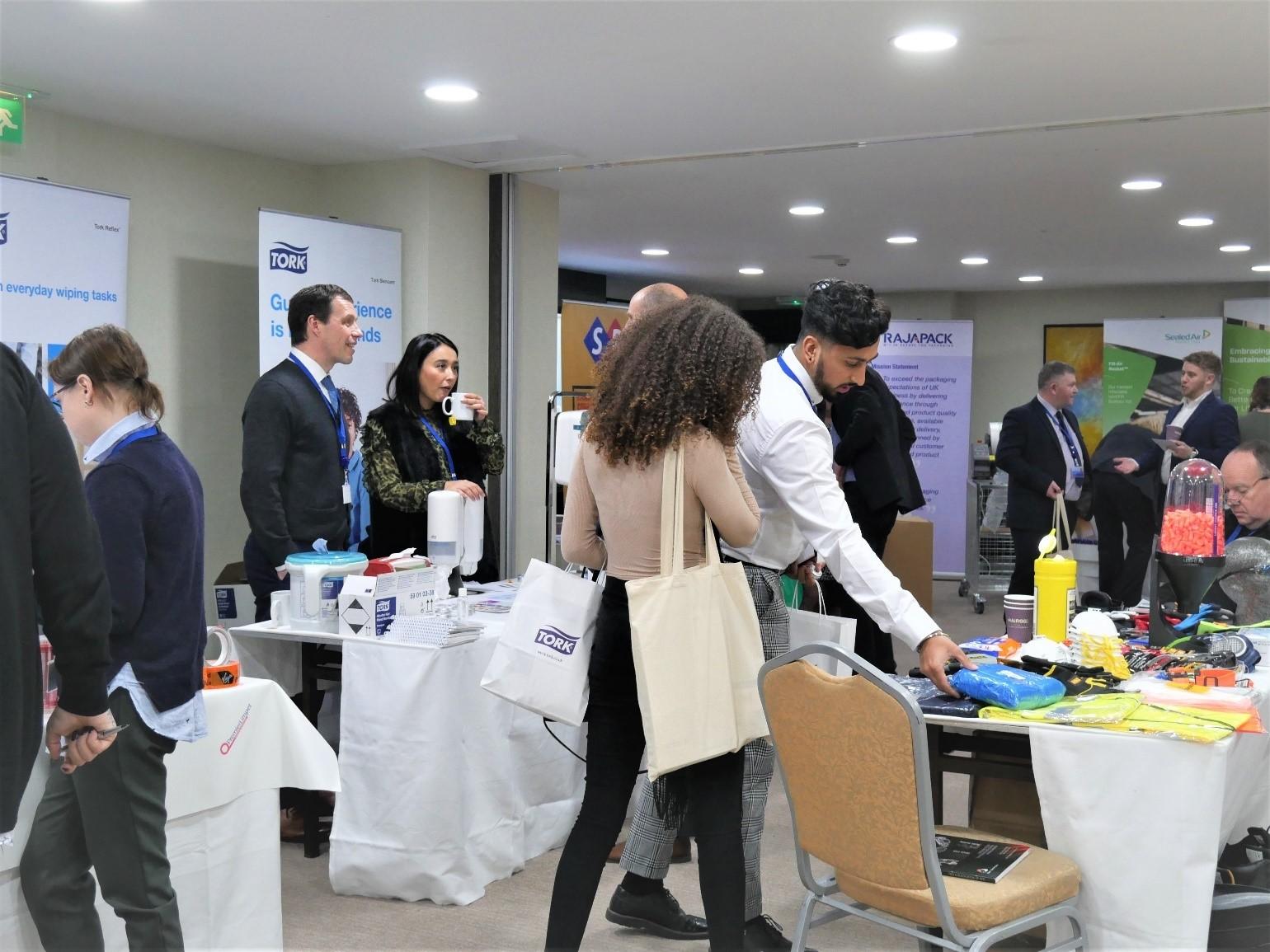 "Just wanted to say what a fantastic day we had… once again I was impressed with the enthusiasm and work ethic of the team at Rajapack and Welco" – QMP
What's new in packaging for 2019?
The supplier exhibition ran throughout the day alongside workshop seminars by Ranpak, Southgate, Jiffy and Reedbut, who featured new product lines, packaging innovations and problem solving activities for everyone to get involved in. The day then rounded off with a 3-course dinner and the Rajapack Annual Supplier Excellence Awards.
Supplier Focus: Ranpak

"I loved the Ranpak seminar, very useful and informative! Also great to speak to suppliers… I learnt a lot about the Welco side of things" – Rajapack employee
We were proud to host Ranpak again this year and Andy Murray, a Senior Account Manager, presented the first workshop of the day. The focus was around growing customer demand for more environmentally friendly products, as a result of this Ranpak is growing their line of paper-based products and making them available to customers this year.
Also announced was a brand-new product for 2019 – an innovation in protective packaging called the WrapPak Protector. This versatile, sustainable and cost-efficient packaging machine produces waved paper pads and will be available online with the launch of our new March 2019 Rajapack catalogue.
Supplier Focus: Southgate

"This day helped me with developing my product knowledge. It was good to see suppliers and asking them questions I get from my customers" – Rajapack employee
Dale Turner, Business Development Manager from Southgate, dived into the second workshop of the day by discussing the correct usage of void fill and minimising unnecessary waste. Dale brought this lesson to life with an animated competition to see who can use the minimum amount of air pillows when packing plates into a box. Each box was then drop tested and opened with very mixed results!
Some plates broke and some did not, showing the importance of efficient packing and using quality pillows. Often, less is more in terms of product protection with no need to overuse protective packaging.
The second competition from the Southgate presentation was a race against time to construct and seal boxes using 2 different types of tape; gummed tape that's used with the water activated tape dispenser machine vs. non-paper tape using a hand dispenser.
Results showed that the gummed paper tape was quicker and easier than the non-paper tape, with less waste. The handheld tape dispenser was certainly quick at sealing cartons, the ridge of the dispenser guided the tape to the carton and the in-built blade effectively cut the tape. However, the electronic water activated dispenser was quicker as the tape length could be pre-set, allowing the tape to be applied in one swift motion and smoothed down by hand to the board. The gummed tape was much quicker and had a cleaner and tidier finish, used less tape, and is environmentally friendlier too.
Supplier Focus: Jiffy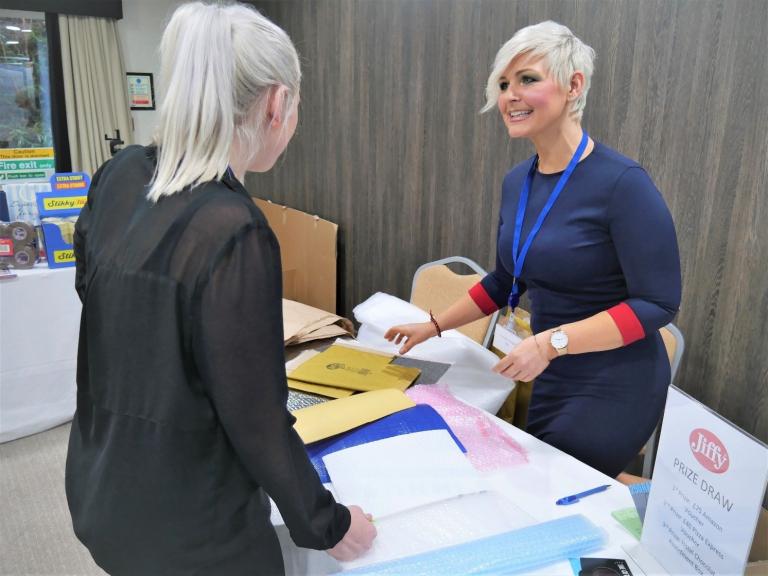 "I think this year was the best supplier day we have had so far, great atmosphere all day and evening with everyone getting to know one another" – Rajapack employee
We were pleased to welcome household name Jiffy to our Supplier Day again this year. Fiona MacDougall, Sales and Marketing Director, presented the seminar featuring Jiffy's new lines of product innovation for 2019.
To further develop the knowledge of our Packaging Specialists, attendees were split into teams and presented with several problem scenarios in a packing application. The scenarios featured a wide range of examples from industry sectors, from packing leather suites, to essential oils and gifts, through to alloy wheels and chilled food. The teams were then tasked to problem solve the different scenarios.
After the session Jiffy presenter Fiona MacDougall commented:
"The team were engaged and asked lots of questions. Their knowledge on how they would service the problems was excellent, and I felt they enjoyed the session and learned a lot more about our product range."
Supplier Focus: Reedbut
The final workshop of the day was presented by Martyn Clarke, Group Sales Director and Tony Waddell, Product Specialist, from Reedbut and had a focus on the environment and how we can make a difference.
Shockingly, the level of plastics in our oceans is set to treble over the next 10 years. The popularity of the BBC nature show Blue Planet II caused such a huge impact on the nation that more customers want to talk about environmentally friendly packaging options with their packaging provider, such as moving to corrugated solutions.
Martyn and Tony then went on to discuss paper weights and asked the question: Are all papers equal, even if they weigh the same? We discovered the answer is no, and neither are the current cardboard grades which are offered by sheet feeders.
Many sheet feeders don't track, control or guarantee board and box performance, which can lead to variations up to 30% in performance. Reedbut summarised by suggesting a change in how the industry supply and quote on these products, by moving away from using grades based on historical nominal paper weights.
The Supplier Excellence Awards 2019
Into the evening, we held our Supplier Excellence Awards, which gave us an opportunity to recognise and award our suppliers for their support across the year.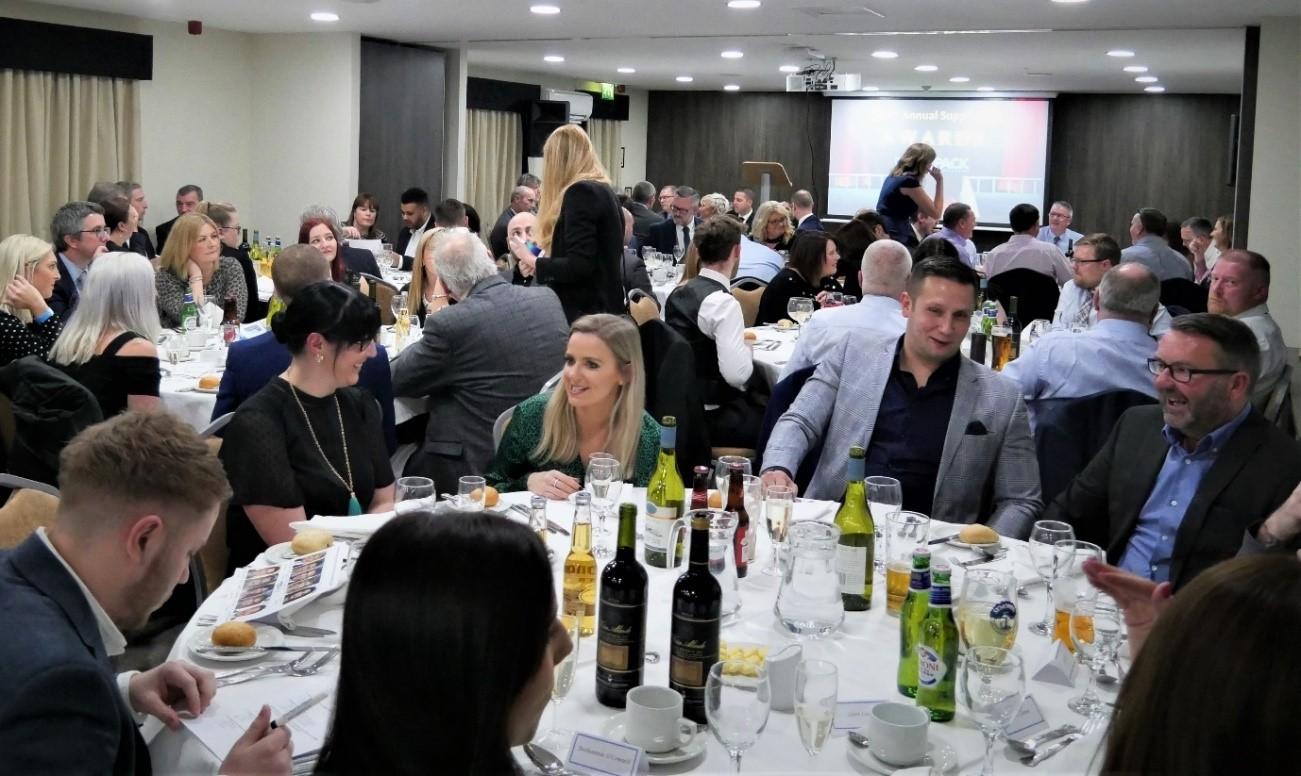 Congratulations to all our winners!
Proactive Supplier of the Year is awarded to the supplier who has proactively demonstrated new approaches, products, services or processes within the course of their business with Rajapack that is delivering or has delivered tangible results.
Winner: Southgate Packaging
Customer Experience Award celebrates suppliers who have gone above and beyond to support Rajapack's customers during 2018 and is given to the supplier who can demonstrate that they have Rajapack's customer at the heart of all they do.
Winner: Premier Limpet Ltd
Service Excellence Award is given to the supplier who has been able to demonstrate an excellent track record of service excellence within 2018 through consistency & quality of supply, whilst providing professional, responsive and proactive communication.
Winner: Anco Storage Equipment Ltd
Extra Mile Award recognises an individual who has gone above and beyond to support Rajapack throughout 2018.
Winner: Gary Higgs from Readycase
And finally, the prestigious Rajapack Supplier of the Year Award, is given to the supplier who has demonstrated best in class proactivity, innovation, product quality, service & customer service thereby achieving exceptional mutual sales growth during 2018.
Winner: Diamond Box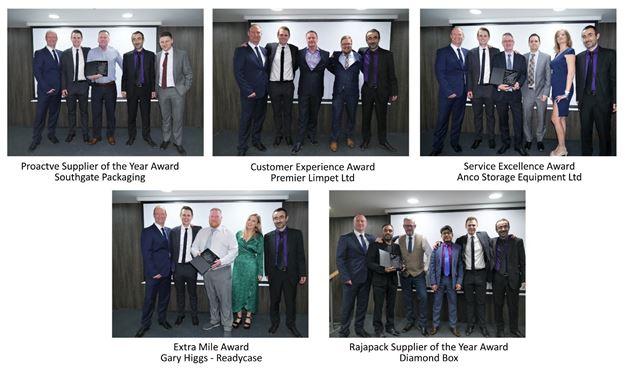 Feedback from attendees shows this year's supplier day was energetic and interactive, making it the most memorable supplier day so far. Over the past few years this day has grown in importance for the industry and is now seen as a must-attend event due to the value being placed on supplier announcements, interactive workshops and the importance of networking.
Finally, Chris Liddell, Product and Purchasing Director at Rajapack, had this to say about the Supplier Day 2019:
"This year's Rajapack Supplier Day was bigger and better than before, with over 25 market leading suppliers demonstrating innovative products and solutions to Rajapack's team of Packaging Specialists. This year, the theme was how Rajapack can continue to work together in 2019, to deliver exceptional product choice, quality and market leading customer service to our customers.
With the support from our suppliers, in 2019, Rajapack is launching a wider range of warehouse and handling product solutions. The key takeaway from Supplier Day 2019, was innovative packaging solutions, to reduce our customer's environmental impact."