Packaging Industry News
Help your business go green in 2018 with our eco-friendly packaging
6 min read
16 January 2018
For our first post of 2018 we're focusing on a topic that's close to our heart – environmental responsibility.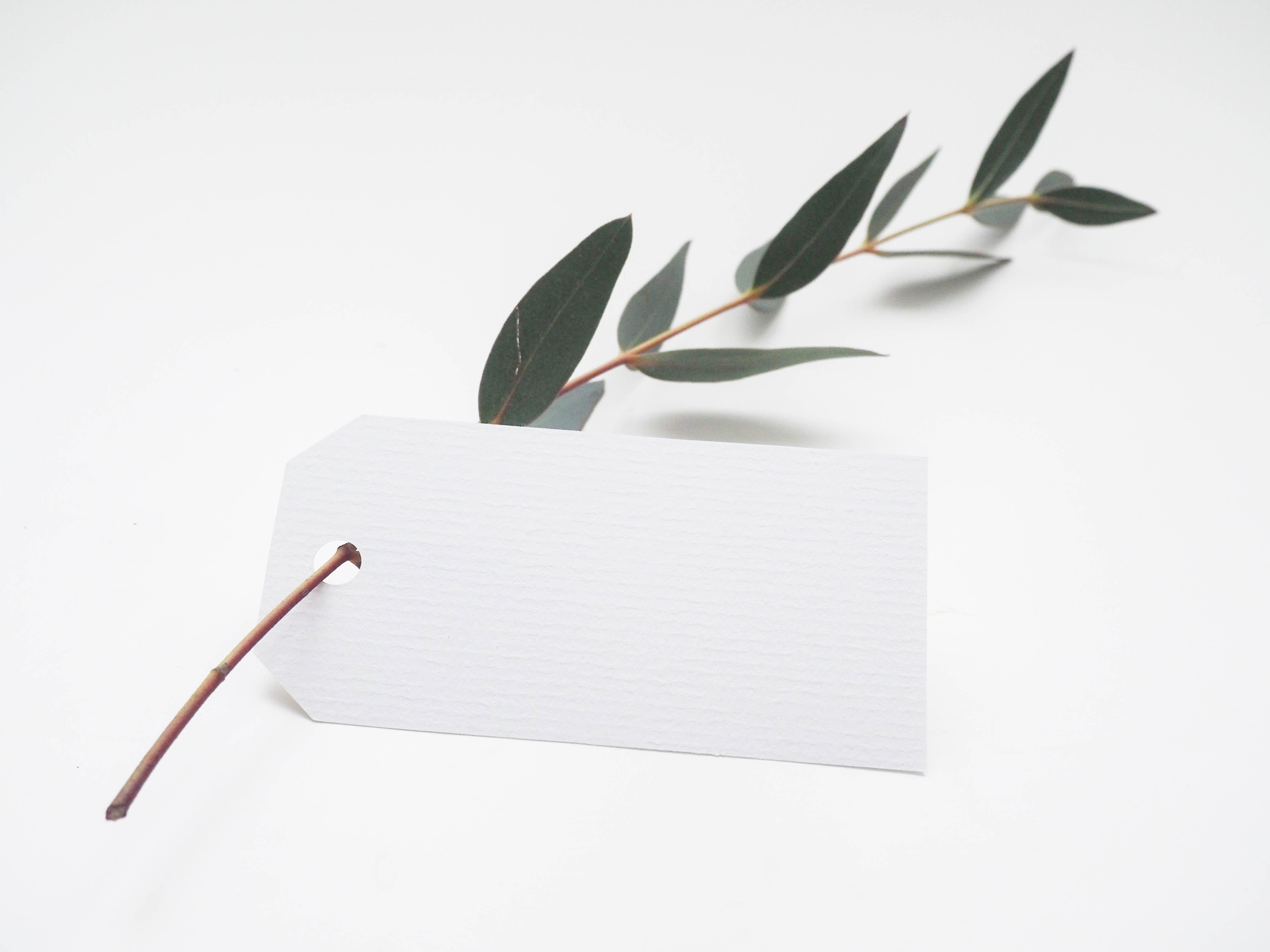 We're all committed to sustainable development to benefit the environment, with an environmental policy in place across all of our 15 subsidiaries across Europe.
We regularly launch campaigns to support and help charities around the world and at home.  Our current campaign is the Women and the Environment programme which has raised more than £625,000 for charity projects around the world and has been extended until the end of August 2018.
More recently we've undertaken a survey of over 2,000 people to find out more about recycling in the UK.  We also commissioned a cardboard sculpture artist to produce a piece for us to raise awareness of recycling as part of our Art of Recycling campaign.
It's important for Rajapack to help our customers go green too.  Moving to more environmentally-friendly packaging offers many benefits for a business as well as being kinder to the planet.  It's great for improving your brand reputation, differentiating your offering in a crowded marketplace and enhancing the experience for your customers.
Over the past few years we've been steadily growing our range of eco-friendly packaging and below we've picked out some of our favourites to help your business go green in 2018.
Protection: Green Recycled Bubble Wrap
Bubble wrap is one of the most popular types of protective packaging as it's so versatile.  It can be used for a whole range of things including wrapping, layering, separating and cushioning goods to give them great protection during storage or transit.
For a more eco-friendly alternative to standard bubble wrap, we offer recycled, recyclable green bubble wrap. Coloured with a slight tint of green and supplied in 100 metre rolls, it's made from strong green polyethene, 50 microns in thickness.  It's completely recyclable and made from at least 15% recycled polythene for less impact on the environment.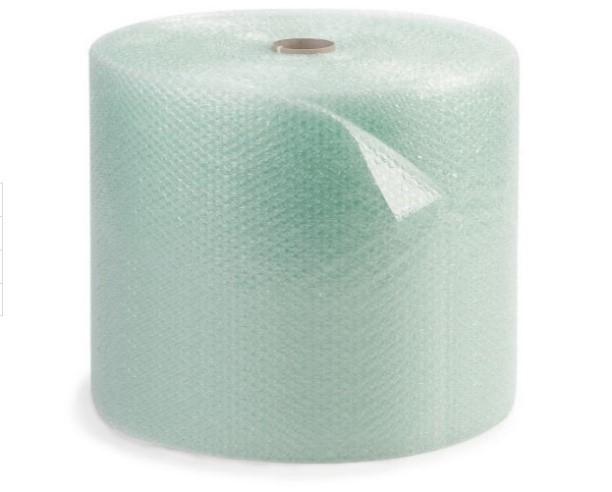 Protection: Biodegradable Loose Fill
If you use a lot of loose fill in your packaging process, then we recommend trying this biodegradable loose fill from Eco-Flo. It's more environmentally friendly as it breaks down in the environment naturally and is completely compostable.
High quality light, clean chips will settle immediately and fit around goods in a box, preventing them from dropping to the bottom, providing solid protection.  They are 5 times more antistatic than using polystyrene chips, so can be used for any product from delicate ceramics and china to sensitive electronic equipment or heavy mechanical items.

Labels: Green Documents Enclosed Envelope Labels
Documents enclosed labels are one of the most common packaging labels, used on all large shipments to identify package details without having to open them.  We offer a green alternative, so you can make small, simple changes to your processes to be more eco-friendly without it costing the earth.
Our green documents enclosed envelope labels are made from 60% recycled materials and are still as strong, sticky and durable as standard non-recycled envelope labels.  Available in three sizes; A5, A6 or DL, they're made from 60 micron polythene with a paper backing and will stick fast to any package.

Strapping: Extruded Polyester Strapping on Cardboard Cores
This eco-friendly strapping, made from 80% recycled material is twice as strong as polypropylene strapping and a great alternative to using steel. The extruded polyester is 100% recyclable and features a cardboard core that can be recycled with your standard paper and board.
Extruded polyester strapping offers lots of other benefits too; it won't ever rust, scratch or stain your shipments, and its elastic properties mean that it can fit awkward shapes without splitting or losing strength. If you regularly use strapping in your shipments, we recommend taking a look.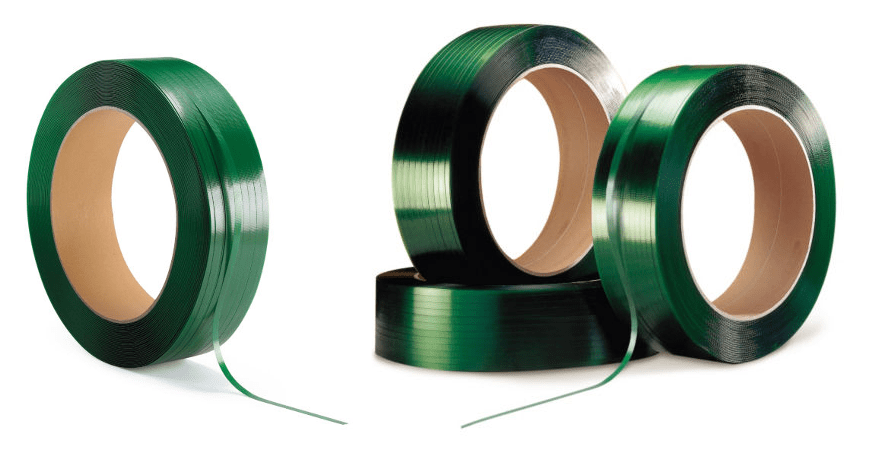 Office Supplies: Recycled Cardboard Archive Box Folders
Our eco-friendly range isn't limited to packaging and protection, we also have office and facilities products available too.  These cardboard archive box folders are great for keeping your office and paperwork organised.
They're made from 100% recycled cardboard, a single flat sheet of corrugated board which gives a solid finish.  Available in four different spine widths, from 80mm to 150mm, they feature pre-ruled lines across all four side for easy identification.  They're completely recyclable too.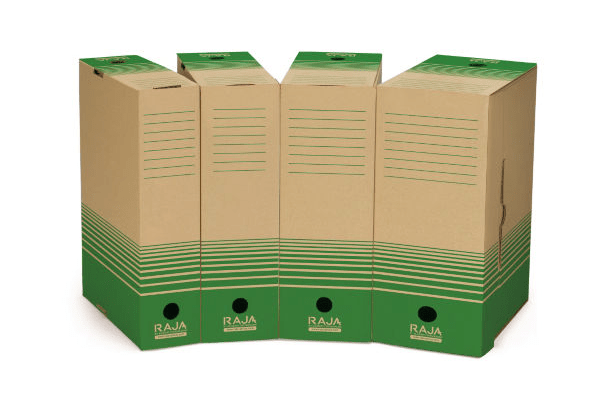 Plastic Bags: Green Grip-seal Polybags
If you're using grip-seal bags, then we have a great eco-friendly alternative to standard bags.  Our green grip-seal polybags are made with at least 50% recycled material, lessening their impact on the environment during their production and use. They feature a bold green strip along the closure with
They're great for packaging and protecting a massive range of items, from jewellery and cosmetics, to electronics, magazines and more.  With brilliant clarity through the bag, they can be used for presenting products too.
Paper Packaging: Natural Crinkle Cut Shredded Paper
Made from 100% recycled antistatic Kraft, this crinkle cut shredded paper protects during shipping and looks pretty when presenting gifts and products. The 80gsm natural fibre holds its shape and resists crushing, providing strong protectionyour items.
The spiral folded fibres are perfect for presentation in items such as seasonal hampers, fruit baskets, gift hampers and general gift decoration.  They're 100% recyclable too.

Mailing Bags: Padded Jiffy Green Bags
Made from 100% recycled paper, padded jiffy green mailing bags provide outstanding protection with super strength.  If you're already using mailing bags to send out your shipments, then these are a great eco-friendly alternative.  Available in ten different sizes, they can be used to ship a wide range of items including heavy duty products such as mechanical parts.
Featuring a 100% recycled paper fibre lining, they are 100% recyclable and offer exceptional protection with their cushioning paper layer.

Palletising: Moulded Wood Pallets
We offer eco-friendly solutions if you ship your goods on pallets, to help you be greener.  These moulded wood pallets are lightweight, incredibly strong, and manufactured from recycled waste timber.  They're 100% recyclable too, so you can ensure they get recycled into future products after use.
Lightweight and economical, they can easily be stacked when not in use, saving space in your warehouse, and are fully certified for export according to FAO-IPPC-ISPM 15, so there's no need to fumigate or heat treat them.  They're available in other sizes too, from mini pallets through to container size to fit standard ISO containers.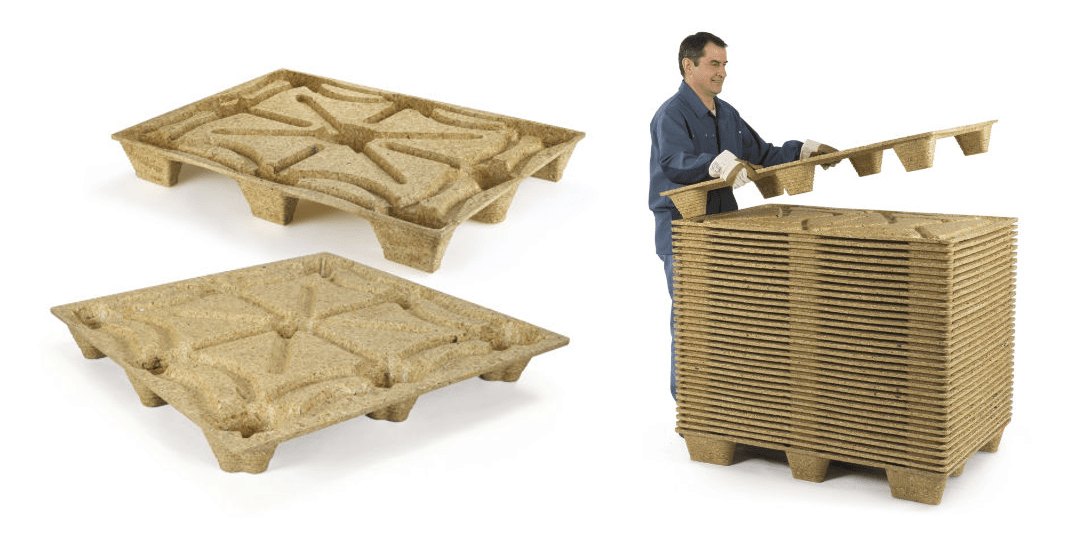 Export Boxes: Cardboard Loading Cases
If you're shipping pallets of goods, then we can recommend a green alternative for export boxes.  These cardboard loading cases with optional lids are strong, robust and durable. They're made from double wall corrugated board with a Kraft paper finish, which makes them damp and moisture resistant, perfect for use in humid conditions.
They're made of 75% recycled fibres and are 100% recyclable.  Once recycled after use, they can be remade and reused in just two weeks.
If you'd like to see how our team of packaging experts can help your business be a little greener for 2018, simply visit www.rajapack.co.uk or contact our team on 0800 542 44 28.