Racking and shelving in warehouses is a vital component of most businesses, but getting it right requires some planning; here we offer some top tips as to how to make it work for your business.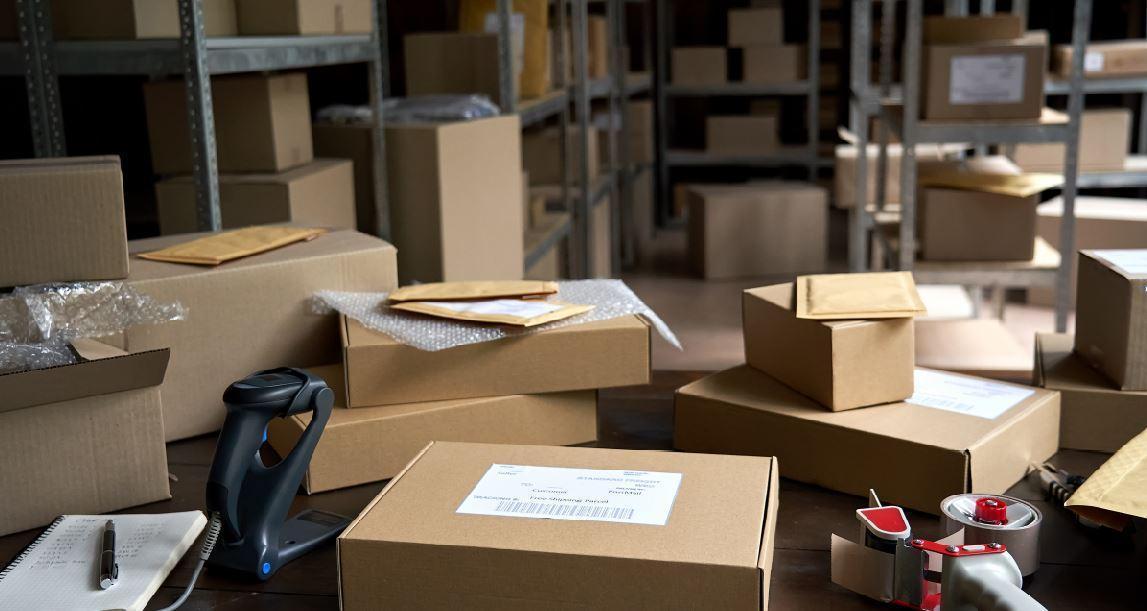 Not everyone has an enormous, custom-designed warehouse, often a warehouse racking system needs to be arranged in small spaces. How do you do that?
Top warehouse racking and shelving tips
If you have to store inventory then you almost certainly need warehouse racking, pallet racking, and/or warehouse shelving in your storeroom. If you have a small storeroom or a large warehouse, to maximise space, as well as to safely and securely store goods, racking and shelving are the ideal solution.
Whatever your space, there is a wide range of solutions available, but to work out what is best for you, there are a number of factors to consider.
Firstly, what is the difference between shelving and racking? Warehouse shelving is for lighter items that can typically be stacked and stored individually or in boxes. Warehouse racking or pallet racking is a more heavy-duty solution that is designed to take the weight and size of palletised goods.
Shelving systems are typically accessed by hand, with the warehouse staff putting goods for storage on them themselves from floor level or small steps. Because of how they are hand-loaded, they typically don't reach all the way to the ceiling or are out of reach of more than a modest step.
Warehouse racking, on the other hand, is usually loaded via forklift, because of the heavy nature of the palletised items being stored. This means that not only are they generally much more sturdily constructed out of heavy-duty steel, but their height is limited by the safe reach of a forklift – which can be anything from two to five metres.
Mechanical stackers are also available that sit between doing it by hand and using a forklift, but these tend to limit shelving and stacking to around two metres.
So, when choosing the right warehousing solution, you need to consider:
• The size and weight of what you are warehousing – for smaller items or boxed items that can be loaded by hand or by a mechanical stacker, shelving solutions are a good solution. They are sturdy and functional, but offer the kind of shelf size and separation that works for small goods. They also tend to have a lower maximum height making them easier to access by hand from the ground or from a small step.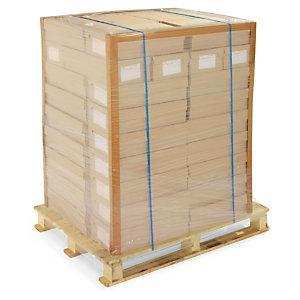 • The maximum height you want to stack – this will affect not only your choice of shelving solution, but what you load on it where. The height will be determined by the reach of who or what is stacking the shelves or racks. If it is being done by hand, you are limited to over-head height or a small step. If you are using a forklift, then the sky – well the warehouse ceiling – is the limit.
The average height for warehouse racking is around 8m, but there's no actual limit on how high you can go. The maximum height is generally determined by the ceiling height and lift height of the forklift. It would be unusual to have a warehouse with a ceiling height that racking couldn't reach and there's always a forklift to do the job.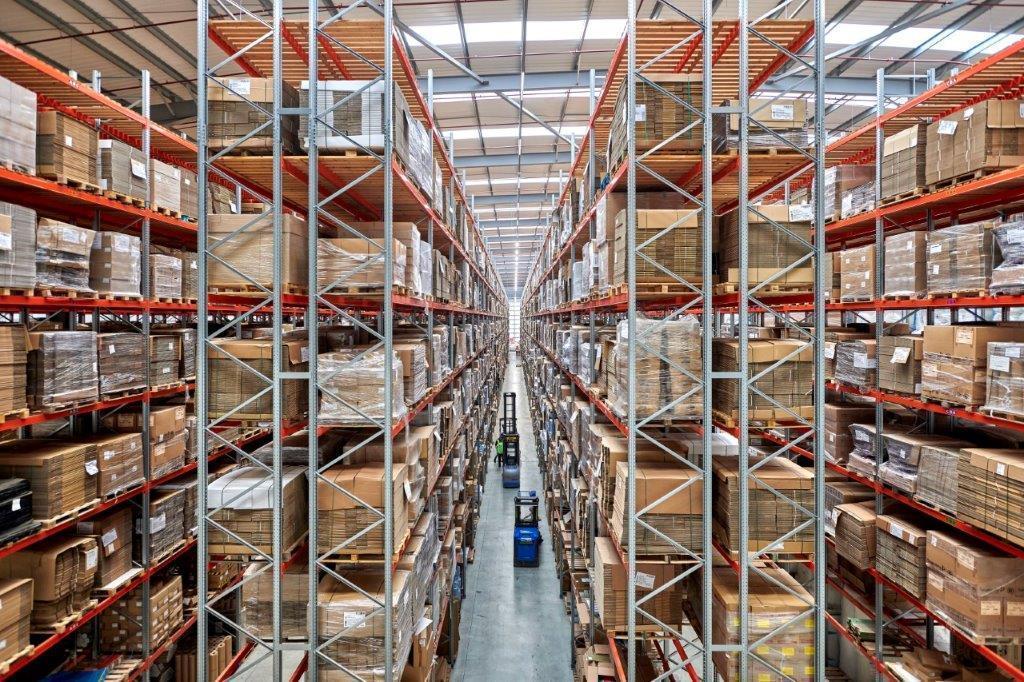 • What you are stacking – If you are stacking a range of items, the smaller, lighter ones typically need to go at the top, with those of increasing weight towards the bottom. This not only aids stacking of goods, but also keeps the centre of gravity of the shelves or racks low.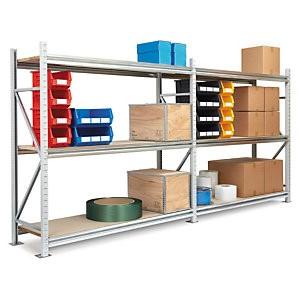 • How are you picking – So far we have looked at how to stack items when they arrive, but how they leave the warehouse also has an impact on shelving and racking. When designing your storage solution, you need to look at how items are used or dispatched. Do you work from the front until a shelf, box or pallet is empty, or do you have to cycle what is there? This will impact how you design your storage solution as you need to allow for how things may be moved around while on the shelves. It also affects how new deliveries need to be stored.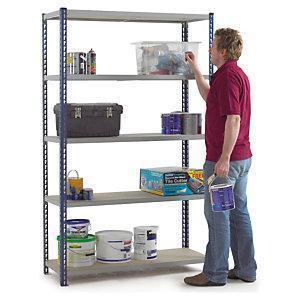 • A modular approach – to make creating the right shelving and racking solution, many shelving and racking units come in a modular format. Here you can choose the racks, shelves and runs that work for the space you have. Many are boltless so are easy to assemble and come in a wide range of widths and heights. Available as a 'starter bay + extension bay' kit, you can choose how many shelves and where to position them, along with a range of accessories including drawers and dividers.
• Ask the experts – To assess how your goods are going to be used and what the best shelving or racking solution may be – as well as designing it to fit the space you have available – can require expert help. RAJA not only sells the racking and shelving, but also offers a FREE of charge site survey, along with a SEMA (Storage Equipment Manufacturers Association)-certified installation, providing a complete design and build service.

How to arrange a warehouse racking system in small spaces
While the same principles as outlined above apply – what you are storing, how big and heavy it is, how often it is being refreshed and how high can it reach – there are a number of other factors that determine how to choose shelves for small spaces.
The first is to maximise the space available. This can be achieved by choosing the best space saving shelves, which offer the smallest footprint with the maximum shelf area. This is limited to some degree by the height to which you can go, but many shelving systems come in a modular format that allows you to mix and match what will best fit the space.
The type of shelving or racking system will also be impacted by the size, shape and weight of the goods, as well as how the shelves are being loaded and whether the solution is being used to archive items – so that there is low to zero turnover – or storing fast moving goods.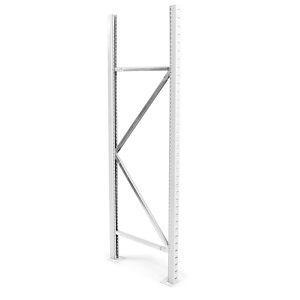 While a modular approach can help fit out many warehouses, for those that need a more bespoke approach, the component parts of a shelving system can be used to create the dimensions needed.
Long-span, heavy-duty warehouse shelving frames can be placed more flexibly and shelving created from chipboard shelves – which can also be cut to size – to fit in with smaller spaces or awkward shapes to maximise space.
Again, a full FREE no obligation site survey can be undertaken by RAJA to assess the space available and to then create a SEMA-certified solution to safely fit that space.
Warehouse shelving installation for awkward spaces
Much like small spaces, shelving awkward spaces presents some challenges. In both instances the need to maximise the available area is paramount, but so too is the need to be able to also safely and easily access the shelving or racking either by hand, with steps or with a forklift.
With this in mind, creating an installation for awkward spaces requires perhaps even more attention to the basics of what is being stored, its size and shape and its weight.
If creating a warehouse shelving installation in an awkward space, it is important to look at space saving shelving systems, which can combine the strength needed for the items you are looking to store with being designed to offer maximum shelf area for the minimum footprint.
There are also many systems of shelves for narrow spaces along with tall warehouse shelving, both of which can be mixed and matched to create storage solutions that work in small and awkward spaces. Often a more bespoke irregular shelving unit may be required, which can be designed and created by RAJA's SEMA-certified experts.
It is important to note that, when looking to create shelving or racking solutions for awkward or small spaces, shelves are correctly and safely spaced. How to space shelves is just one of the many safety concerns that have to be borne in mind when designing and implementing a solution, as we shall see.
How to ensure a safe rack layout design
How to ensure a safe rack layout design is perhaps the most important part of designing and implementing a shelving or racking solution. Rack layout designs have to meet rigorous warehouse shelving safety standard. These pallet rack safety guidelines, laid down by the Storage Equipment Manufacturers Association (SEMA) not only offer a range of rules, regulations and best practice guidance on how to create a safe storage solution, but also provide certification of the manufacturers and installers of warehousing racking and shelving, so that you can be sure that you are getting best in class and safest in class equipment and installation.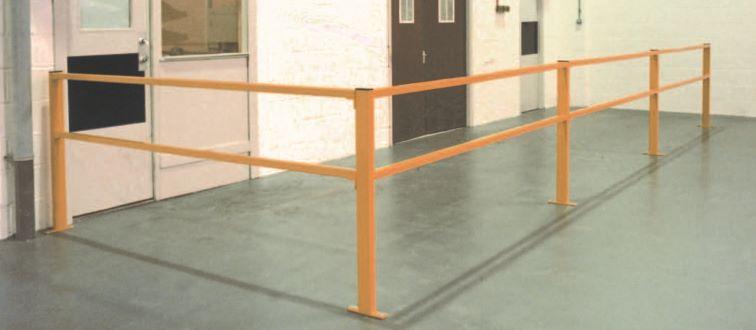 Suppliers have to be EN15512 compliant, which implies that it conforms to the European Design Code. Even with Brexit, this still applies. SEMA also polices design checks, which have to be carried out annually. You can check out what SEMA does and what the rules and regulations are here.
Pallet rack safety barriers are also an important part of safe racking and shelving design.
Barriers are essential to protect both shelving and staff in warehouses. With pallet racking or with goods that are being loaded or unloaded mechanically, barriers are vital to protecting the shelves themselves from collisions, as well as keeping pedestrians to safe areas outside of where these machines are operating.
They can also help prevent unauthorised access to goods on the shelves and are a vital part of the safe design of a shelving or racking system in any warehouse.
RAJA is SEMA certified and offers a free of charge site survey and layout design to ensure the creation of a safe racking or shelving system.
Want to know more about our wide range of warehouse shelving, pallet racking and SEMA-certified design services?
For advice on the wide range of warehouse shelving and pallet racking solutions, simply call us on 0800 542 44 28 or visit www.rajapack.co.uk.

For larger scale projects, trade environments and bespoke workplace solutions for Industrial businesses, contact our specialist dedicated partner RAJA Workplace on 0800 954 9001 or sales@rajaworkplace.co.uk.
Information, arranging your FREE no obligation site surveys and SEMA-certified design and build services, our Experts are here to help you find the right solutions!