Warehouse vehicles are essential for most businesses that handle goods and products. The use of such vehicles allows the safe transport of products and materials from manufacturing to storage, distribution and then onto retail. It's important to use the correct equipment when handling loads to maintain the health and safety of employees, it also contributes to business efficiency, protecting items from any unnecessary damage.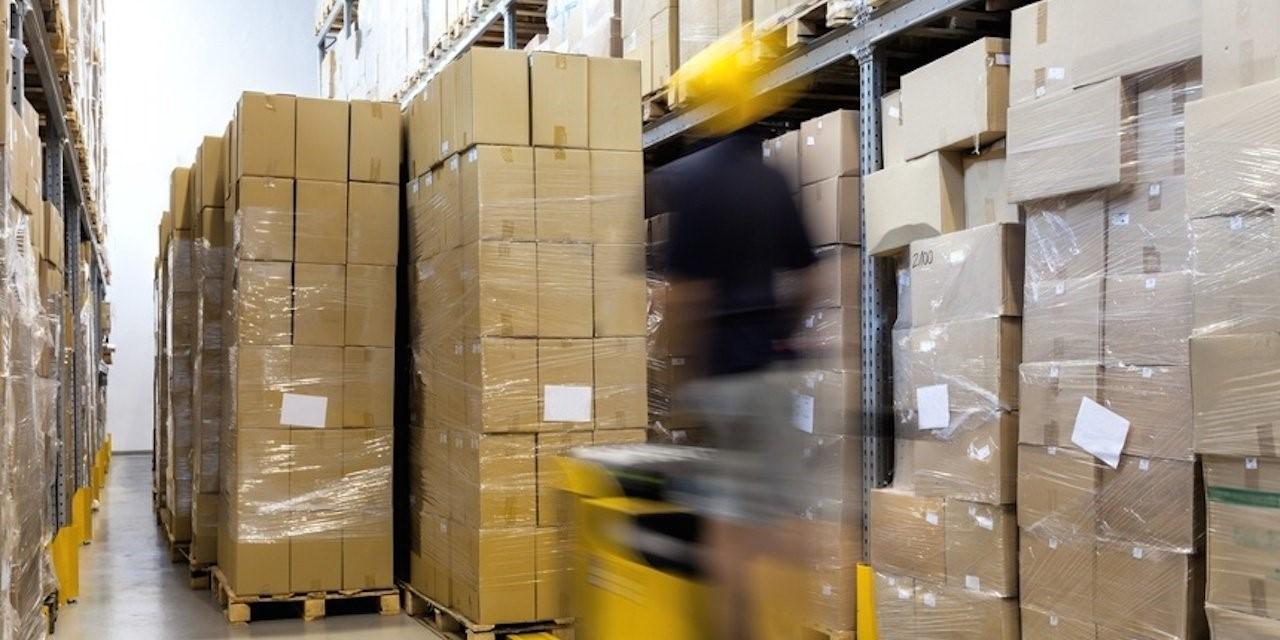 In this post we'll be taking a look at a variety of warehouse equipment in detail, from manually operated sack trucks to powered pallet trucks so you can ensure that your business is running efficiently and safely.
What different warehouse trucks are available?
Different warehouse trucks are available in a wide range of weights, models and dimensions suited to many different tasks. There is so much choice available, from manually operated pallet trucks and sack trucks, to semi-automatic scissor lifting tables, right up to huge hydraulic lifters and even totally self-functioning robots!
If robotics are a bit beyond your current reach, don't worry! We offer a range of sack, platform and pallet trucks all in different sizes so you can keep your product distribution flowing without a hitch.
What is a sack truck?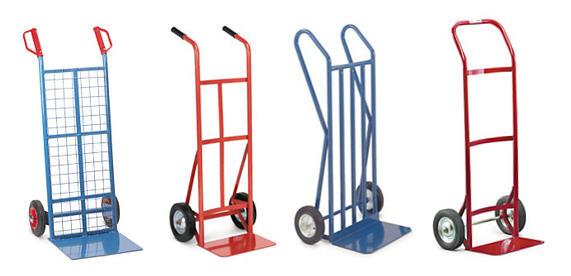 To help you differentiate the types of warehouse trucks, this section will explain what is a sack truck. Commonly used for lighter loads, a sack truck works by levering the weight of an item, balancing it over the trucks' wheels allowing it to be transported easily. Sack trucks are commonly made from materials such as aluminium, steel tubing or high impact plastic, making them lightweight and versatile for a range of duties. But what is a sack truck used for? The sack truck's purpose is to transport goods from one place to another. This could be a stack of heavy boxes, machinery or even used by baggage handlers to move heavy luggage.
Did you know, sack trucks were originally used in the 18th century by young harbour workers who were employed to move heavy bags of spices around the docks!
Sack trucks are extremely versatile, cost effective and easy to use. They allow one warehouse operative to move something that may otherwise take 2 or 3!. Even though they are easy to use, knowing how to use a sack truck safely is very important and to also warehouse errors.
Firstly, check the truck and wheels before use to make sure it's not damaged, and ensure the load does not exceed the weight limit of the truck. Carefully place the load on top of the toe (this is the flat metal piece that rests on the floor) so it's ready to be lifted, and make sure it's secured before gently pulling the top of the sack truck towards you and pushing forward.
As sack trucks require no formal training to operate, it's important to feel confident and know exactly what to do when operating one. If you have concerns, do speak to your supervisor or the manufacturer of the truck before using it.
What is a pallet truck?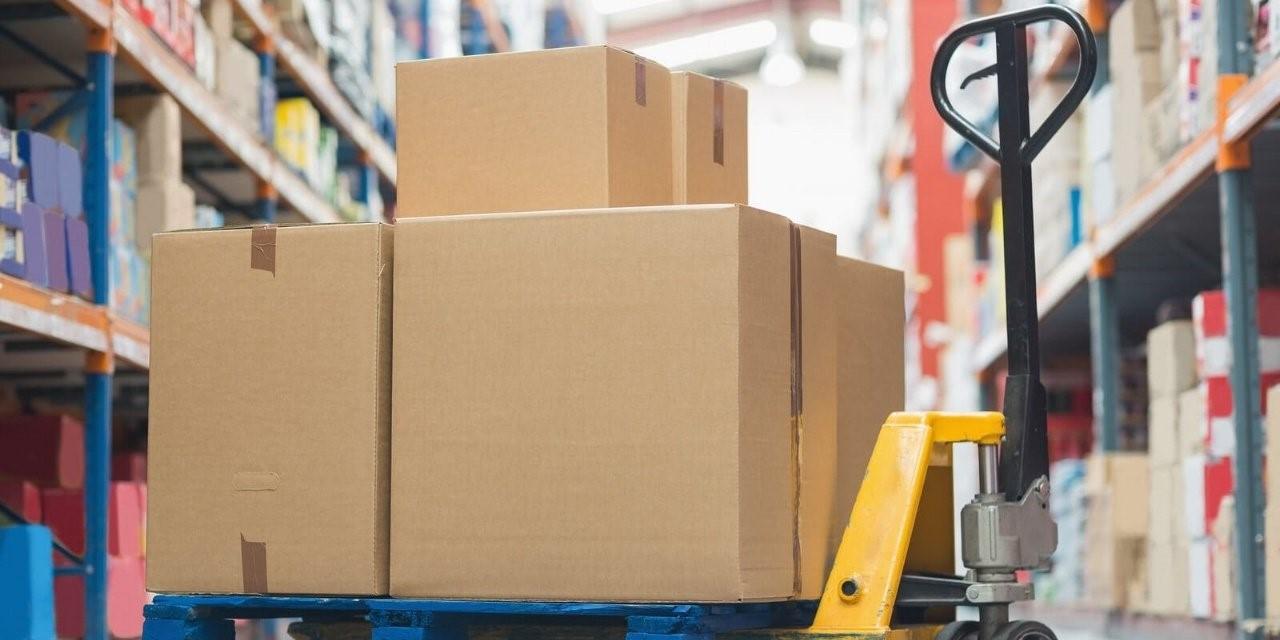 Moving on to the next type of warehouse truck, answering, what is a pallet truck? As the name suggests, pallet trucks are machines designed for lifting and moving pallets. They're a basic form of forklift truck and are mostly used to move pallets and their goods around warehouses. They come in 2 main forms; manual and electric powered. For this post we will be focusing on manual pallet trucks which are commonly used in warehouses and in the retail sector.
If you're looking at purchasing a pallet truck you may be wondering how much does a pallet truck weigh? The answer entirely depends on the pallet truck you may be considering – we currently offer 7 of the most popular manual pallet trucks but there are countless more available in the marketplace.
A pallet trucks' weight is not necessarily an indication of how much it can lift. So then, what is a pallet truck's safe maximum handling limit? This varies depending on the individual piece of machinery. For example, our Extra heavy duty pallet truck weighs in at 80kg with a maximum load capacity of 3,000kg whereas our Economy pallet truck weighs 79kg and has a maximum load capacity of 2,500kg. It all depends on the intended use of the truck, so work out the typical weight to be lifted, where the pallet truck will be stored when not in use, and who will be operating it, before making a final decision on which one to purchase.
Just like sack trucks, using a pallet truck does not require any formal training, so knowing how to use a pallet truck before you start is important!
Step-by-step guide: How does a pallet truck work?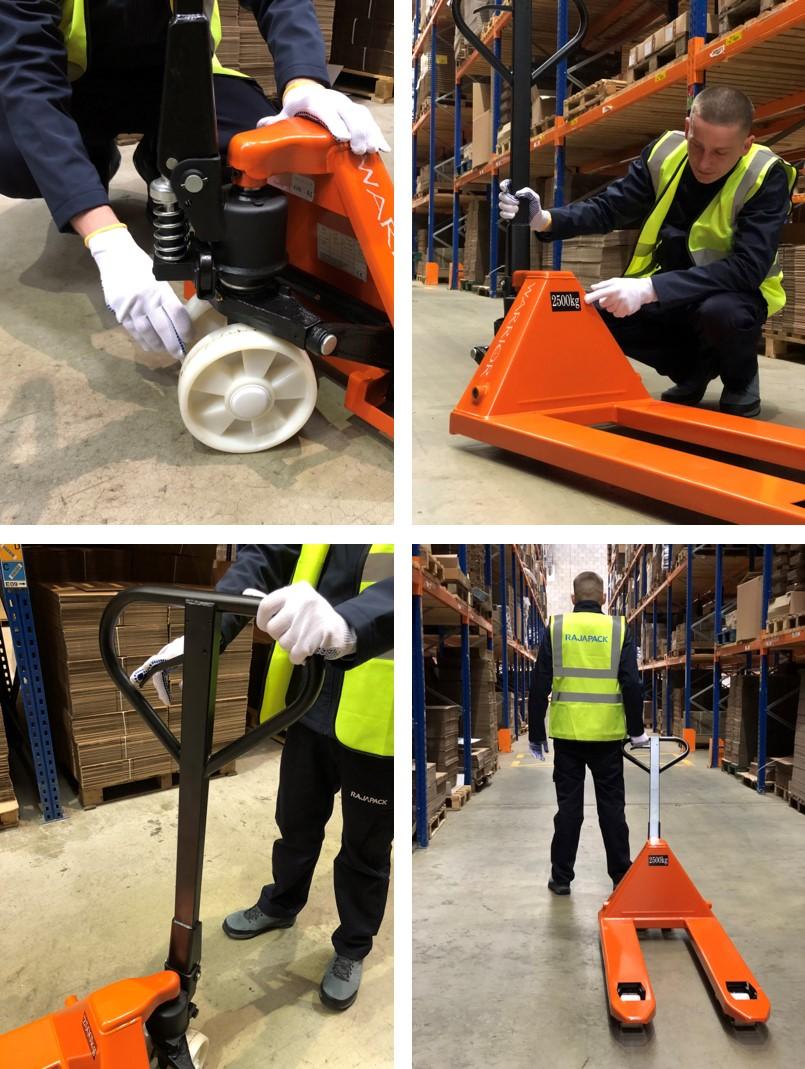 Before you begin to use the truck, check the body and wheels are in good condition and not damaged.
Check the maximum load of the pallet truck and ensure the weight of the load you're intending to move doesn't exceed this.
Find the release lever, this is a small lever usually near the handles that drops the lifting prongs to the floor. Pull the lever to lower the prongs, then slide the prongs underneath the pallet.
Once in position, repeatedly pull the handles towards you which will start to lift the prongs.
When the prongs and load are at a suitable height, you should be able to smoothly push the pallet truck to move it.
Remember, if you're unsure then speak to your employer or the manufacturer of the truck before attempting to use it.
Learning the mechanics: How does a pallet truck work?

Hopefully the step-by-step guide, this section will go into more depth into the mechanics of how does a pallet truck work. Manual pallet trucks are able to lift and carry heavy loads using hydraulics. When the release lever is pulled, it releases the hydraulic fluid, lowering the prongs. The action of repeatedly pulling the handles towards you increases the pressure in the hydraulic fluid, raising the prongs and the load.
So how should an operator move a pallet truck? Manual pallet trucks can be pushed or pulled, although most people are able to push more weight than they can pull, so it's always safer for the handler to push.  To find out how to use a pallet truck safely always speak to your employer, the manufacturer or read our short guide in the section above.
To reduce the risk of injury from lifting equipment used at work, The Lifting Operations Lifting Equipment Regulations 1998 (LOLER) was created under the Health and Safety at Work Act 1974. Main areas covered as part of LOLER are:
To ensure lifting equipment is strong enough for safe use and marked to indicate safe working loads.
Ensuring that any equipment is positioned and installed to minimise risks.
Any work done is planned, organised and performed by a competent person.
Lifting equipment is regularly inspected by competent people.
More information can be found about LOLER on the Health and Safety Executive (HSE) website.
So are pallet trucks covered by LOLER? The HSE states that pallet trucks are not covered by LOLER where the consequence of the load falling off is very low. However, where the equipment is used in the workplace, it will need to be properly maintained and may be subject to inspection under the Provision and Use of Work Equipment Regulations (PUWER).
We have a core range of essential equipment at RAJA however if you're looking for a wider choice visit our sister company Welco.
If you'd like more information about our range of warehouse trucks, or help on selecting the right warehouse equipment for your needs simply get in touch with our team of Packaging Specialists who will be happy to help. Visit www.rajapack.co.uk or contact our team on 0800 542 44 28, or sales@rajapack.co.uk.