Protective packaging has one of the most important roles to play in any packaging operation – keeping an item safe from knocks, bumps and shocks, so that it gets to its destination intact and undamaged.
An essential material in this range has always been bubble wrap packaging, ever since it's invention way back in 1957.  It's lightweight, strong, soft, easy to work with and offers amazing protection for almost anything – on top of that it's great fun to pop and an ultimate stress reliver!
In this post we're focusing on bubble wrap in detail; looking at how it's made, how it was invented, how it can be used for packaging and how to recycle bubble wrap too!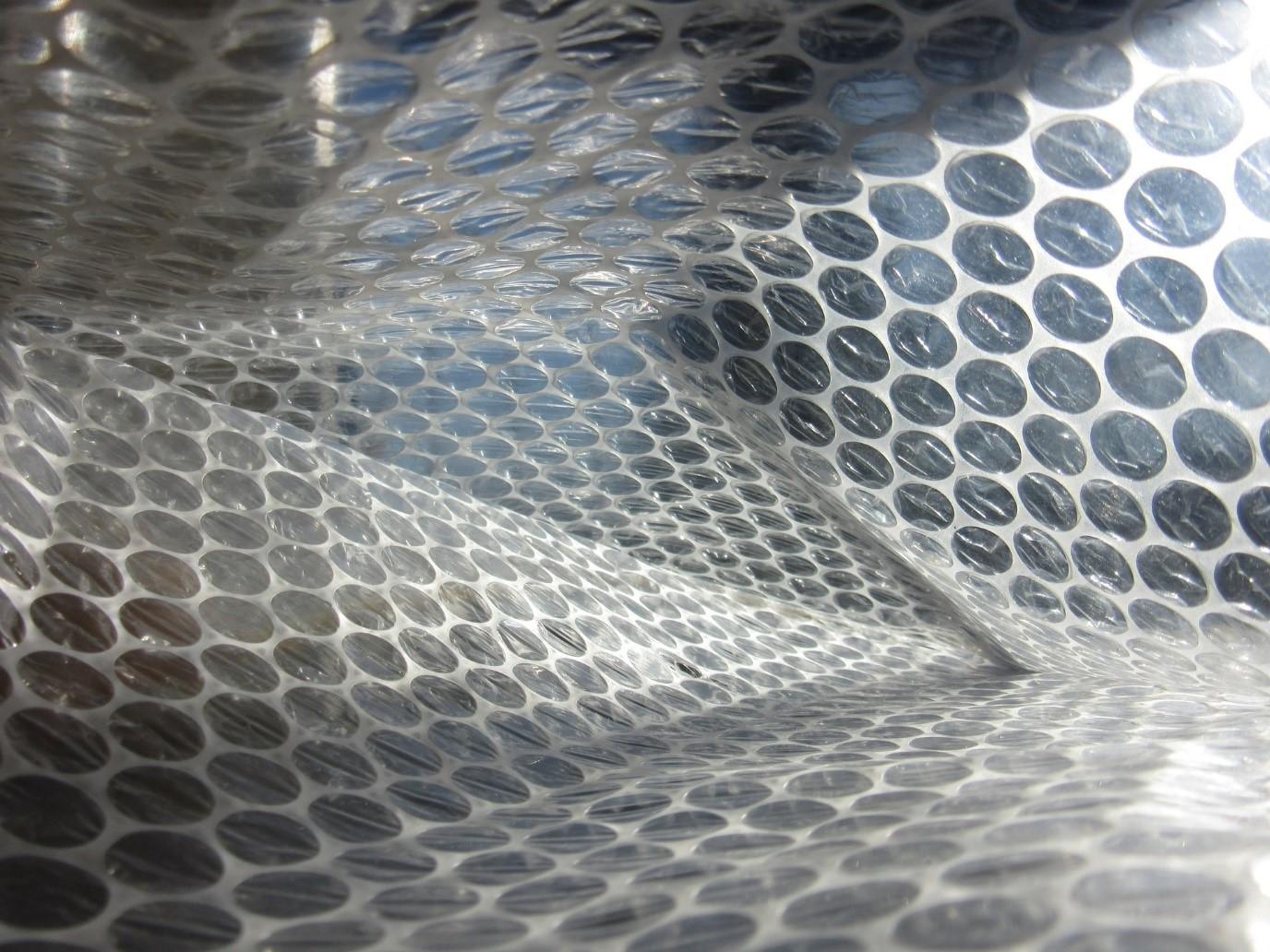 Image source: https://pixabay.com/en/bubble-wrap-blow-packaging-1183728/ 
So, how is bubble wrap made?
You might be surprised to learn that bubble wrap is made from tiny beads of resin, almost like grains of rice.  Several different resins are used for their different properties and these are combined into the material that we know and use as bubble wrap.
The tiny resin beads are melted down together at over 450 degrees Celsius, where they combine and form into a thin film which is the base material for making bubble wrap. This film is then flattened to the required thickness before being fed through rollers with small holes in.
As the film travels over these rollers, air is vacuumed onto it, pushing it into the small holes which create the air bubbles that give it such good protective qualities.
With the air bubbles blown into the film, it's then run across more rollers which seal it with another layer of film, trapping the air inside and ensuring that the small air bubbles stay contained.
Finally, it's cut to width and perforated so it can be rolled up into large, industrial sized rolls.  After passing quality checks, it's then shipped out to be used all around the world.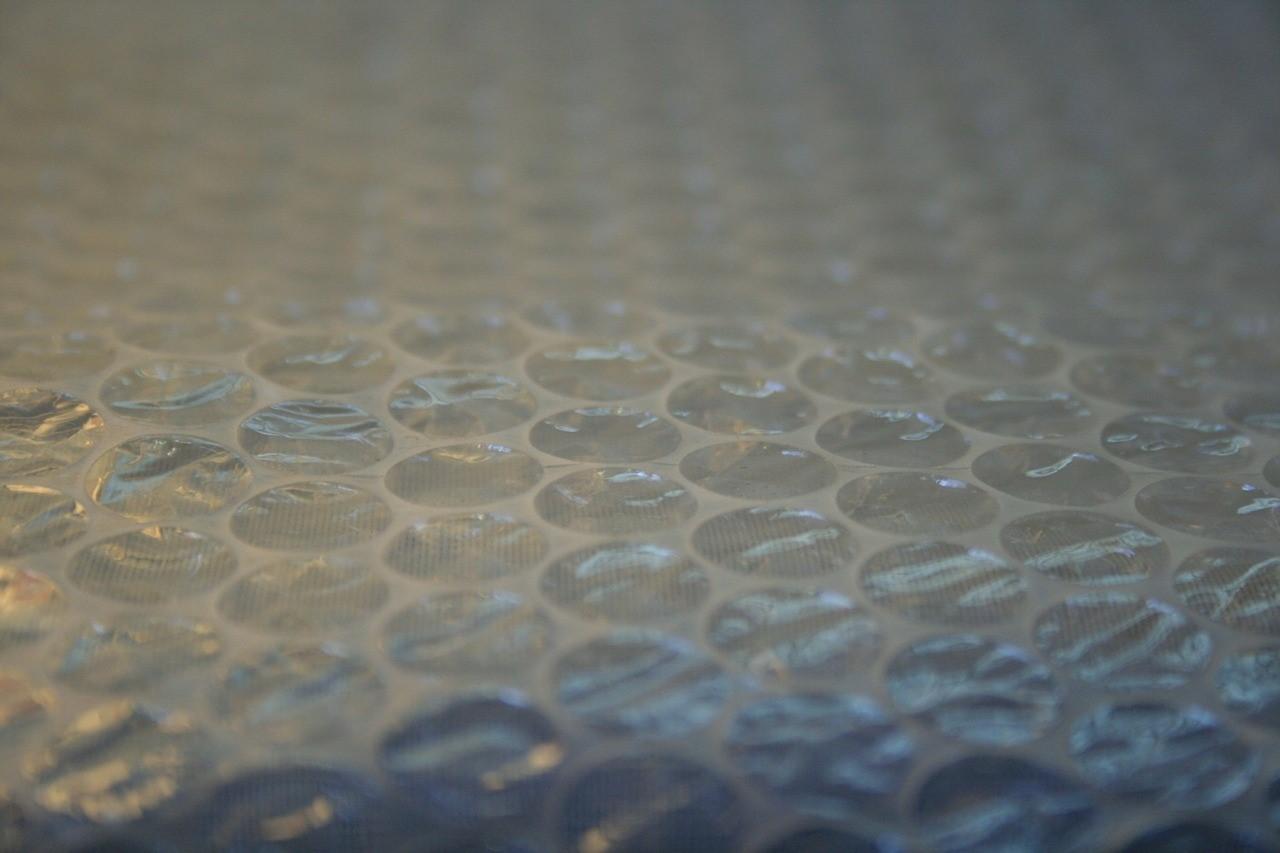 Image source: https://pixabay.com/en/bubble-wrap-bubble-wrap-transparent-316133/
Who invented bubble wrap?
Bubble wrap was invented in 1957, not by a single person but by two inventors named Alfred Fielding and Marc Chavannes. If you're wondering where was bubble wrap invented, it was first created in Hawthorne, New Jersey in the United States.
Alfred and Marc were not trying to create a packaging material at all but were in fact working to invent a three-dimensional tactile wallpaper by sealing two shower curtains together!
Unfortunately, their invention failed to sell as a wallpaper so they tried marketing it as a greenhouse insulator, also with limited success.  It wasn't until several years later in 1961 when the packaging and protection offered by their invention was fully realised.
The name 'Bubble Wrap' was branded by Sealed Air corporation (which was founded by Alfred and Marc) and IBM became their first large customer, who used it to protect their sensitive computers during shipment.  Over 50 years later it's used all over the world and is one of the most common packaging materials in use today.
Is bubble wrap recyclable?
This amazing material not only excels at offering great protection but surprisingly it can be recycled too.  If you are wondering "is bubble wrap eco-friendly?"  then the answer is yes, absolutely.
There are several ways you can recycle it; some local councils are able to collect it along with their standard recycling collections, others offer recycling facilities at local sites which you can take it to.  You'll need to check with your local council to find out if they accept bubble wrap.  You can easily find out about local recycling collections through the 'Recycling Collections' section of the government website, by simply entering your postcode.
For a more eco-friendly packaging alternative to standard bubble wrap, take a look at recycled bubble wrap. This is made from at least 30% recycled polythene for less impact on the environment and is fully recyclable after use.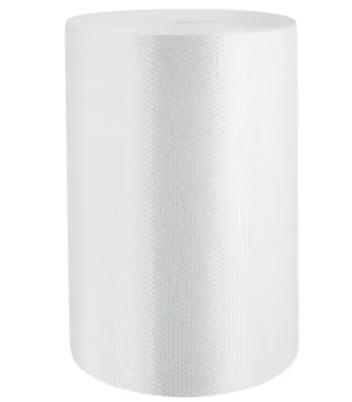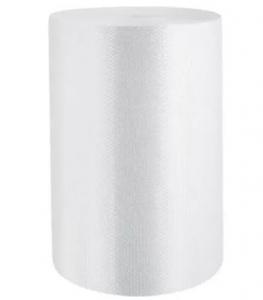 How to use bubble wrap for packaging
As a lightweight and strong material, bubble wrap can be used in many ways for packaging and protection.  To find out how to use bubble wrap, we've included some information below.
Bubble wrap features a flat side and a side with the cushioning bubbles.  A common question we get asked is, "which way round should you wrap items for the best protection?" We always recommend to wrap the bubbles next to the item you wish to protect, so usually that means the bubbles are on the inside.  This gives the best protection by placing the cushioning directly against the item.
For protecting individual items in cartons from bumps and knocks, prewrap bubble wrap around each one before placing into a carton or box.  This will provide a layer of air cushioning, offering excellent protection in combination with the strength of the item.
Use packaging tape to fully secure bubble wrap, tightly sealing the item inside.  This will ensure you get the most protection from the cushioning material.  If it's only loosely wrapped, then it is likely to slip during transit and won't be protected..
If you are shipping parcels with several items inside, bubble wrap can be used to layer and separate them, providing a soft layer of air cushioning while preventing products from moving around loosely during shipping.  Divide your bubble wrap into squares, and these can then be placed inside the parcel to cushion and protect between items.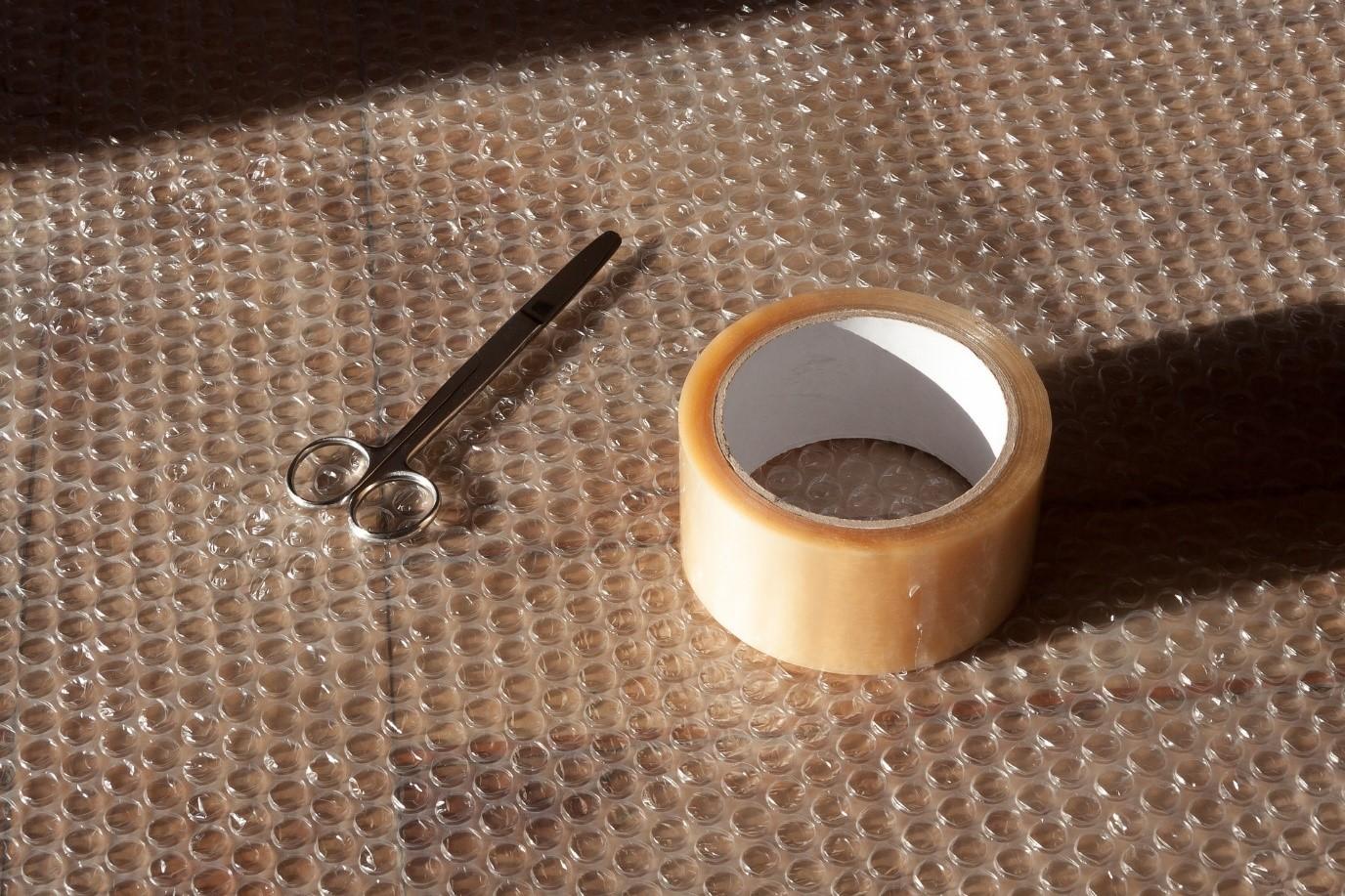 https://pixabay.com/en/scissors-tape-blister-foil-1986599/
There are also other bubble wrap packaging items available which can be used to protect smaller, fragile or sensitive items in the post or while in storage.  Bubble wrap bags offer excellent protection for sensitive items, providing all round cushioning and protection.  They're great for use with an envelope or carton to offer an extra layer of protection.

For fragile or sensitive items such as electronics, anti-static bubble wrap bags offer a layer of air cushioning and prevent antistatic discharge.  Finally, for envelopes with extra cushioning take a look at bubble envelopes which offer a simple way to seal and protect mailed items in one complete protective package using bubble wrap.
If you'd like more information about bubble wrap, our range of protective packaging products, or help on selecting the right packaging for your business simply get in touch with our team of Packaging Specialists. Simply visit www.rajapack.co.uk or contact our team on 0800 542 44 28, or sales@rajapack.co.uk.