Innovations in environmentally conscious protective packaging and waste reduction have taken us from biodegradable packing peanuts, to packaging made from sugarcane to even packaging that is edible.
Unbelievably, you can even make packaging out of poo.
Here we take a look at how packaging has evolved to be eco friendly and what your options are.
Innovations and Advances in Protective Packaging and Waste Reduction
Innovations in waste reduction of protective packaging have been accelerated over recent years as consumers,  businesses and packaging experts all start to take note of what the environmental impact of packaging materials has been.
With the UK government introducing the Plastic Packaging Tax in a few weeks (April 2022) – which seeks to see at least 30% recycled material in plastic packaging become the norm – the need to reassess how product packaging protection can be developed to deliver protection in packaging as well as how to cut down on packaging waste has reached new heights.
Product packaging protection is essential in the ecommerce age: items being stored, transported and shipped to customers have to arrive in perfect condition and so need to be protected while they are being moved. From boxes to filler material to padded envelopes to foam blocks and edge protectors all need to offer the highest package protection level – while also being as close to zero waste packaging materials as possible.
To achieve this balance, much has been done to innovate new materials, new packaging processes and new ways to recycle packaging materials. While these new innovations are making the packaging industry ever-greener, the first step for many businesses looking to offer protection for both products and environment, is to cut down on packaging waste.
How to cut down on packaging waste
So how to cut down on packaging waste? There are several steps that can be followed, all of them simple and, once you have scoped out just how to do it, can also save you money.
Step 1: use eco friendly protective packaging – eco friendly protective packaging alternatives are now widely available and simply switching from, say, plastic bubble wrap to either 50% recycled bubble wrap or to paper bubble packaging is easy to do and makes no substantial change to your existing packaging regime.
Step 2: minimise packaging – using less packaging is an obvious way to reduce packaging waste. It is also something that consumers are increasingly driving for. No one likes to end up with a pile of packaging once they have opened their goods, especially for small items. So check out how you can use not only eco friendly protective packaging alternatives, but also how to effectively pack with less material.
Step 3: train staff to pack efficiently – in tandem with using less and eco friendly protective packaging materials, you need to also train staff to think minimal. While you want to make sure that packaging is appropriate and adequate for the job, they also need to make sure that they use the least possible amount of packaging, the right sized box and the right amount of protection.
Step 4: Recycle – instigate a recycling process so that you as a business are recycling waste materials and left overs, as well as looking at how you could even create your own recycling scheme where you can get packaging returned to you from your customers that you then recycle. It is also worth looking at how to shred packaging to make your own fill.
Zero waste packaging materials
The first of these four steps are the easiest to implement as they involve embracing zero waste packaging materials. So, which zero waste packaging products are available and which jobs are they best suited to – and how can they reduce waste?
Biodegradable packing alternatives – Seastretch™ Kraft Paper Pallet Wrap Rolls  (Image: RAJA)
Every step of the process can now be adjusted with replacement biodegradable products to fill in for existing unsustainable options. For example, the Seastretch Kraft Paper pallet wraps provide a 100 % recyclable alternative to plastic wrap and can be easily applied with a sticky interior that helps it to adhere to products even without the using of a wrapping machine. Though if you want something a little less sticky, the Ranpak Wrap 'n Go is a handy, paper wrapping machine that can be placed anywhere in the packing area and requires no electricity!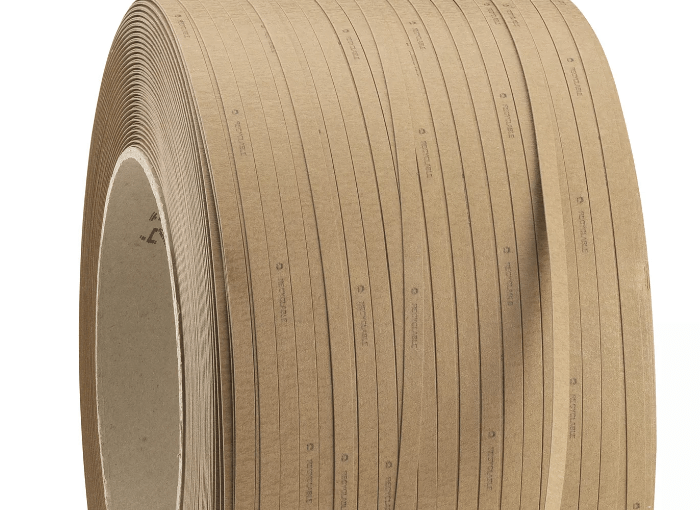 100% recyclable and biodegradable – Kraft Paper Strapping Rolls (Image: RAJA)
This even extends to strapping with more environmentally conscious products like Kraft Paper Strapping Rolls that give the same resilient security as conventional strapping rolls but remain both recyclable and biodegradable – even working with conventional strapping machines which makes the change-over easy!
Recycled and recyclable – EPS packaging peanuts (Image: RAJA)
Biodegradable packing peanuts are essential for an eco friendly way to add protection and packing to fragile items. These are made from 100% recycled EPS material and are designed to fill voids. These are great as a zero waste packaging solution as they can be composted.
These are 100% recyclable when finished with, or they can be reused many times.
EcoFlo biodegradable packing – innovative and compostable (Image: RAJA)
Alternatively, EcoFlo is made from naturally occurring materials that can do a similar job to EPS peanuts, but is 100% biodegradable and so can be composted. Biodegradable packing peanuts compost in landfill or even in composters, making them an ideal alternative to less environmentally-friendly alternatives of yore – and they are five times more antistatic, making them even more efficient at packaging!
Manufactured from genetically modified corn starch, you can dissolve biodegradable packing peanuts in water.
Along similar lines is a new innovation in packaging: sugarcane packaging. Made from Bagasse, a by-product of the sugarcane processing industry, sugarcane packaging boxes are made from pulping the canes once all the sugar juice has been removed. This is made into a slurry that is then pressed into the desired shapes and sizes to make sugarcane plastic packaging.
This sugarcane plastic packaging is extremely strong and stable – because it has such a high cellulose content – and can be heated in ovens and microwaves up to around 200 Celsius. They are also grease and moisture resistant and are, naturally, 100% biodegradable when finished with. If they are totally clean they can be recycled with paper or, if contaminated with food waste, can be composted.
A final innovation in packaging that helps take us towards zero waste is edible packaging. This is either a coating, film, or even a wrapping that is made from edible materials. Used in the food industry, it presents the user with the novel ability to eat not only the contents, but the packing too.
Edible packaging technology has been around or thousands of years – early man used to wrap his mammoth steak in leaves to carry it around (well, probably) and using plants and leave to wrap food is still common in many cultures. Even the humble pasty could be considered to use edible packaging in the pastry that holds it all together.
For real packaging solutions of today, however, scientists and packing technologists use polysaccharides, proteins and lipid biopolymers to create films and coatings – a film is made separately and wrapped around the food, a coating is integral to its manufacture – that are edible.
This edible packaging can be sensitive to moisture and isn't necessarily strong enough to package a parcel for ecommerce delivery, but for some applications it is almost the ultimate in biodegradability.
I say almost, since once it is eaten it inevitably comes out the other end – and even this can be turned into biodegradable packaging (the ultimate!). A Connecticut farmer, Matt Freund, developed CowPots, made from cow dung to plant seedlings in. As innovations go, it's a good one – and one that has inspired others to look at how to make plastic from poo.
Now there's an innovation in packaging that could be transformative.
Want to know more about our wide range of innovative eco friendly packaging
For additional advice on a wide range of innovative eco friendly packaging products, our Experts are here to help you find the right solutions and arrange next day delivery. Simply call us on 0800 542 44 28 or visit www.rajapack.co.uk.