Picking the best packaging for fragile items is a high priority in the ecommerce age. With more people buying pretty much anything online, making sure that the goods arrive intact and untrammelled is business critical. Here we take a look at how to pick the best packaging to protect delicate and fragile items, how to pack them properly and how to label those packages clearly so that they get treated correctly in transit.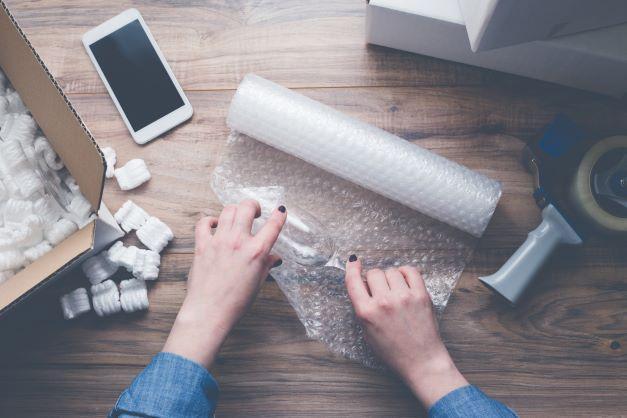 How to pick the best packaging for fragile items
From protective bubble wrap to packing foam sheets to cushioning packaging, how to pick the best packaging for fragile items involves choosing the right materials for the size, shape and material of the item being packed – it also depends on the size of any other box in may then be put in and how far it has to go.
But the first step is to mark it with a fragile label.
One of the key things to remember is that no matter how you package things up, they have to be clearly marked as fragile, with a 'fragile' sticker or other fragile label, so that they are handled with care. No matter how well packed any fragile items are, if they are not handled delicately – if they are dropped or thrown, or stacked to high, placed under other items or even placed the wrong way up – they can get damaged.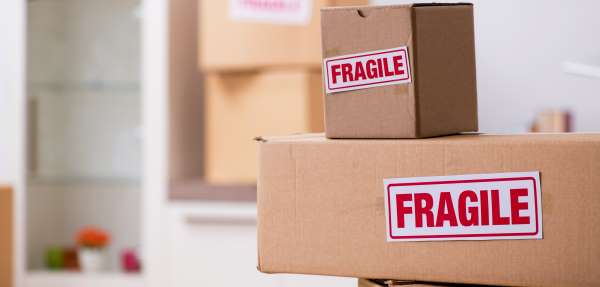 There are a wide range of labels that do just this. For example, you can just mark items as 'fragile', or 'handle with care', but many delicate objects also need to be kept the right way up to also prevent damage. Visual messages – featuring archetypal glasses and arrows that indicate 'this way up' – make sure that wherever a package goes, it is clear that it is fragile and needs to be upright. This is particularly important for items being exported cross-border, where language may be an issue.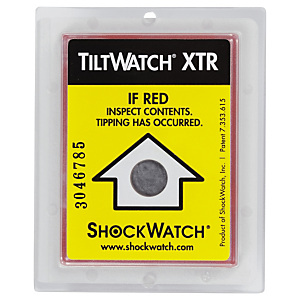 Another way to make sure that the fragile package has been handled correctly is to use specialist Tilt Watch labels. These turn red if the package has been tiled by 90 degrees or more. They aren't activated by normal handling, but go off when the box is mistreated and are an ideal way to make any package tamper proof. This is particularly useful with exporting.
What types of protective packaging provide the best protection?
So, what types of protective packaging provide the best protection for your carefully labelled package? There is a wide range of protective packaging materials available, each suited to different modes of packaging for fragile items based on their size, shape and texture – as well as where they are being sent.
Packing foam sheets – to protect against scratches and abrasion, ready-cut packing foam sheets made from 1mm thick, 35% recycled closed cell polythene foam are flexible and lightweight and ideal for slipping over and around items or between stacked items that have delicate outsides. Ideal for items that are reasonably robust but which have a delicate or decorative casing.
Cushioning packaging – to offer more holistic impact protection, cushioning packaging is air-filed polythene film – like bubble wrap, but for industrial packaging – which offers long lasting cushioning that stays inflated and effective throughout the entire shipping cycle. It is perfectly designed for cushioning, blocking and bracing goods withing a fragile parcel.
Protective bubble wrap – ideal for wrapping item as well as packing out boxes around items, protective bubble wrap is lightweight, shock absorbent and abrasion resistant and is, in many ways, the ideal material for all fragile packaging needs. Available in sheets, rolls and as bags, bubble wrap is made from two strong layers of low-density polythene and retains its effectiveness through repeated uses.
Fragile packing tape – this provides the benefits of both a means so sealing up your carefully protected box with strong and sticky tape, but also marking it up as fragile. Combining both 'fragile' labelling and tap, this solution is the final piece of the fragile packaging tool kit. Made from polypropylene, these eye-catching tapes help reduce damage and returns by alerting couriers, shippers and warehouse staff to fragile parcels.
How to pack fragile items
How to pack fragile items and then how to post fragile items also presents challenges. There are many excellent packing materials – boxes, protective bubble wrap, foam and more – but using them in the right combinations is key to protecting goods when shipping fragile items.
The best way to ship fragile items is to make sure that they are very well packaged and protected – often by using a variety of packing solutions in one go.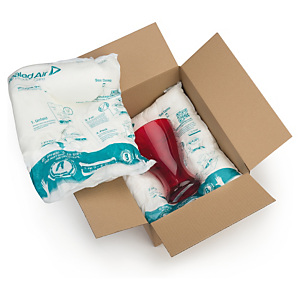 As we have seen, the best packing material for fragile items depends on what you are packing, as well as where you are shipping to. Often, it requires using a combination of packing materials to give the best protection from both knocks and bumps, as well as the vibrations and jolts of transportation.
So, how to pack fragile items for shipping is something of an art form. The starting point is using a sturdy shipping box, made from at least double layer corrugated card and big enough for the item or items to fit in snuggly, but with sufficient leeway to pack out the box with impact resistant packing materials.
For example, a combination of a good box and Instapak Quick foam cushion packaging provides excellent protection against vibration, bumps and knocks and even stacking when items are shipped. A 'fragile' and 'this way up' label and fragile tape seal the deal, informing handlers that the items need to be treated with the upmost care.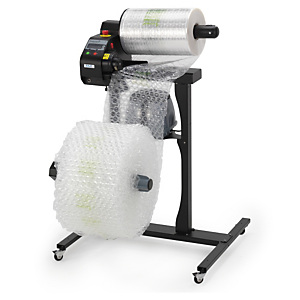 Another method of packing fragile items for shipping involves using Sealed Air packing machines to automate the packing of fragile items en masse, either on a production line or in a warehouse prior to shipping. Outputting 20m of bubble wrap per minute, these machines are ideal for wrapping goods as they come off the line so that they are sealed in they own protective envelope that is ideal for cushioning, blocking and bracing.
An alternative is to use the AirFirst Void Fill System, which produces air-filled HDPE pillow that can be used to pack around fragile items to protect them when they are being shipped. Made from 20 mu 100% recyclable HDPE film these pillow films retain air for a superior cushion protection.
Want to know more about our wide range of packaging for fragile items?
For additional advice on the packaging for fragile items, our Experts are here to help you find the right solutions and arrange next day delivery. Simply call us on 0800 542 44 28 or visit www.rajapack.co.uk.