EXPERT PACKAGING GUIDES
Welcome to the first in a new series of expert packaging guides.  We'll be taking a close look at packaging products and materials, giving you expert guidance in how to select the right packaging for your needs and help keep your process efficient.
Today we're focusing on bubble wrap packaging and foam packaging, two popular protective packaging materials that are often viewed as similar but have very different properties.  So, without further ado, let's begin with bubble.
Bubble Wrap
Bubble wrap is one of our most popular packaging materials and no doubt one you're familiar with.   It's lightweight, low cost and offers excellent all round protection from the soft layer of cushioned air bubbles that cover the material.  Hundreds of small air pockets are encased within layers of polyethylene that make up bubble wrap, giving it excellent cushioning and protection properties.
It's available in many different types, the most common of which being bubble wrap rolls, where it can easily be cut to length.  From a roll, it can be used for all manner of purposes depending on its thickness; 40 micron to wrap and protect light products, 55 micron to wrap heavy objects and sharp angles, and heavy duty 75 micron to wrap and pack fragile or very heavy items.

For easier operation with no cutting required, perforated rolls are available in a range of different sizes, meaning you can easily tear off equal sheets quickly and cleanly.  These rolls are ideal if you need to protect similar sized items and only need a standard length, such as 500mm or 800mm. Because they're cut to set lengths, they're better for packaging portion control and reduce the chance of over packing, making them more cost effective than using standard rolls.  Perfect if you're wrapping many items of a similar size.
Bubble dispenser boxes make the process even easier by keeping the roll tidy and dust free in a convenient compact box.
For smaller items bubble wrap bags offer all the protective benefits of wrap but in a useful bag, perfect for protecting low profile items that can easily slip around inside.  Bags can be sealed with an adhesive strip, heat sealer or tape, and once sealed they provide all round cushioning and protection for the contents.  Speciality bags are available too, such as anti-static bubble bags which are perfect for delicate sensitive electronics such as smartphones, computer equipment and electronic components.

Protective bubble is a highly versatile packaging material which is one of the main reasons why it's so popular.  With the air cushioning that it offers, it can protect everything from light cushioning of smaller items to heavy duty protection for fragile items such as ceramics or glass.
If you're shipping polished items though, be sure to note that bubble wrap can leave small cell marks that can be hard to remove, caused by the small air bubbles pressing on polished material.  Materials such as polished metal, glass or wood are susceptible to this, so if you're shipping polished, premium items we recommend wrapping them in another material first, such as polythene or foam, before wrapping in bubble wrap.
Foam Packaging
Foam packaging is lesser known than bubble wrap and usually overlooked but offers astounding protection from a very lightweight, thin material.  Tiny air bubbles within the foam provide excellent cushioning and give the foam bounce, resulting in a high performance material that excels at protecting products.
Lint and dust free, foam is non-abrasive, meaning it won't scratch or leave any marks at all.  This makes it perfect for wrapping polished and shiny items such as metal, glass or polished wood, protecting against surface rubbing and scuffing.
Standard foam protection is less likely to build static electricity than bubble wrap due to the way it's constructed which makes it better for general electrical equipment and sensitive parts.  It can be laminated to give it additional properties too such as extra strength, puncture resistance, or to enhance its aesthetics.  If you're looking for a material that can be re-used then foam is the perfect choice, retaining its bounce and protective qualities due to how it is constructed.
Like bubble wrap, there are different types of foam packaging available.  It can be bought on a roll and in this form it's called foam wrap.  It can be cut to size and used to wrap, separate, and insulate.  It's lightweight and easily handled so it can be used to wrap and protect awkwardly shaped items in a similar way to bubble wrap.

Foam wrap is available in cut sheets too, ready to use in pre-cut sizes for wrapping around items or interleaving between products in cartons, saving you time in your packaging process.

Foam is available in different thicknesses from a slim 1mm for surface protection and interleaving, up to a thicker 4mm which is more suited to cushioning and insulating, with more bounce in the material.
Foam blocks are another popular type of foam, solid blocks which can be used for bracing and blocking in packages, separating items or reinforcing corners.  These offer solid, unbreakable reinforcement for parcels and are ideal for protecting items such as furniture. They are constructed in a way that makes them more solid than foam wrap, in a similar way to polystyrene manufacturing but it is easier to cut and work with, lightweight, and can be used many times over.

Which material is right for you?
Both materials are brilliant choices for protective packaging but they do have different properties which makes them better for different uses.  As with all packaging, we recommend using the right material for the right purpose, so when deciding which one to choose, evaluate what you're going to be using it for before making a purchase.
Bubble wrap is a great all-round protector.  With air cushioning it gives a great layer of protection whether you're wrapping lightweight items or heavy and fragile products.  The various thicknesses available cater for a wide range of item sizes and weights.  You need to be aware that it can leave marks behind on polished and reflective surfaces.
Foam packaging is generally thinner and lighter than bubble wrap, which means you can store more square metres on site, and it'll take up less space in cartons.  It's perfect if you're shipping delicate items with premium polished surfaces as its smooth texture won't leave a single mark on products, making it ideal for ceramics, large electronic equipment, furniture or highly polished parts such as alloy wheels.
Price is always a consideration for packaging and the good news here is that both materials are highly comparable on price per square metre. With 3x as many square metres on a 1mm bundle of foam as there are on a bundle of small 1500mm x 100m bubble wrap, make sure you're selecting the right thickness and material for your needs to keep your packaging cost effective.
The Expert Opinion
Finally, we caught up with two experts to see what advice they could offer when selecting between the two.  We spoke to Fiona MacDougall, Sales and Marketing Director at Jiffy, to get her take on these two materials:
"Whether you choose to use bubble wrap packaging or foam packaging, both products offer superb protection.  Bubble offers ease of use, economy, and effective protection, while foam offers characteristics that protect delicate surfaces and polished finishes, due to its ability to reduce scuffing, rubbing and marking.
Historically, bubble wrap has always been the 'go to' product for packers, but steadily users are realising the many benefits of packaging foam. It is lightweight, retains its memory and the wide range of thicknesses offer superb choice and value depending on the application. A firm favourite is to use the two materials combined – bubble bonded to foam, making a bubble/foam laminated material.  This means you get the bounce and cushion of bubble combined with the care and non-abrasion of foam. Ask our partners Rajapack for more details on this excellent product."
We also caught up with Chris Liddell, Head of Product Marketing at Rajapack to get this thoughts on the importance of fully weighing up all your options when sourcing your packaging:
"As this blog highlights, the most important consideration when choosing between bubble or foam to protect your products is to select the right protective material for the right purpose. The breadth of the protective packaging range we have at Rajapack ensures that we have a solution for every application or business need, and our team of Packaging Specialists are on-hand to help you make the right choice."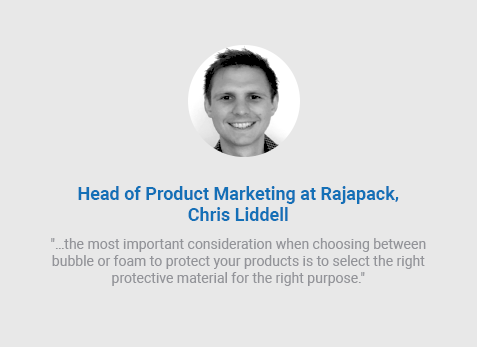 If you'd like further information on protective packaging, if you're unsure whether bubble or foam is best for you, or if you have you have any questions for our team of Packaging Specialists simply visit www.rajapack.co.uk or contact our team on 0800 542 44 28.