Graham Williams has worked for Rajapack for just over a year covering South London, Kent, Surrey, East and West Sussex and Hampshire. Graham has over 25 years of sales and contract management experience in print and packaging. Outside of work Graham is active in coaching his younger son's Under 13 football team, off-road cycling and gardening.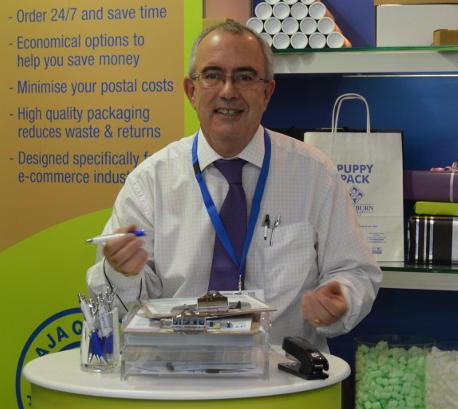 Here he describes a typical day in the life of a Rajapack Field Sales Executive.
My first visit of the day is to an existing customer who wants to change from plain to printed strapping that will match the branding of their cartons.  Although this isn't part of our standard customised offering, earlier I arranged for a sample reel to be delivered to make sure that it will run OK on their automatic machine.
The test went very well and I will now prepare a quotation for the new requirement.  Whilst here we also discussed a different way to seal the bottom of their cartons, I suggested a pneumatic box stapler which the customer is very interested in.  They want to get away from using lots of brown tape that spoils the presentation and they need a stronger closure.  I also pointed out that because they are mainly exporting, it would be good idea to "H tape" the box tops.  This looks neater and uses less material with an added bonus of complying with shipping recommendations.

The next call is to a customer with a very specialist requirement; they have a project that needs shipping to the Atacama Desert in South America!  The items must be protected from humidity changes and static electricity discharges.  It's good that Rajapack stock a wide range of ESD products including ones that protect against moisture.  We discussed the possibilities and choices; I will confirm the prices by written quotation including suitably sized cartons that will fit into the export boxes which we already supply.
I have also been speaking to a prospective customer and I have arranged a visit to discuss their packaging requirements.  The company sell DJ equipment online so there is a lot of scope for protecting their products.  The initial need is for strong cartons, packing tape, bubble wrap, mailing bags and document enclosed envelopes.  I recommended that our new range of protective paper packaging machines from RanPak would provide much better protection than bubble wrap and will also save money.
The client is very interested in this solution and would like a demonstration soon after they move to larger premises in two weeks.  There will be a need for warehouse shelving and packing stations together with pallet strapping and stretch wrap for the new wholesale division of the company.  I will prepare a detailed price proposal for the numerous items we have discussed and email it tomorrow.  Because all of these products are held in stock we can have this company up and running with all their existing and new packaging requirements within 24 hours.
A quick stop for a sandwich then on to my fourth visit of the day to discuss a price proposal with another existing customer.  We have been supplying a small proportion of their requirements up to now, and have now provided prices for all of their packaging.  He is very happy with rates and confirmed that all their future purchasing will be through Rajapack.  The vast number of lines we stock has helped; this account was looking for a one stop shop solution to make online ordering easier.
My last visit today is to another prospective customer interested in purchasing an Opus Mini air fill machine.  I discussed that it will be suitable for their requirements and set up our demonstration machine.  It ran very well, producing different sized air cushions quickly with minimal set up between changing the rolls.  The customer was so impressed that he placed an order there and then for a machine and both sizes of film!  This solution will provide excellent void fill protection for their high quality packaged food products as this plastic film, unlike paper, is dust free.  I now have another new account that is also interested in several other products that we stock.
It has been a long but productive day with orders placed, solutions suggested, problems solved and the opportunity of more business to come – but also lots of paperwork to catch up on tomorrow!