Find the right sized box
From a choice of over 900!
Simply enter the dimensions of your product and select the most suitable size for your needs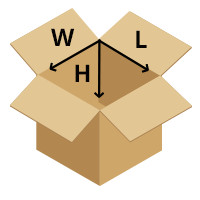 Enter the interior dimensions you are looking for:
The widest selection of cardboard boxes for all your needs at RAJA.
From small boxes to large ones, from shipping to storage there is a box for every product and purpose. Need a specific format? Contact our Packaging Specialists. We can customise your cartons and postal boxes to a specific size, colour and with your logo!